Chipotle CEO's 2020 Bonus Was 1,700 Times Greater Than Median Company Worker's Pay
Chipotle Mexican Grill CEO Brian Niccol made 1,767 times more than the average company worker from bonuses alone in 2020, according to federal financial filings release Monday.
Niccol, who joined the chain in 2018, received $38 million in total compensation last year—$23.2 million more than the $14.8 million he would have earned if not for the COVID-related modifications the company made.
Chipotle said that because the company outperformed many of its competitors during the pandemic year, it waived the financial targets set in 2018. The company's stock price surged 65.7 percent last year and its revenue increased 7.1 percent.
The chain also hired approximately 114,120 new employees and promoted roughly 11,000 workers.
In a letter sent to shareholders, the company's compensation committee said that it decided to adjust numbers to "fairly reward the leadership's team's extraordinary success in developing and executing the turnaround strategy that has benefited employees and guests, as well as shareholders."
"Brian Niccol's annual compensation package is based on a competitive analysis of CEO pay levels within our peer group and is designed to pay for performance," a Chipotle spokesperson told Newsweek. "For 2020, Brian's compensation includes the value of a one-time modification that is not reflective of his ongoing pay package."
Niccol's total compensation for 2020 is the most the CEO has been paid since he was hired two years ago. In 2019, he made $16.1 million and in 2018, he made $33.5 million.
Compared to the median U.S. Chipotle employee, Niccol's annual compensation is 2,898 times higher. Excluding the COVID-related modifications, the CEO would have made 1,129 times more in total pay than the median employee.
Chipotle identified a median employee to be "an hourly part-time employee who works roughly 25 hours per week at one of [Chipotle's] restaurants in Illinois." The company added that the everyday Chipotle worker saw a decrease in pay last year due to government-mandated closures as a response to the pandemic.
In statement to Newsweek, the chain said that despite these decreases, Chipotle employees still made more than their peers.
"Since all Chipotle restaurants are company-owned, our employee population and resulting pay ratio is higher compared to industry peers that operate under a franchise model. Of the 88,000 Chipotle employees, 81 percent are hourly crew members, and 99.9 percent of those are part time," a spokesperson wrote.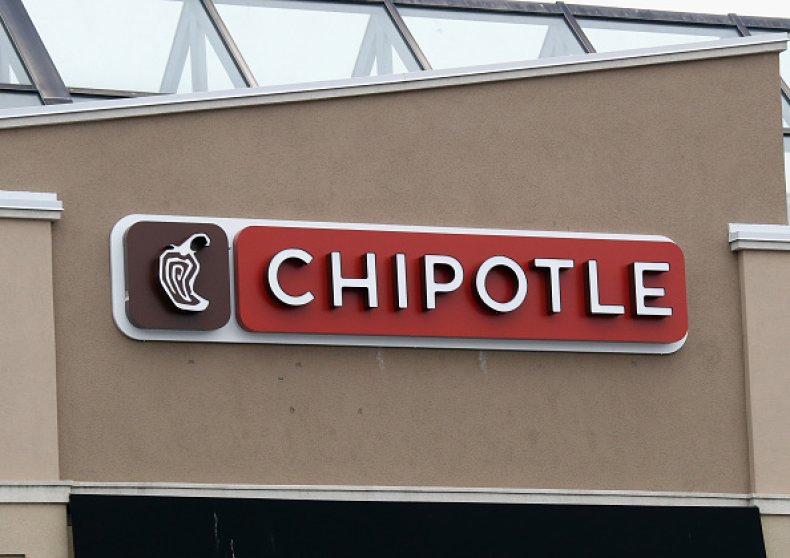 While the company did not meet the metrics that had been set in 2018, the team said they "achieved the underlying ultimate goal of turning around the business and delivering industry-leading shareholder value creation."
Niccol's pay was made up of long-term incentives (69 percent), annual bonus (22 percent) and base salary (9 percent).
Chipotle also paid nearly $40 million in bonuses and assistance pay to its restaurant workers in 2020. The company also spent more than $13 million in tuition costs for employees who were seeking to advance their education.
Niccol was not the only company executive to see a bump in pay as a result of the COVID-related modifications.
CFO Jack Hartung earned $19 million, $13.9 million more than the $5.1 million without adjustments; CTO Curt Garner earned $17.2 million, $12.6 million more than the $4.6 million without adjustments; and Chief Restaurant Officer Scott Boatwright earned $12 million, $7.89 million more than the $4.02 million without adjustments.
Since Niccol joined Chipotle, the company's market-capitalization value has grown by more than $30.6 billion. In 2020, digital sales skyrocketed 174.1 percent, representing 46.2 percent of the chain's sales.
This story was updated on April 6 with comments from Chipotle.