Chipotle Responds to Viral Video Claiming It Massively Inflates Prices
Mexican-themed restaurant chain Chipotle has responded after a viral video this week alleged that it inflates its prices.
As the cost of living across the country continues to rise, it is no surprise that people are paying more attention to where their hard-earned dollars are spent.
Data from the U.S. Bureau of Labor Statistics shows that menu prices across the U.S. rose by 7.6 percent between July 2021 and the same month in 2022, but one fast food worker's viral claim of inflated prices at Chipotle restaurants has been dismissed by the chain.
Founded in 1993, Chipotle now has more than 3,000 locations across the United States, Canada, the United Kingdom, Germany and France, and more than 100,000 employees.
A TikTok user who indicated she worked at the chain took to the internet this week to allege that the chain's soda prices are hugely inflated. The video, shared by user daddyria12 on Friday, has since been viewed over 1.4 million times.
In the video, the 16-year-old worker wearing a Chipotle uniform is eating a meal while the song lyric: "just take it" plays in the background. The text overlay read: "Me when I see a customer getting soda in the water cups knowing it's costs the company 2 cents and we charge almost $4."
At the popular restaurant chain, customers are given a cup that has been paid for and left to fill their own drinks at the nearby machine. However, the price for a cup to fill with water and a cup for soda is different.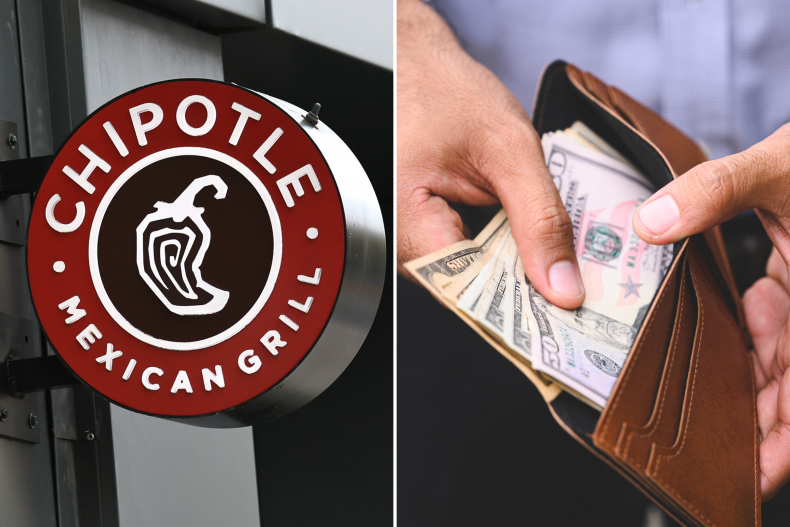 In over 500 comments, TikTok users rushed to respond to the worker's confession on the costs.
One user wrote: "Not all heroes wear capes," while another said: "I feel like we should all collectively agree we don't care when people steal from our corporate jobs."
"I got yelled at once at Chipotle for doing this," said one comment: "To say I was scarred would be an understatement."
Another reply said: "Love this energy."
But despite the worker's viral claim, Chipotle has hit back, assuring that the prices listed are not correct.
A spokesperson for Chipotle told Newsweek: "We do not disclose our cost of goods for competitive reasons, however, we can confirm that the pricing referenced in this video is highly inaccurate."
But while cost margins may not be as high as suggested in the viral video, a recent report from the National Restaurant Association has shown that the price of much-loved fast food favorites has been rising steeply in recent years.
Compared to the same time in 2021, fast-food restaurant prices were 7 percent higher, while grocery store prices soared 13.1 percent in the last year—the largest 12-month increase since 1979.
The sharp increases have been driven by rising costs of food and labor, according to the report that used data collected by the U.S. Bureau of Labor Statistics.
Newsweek has reached out to daddyria12 for comment.