Chipotle Workers Stage Walk-Out After '$5 Bowl' Offer Sees Hour-Long Queues: 'Overwhelmed'
Videos shared online show the long lines and waiting times in Chipotle stores caused by the chain restaurant's annual Halloween offer.
Chipotle offers discounts on its famous bowls every Halloween as a part of its "Boorito" promotion. This year, customers could order the bowl for $5, a slightly higher price than previous years, and could only do so through the site or app. Previously, customers would need to attend in-store in a Halloween costume to get the discount.
It sounds great in theory, but according to customers online, they were left waiting hours for orders. For many, it sparked concern for the staff left working through the offer and immense amount of orders.
"POV: Chipotle has $5 bowls and the staff is two hours behind on orders," wrote one user in a video that can be seen here.
"POV: You go to Chipotle on Halloween at 9:30 for your 8:10 order and it's still not done," wrote Shivana Codling, @shivanatakesoff in a video which can be viewed here.
TikTok user @johnwin.gram compared the store to Travis Scott's Astroworld tour with the ensuing chaos over food orders, as customers repeated order names for staff and stood around waiting.
In all videos though, the stores are filled with customers and tables are covered in orders waiting to be collected.
"It was very busy, packed inside and outside (people were waiting in their cars too). The staff were being very nice, I give them a lot of credit their were so many people and so many orders," Codling told Newsweek.
"I ordered because I saw the deal and Chipotle sounded good so I ordered. Had I thought about how busy it was going to be I would have just waited and gone a different day."
Although originally posted from the perspective of the customers, viewers rushed to see it from the side of the workers too, with some suggesting that Chipotle shouldn't hold the offer.
"The wait was an hour long after the pickup time. The staff were overwhelmed & I felt so bad for them. Some of the people in the front tried to help by reading out order names," @johnwin.gram told Newsweek.
"This is what it looks like every year on Halloween, nothing new and to be honest it needs to end. You put workers through hell to save a couple of bucks," wrote one user.
"All to save less than $5, y'all must have it rough," commented one viewer.
"I wouldn't have ordered if I realized it would be like that. Sorry to the employees that had to deal with this," wrote @shivanatakesoff.
In a statement to Newsweek, Chipotle's Chief Corporate Affairs Officer Laurie Schalow acknowledged that some staffing needs were "challenged" by the offer, saying: "Chipotle recently celebrated the 21st year of its Boorito promotion with $5 digital entrées from 5 p.m. to close and gave out $1 million in free burritos through our digital restaurant on Roblox. We had systems in place to handle the anticipated influx of digital orders, however, in a few minor instances we were challenged with staffing needs. Our engaged and hard working employees are what make us great so we will continue to evaluate our promotions to ensure they can be executed with excellence."
For staff in a New York Chipotle, it was more than just a challenge as they staged a walkout over the offer. Staff walked out of their Halloween shift to demand better working conditions and joined a rally against the "company putting profits before people," according to Insider.
Chipotle workers across the U.S. voiced concerns to Insider about the working conditions during the promotion, including staying far later than closing and stressful amounts of orders.
"We saw intermittent issues on the app when the Boorito promotion first launched on the East Coast. The website was not impacted and the teams resolved the app issue and we were fully functioning shortly after. Out of nearly 3,000 restaurants, we had one location in NYC experience an issue with its workers," Schalow told Insider in a statement.
The walkouts and online reactions coincide with an ongoing staff shortage in the food industry across the U.S.
According to the Bureau of Labor Statistics, August saw a record-breaking amount of workers quitting, with over 4.3 million Americans leaving their jobs.
A 2021 study by Black Box Intelligence and Snagajob found that wages and benefits, childcare, opportunities in other industries and concerns about mental and physical health are the most prominent reasons for the labor shortage.
The quick-service industry has been especially hit with shortages, with turnover rising to 144 percent in June, up from 135 percent in 2019.
Chains including Chipotle have, however, increased wages and benefits in a bid to attract and retain workers. In May, the company announced plans to increase wages to an average of $15 per hour by the end of June, and according to Forbes, hourly starting wages now range from $11-$18.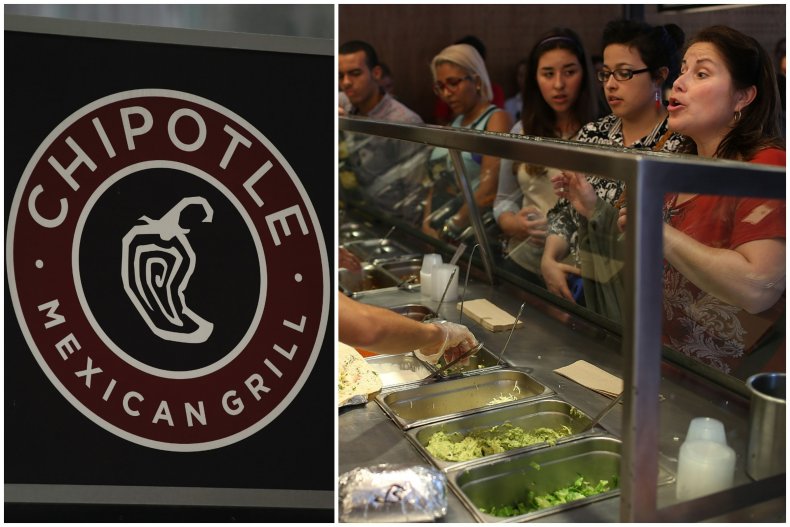 Update 04/11/21, 4:52 a.m. ET: This article was updated to include comment from TikTok users @johnwin.gram and @shivanatakesoff.