Chipotle and Sweetgreen Bowls Reportedly Contain Cancer-Linked, Non-Biodegradable Chemicals, Report Says
Day after day, people across America flock to Chipotle to get their hands on the fast-food chain's signature burrito or salad bowls. Elsewhere, hundreds of folks wait out the long lines for a bite of Sweetgreen's seasonal salads and warm bowls. While the ingredients are vastly different at both restaurants, there's one thing they share in common: The plain, beige-brown molded fiber bowls.
The bowls have become all the rage over the last five years or so thanks to its supposed compostable and plant-based properties. However, a new report by New Food Economy, released on Monday, found the popular bowls are actually dangerous for not only the environment but people eating off of them too.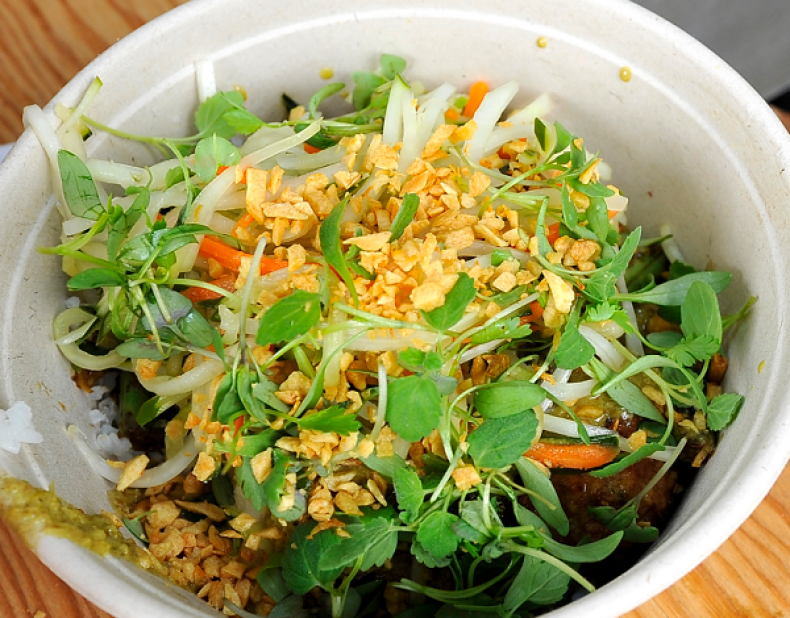 After testing the molded fiber bowls from 14 various locations of eight restaurants in New York City, including Chipotle and Sweetgreen, New Food Economy experts found high levels of fluorine within the bowls. Researcher's claimed the discovery of fluorine indicated the bowls were treated with per- and poly-fluoroalkyl substances—known as PFAS compounds and often referred to as "forever chemicals" due to their non-biodegradable properties.
Although it's the PFAS that allow the molded fiber bowls to sustain wet, hot and greasy food items that would otherwise cause standard paper bowls and plates to fall apart, exposure to the compounds have been linked to kidney and testicular cancers as well as thyroid disorders and colitis. Researchers noted production for products containing the most hazardous PFAS have slowly dissolved, however, the newer bowls customers receive at fast-casual restaurants like Chipotle and Sweetgreen likely contain newer versions of the chemicals that may be just as fatal for people.
Scientists are concerned with the potential negative impact the bowls may have on the environment since the man-made PFAS are comprised of a range of more than 4,000 fluorinated compounds which don't actually break down naturally in the environment. However, it's the dishonest marketing surrounding the bowls that have researchers particularly worried.
Both Sweetgreen and Chipotle have made claims of the bowls' environmentally friendliness and have issued messaging that the bowls are "100 percent compostable" when, in fact, PFAS don't biodegrade at all, but rather unload toxic chemicals that accumulate over time into soil.
Chipotle first announced plans to roll out "compostable burrito bowls" at every restaurant by 2018, and the company confirmed "100 percent of our bowls were made from compostable, plant-based fiber" in its 2018 Sustainability Report. Sweetgreen told customers on social media that all its "takeout bowls, utensils, straws and napkins are 100 percent compostable."
The discovery has the fast-casual industry in a tizzy as food-service manufacturers and restaurants have to scramble to find a sustainable replacement for the bowls, New Food Economy reported, noting San Francisco—one of the U.S.' leading fast-casual dining areas—has already announced plans to completely ban the current molded fiber effective January 1, 2020.
In a statement to Newsweek, Chipotle said the company only partnered with suppliers with proper FDA certification regarding fluorochemical sciences and food safety.
"As evidenced in Chipotle's Sustainability Report, we are committed to using safe and sustainable food packaging and only partner with suppliers who make fluorochemical sciences and food safety a top priority. These suppliers operate under strict guidelines set forth by the FDA, and have all provided Chipotle with certification that all raw material and finished pulp products fully meet regulatory requirements," the statement read.
Sweetgreen did not respond to Newsweek's request for comment.
This article was updated to include a statement from Chipotle.