Chivo Wallet Disabled as People in El Salvador Rush to Use Bitcoin
El Salvador has disabled its Bitcoin transaction app "Chivo," just hours after the country became the first in the world to approve the cryptocurrency as legal tender.
The Bitcoin wallet app Chivo was disconnected in order to "increase the capacity" of its servers, with Salvadorians racing to use the app for the first time on Tuesday.
El Salvador President Nayib Bukele announced servers would be down until the issue with capacity had been properly corrected.
In a tweet translated into English via Google, Bukele said: "For a few moments it won't work @chivowallet, we have disconnected it while increasing the capacity of the image capture servers.
"The installation problems that some people had were for that reason. We prefer to correct it before reconnecting it."
Disruption to the Chivo wallet service came just hours after El Salvador became the first country to approve the use of Bitcoin as legal tender.
Before Bitcoin became legal tender, the government shared an explainer about the cryptocurrency and endorsed it, providing information about how to use it.
The advert mentioned a one-off $30 Bitcoin deposit would be made to wallet owners who downloaded it for the first time in a bid to get more citizens involved in using the cryptocurrency.
It also announced the wallet would be available to use from September 7, the same day Bitcoin was approved for usage in the country.
Bitcoin's value surged to a peak of $52.85 as Salvadorians prepared to use Bitcoin as legal tender for the first time.
This means that businesses across El Salvador will have to accept payments made in Bitcoin unless they do not have the technology available to process payments.
While President Bukele has promoted the use of Bitcoin, claiming citizens living abroad sending money home would save millions of dollars in commissions.
Reuters estimated Salvadorians sent home almost $6 billion from abroad—mainly the U.S.—which it reported was roughly 23 percent of El Salvador's GDP.
In this Statista infographic, it shows the usage of bitcoin ATMs is found mainly in North America and Europe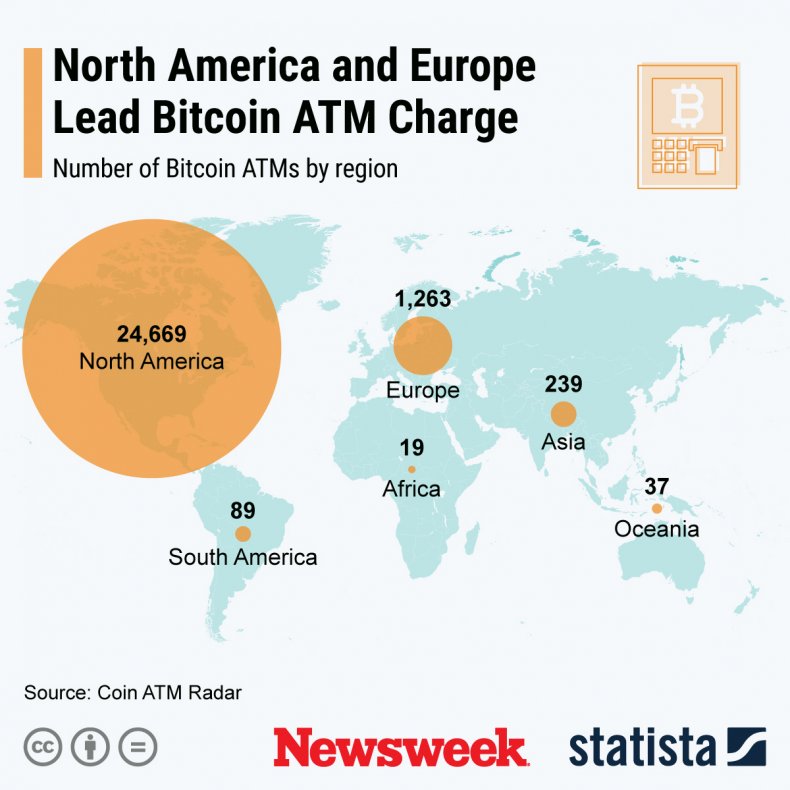 Polls reported by Reuters have shown Salvadorians are hesitant about using Bitcoin due to the cryptocurrency's notorious value fluctuations.
Rating agency Fitch was also critical of Bukele's move, claiming it could be a credit negative for local insurance companies, due to its volatility.
The agency said insurers would likely convert Bitcoin into U.S. dollars "as quickly as possible to limit exchange risks" should policyholders use it to pay premiums.