7 Things You Need To Know About 'Euphoria's' Chloe Cherry
Chloe Cherry made her Euphoria debut in Episode 1 of Season 2, marking her biggest mainstream acting role to date. Cherry plays the role of Faye, a heroin-addict teen, who underneath all of the hard exterior, seems pretty sweet. After her boyfriend Custer (played by Tyler Chase) and his friends got busted for drugs, Fez (Angus Cloud) did Custer a favor and let Faye crash at his place. She's been living there ever since and she and Fez have become pretty good friends.
In Euphoria Season 2, Episodes 6 and 7, Fez and Faye's friendship has been put to the test after Custer informed Faye he was working with the police to have Fez and Ash (Javon "Wanna" Walton) arrested for the role they played in Mouse's death. Ever since, Euphoria fans have been hoping Faye will tell Fez the truth but with the finale fast approaching, she is running out of time.
Newsweek has everything you need to know about Chloe Cherry who plays one of Euphoria's most talked-about characters of the season.
7 Things You Need To Know About 'Euphoria's' Chloe Cherry
1. Chloe Cherry Is an Adult Film Actress
Before landing her role as Faye in Euphoria, Cherry had a very successful career in the adult film industry.
She has appeared in over 200 adult movies and has over 120 million views on her PornHub page, reported i-D.
Cherry revealed ever since landing the role of Faye in Euphoria, she has taken a break from the adult film industry to focus on other acting opportunities and her film education.
She shared with i-D: "I've just been looking for auditions and trying to write more. I've been watching more, too, expanding my film education. I haven't been doing anything adult-related at all, and that's a change because I used to fill every moment of my life with that stuff. I mean, sometimes I'll post on OnlyFans, but I actually prefer the lull.
"My life feels so much slower. Porn is such a fast-paced industry, especially the way that people come in and out of it so quickly. Adult film will always have that revolving-door aspect. I'm so grateful for this point in my life where I have the opportunity to take a little break, especially after five or six years of doing it non-stop."
2. Chloe Cherry Once Starred in a Euphoria Porn Parody
Chloe Cherry has made no secret she is a fan of Euphoria. In fact, she is such a fan, she once starred in an adult film based on the relationship between Zendaya's Rue and Hunter Schafer's Jules. In the film, she took on the role of Jules and her co-star Jenna Foxx played Rue.
Speaking to Nylon magazine, Cherry shared: "My friend and I, who's also an adult movie star, we were just both huge fans of the show and we thought that that one scene [with Rue and Jules] was just so beautiful.
"When you're making a porn parody, the best way to make them is scenes like that, where they're already insinuating that sex is about to happen. So that's usually what people would want to see in terms of a porn parody. Fans really, really liked it. They thought it was awesome."
3. Sam Levinson DM'd Cherry on Instagram
Cherry revealed she was approached directly by Euphoria creator Sam Levinson to audition for the part of Faye after he saw her Instagram posts.
She explained to Interview Magazine, Levinson thought she was "funny" on Instagram and asked her to audition.
"Of course, I sent in tapes and everything. I was so blown away that he wanted to audition me at all. It was the greatest honor of my life," Cherry recalled.
4. Euphoria Is Cherry's Biggest Role To Date
Euphoria represents Cherry's biggest acting role to date and she has her eyes on doing much more mainstream acting.
Speaking to Nylon, Cherry said: "I hope to be perfect for lots of people's film projects. I hope to be able to be in a lot more shows and everything. I think that I can play unique characters.
"I think that there's a lot that I can do. I like portraying things that are very different from myself. And I think that there are a lot of different roles and things that I could totally fill and really thrive in."
"I think I have a huge, huge range. Huge range," she added. "I think that I could do so much, and I honestly like doing the tougher roles."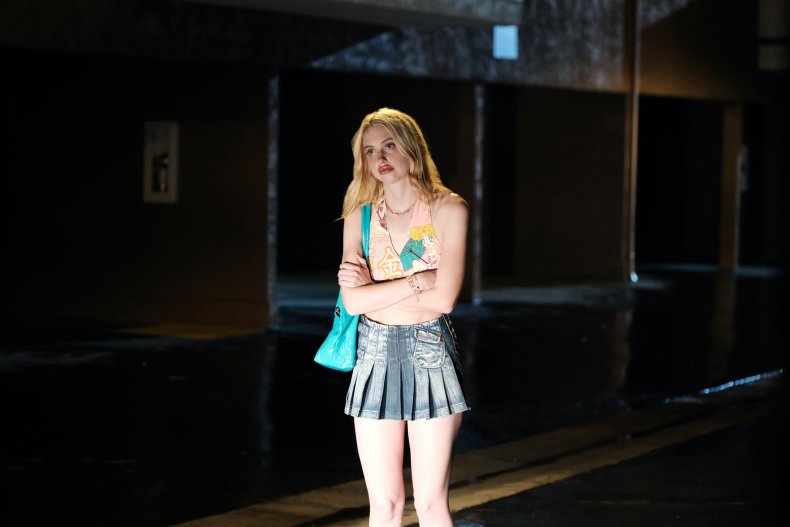 5. Chloe Cherry Is From the Amish Capital of the U.S.
Today, Chloe Cherry resides in Los Angeles, California, but she was born and raised in Lancaster, Pennsylvania, the Amish capital of the United States.
Speaking to Variety, Cherry shared that she left her hometown when she was 18 years old and has never looked back.
"What first drew me to the adult industry was the freedom and expression that it gave me after feeling so repressed for a long time," Cherry explained.
6. Chloe Cherry Walked in New York Fashion Week
Cherry made her runway debut at New York Fashion Week in February 2022, alongside another IT Girl, Julia Fox for LaQuan Smith's Fall 2022 collection.
Taking to Instagram after making her debut, Cherry wrote: "Thank you so much to @laquan_smith for having me in your show last night. I am so deeply grateful and inspired by this experience. I felt amazing."
7. Faye Was Supposed To Be a Stripper
The Faye Euphoria fans know today is not the Faye creator Sam Levinson first intended to have on screen.
Originally, Faye was supposed to be a stripper and have a much smaller role in the series. However, after casting Cherry in the role, Levinson altered the character and gave her more screen time.
Euphoria Season 2 airs Sundays at 9 p.m. ET on HBO and HBO Max