Chloe Dykstra Tweeted 'Mood' Photo Hours Before Chris Hardwick's 'Talking Dead' Reinstatement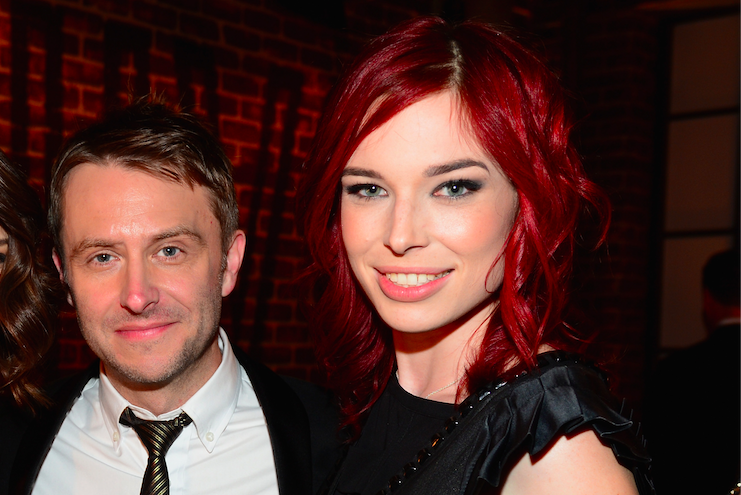 Model Chloe Dykstra did not immediately issue a statement after AMC announced they would reinstate Talking Dead host Chris Hardwick. The TV personality was suspended from the series after Dykstra, his ex-girlfriend, accused him of sexual assault and emotional abuse in an essay last month.
The last time Dykstra tweeted she shared a picture of a dog with a buttery on his head, captioning it, "Today's mood." The post was liked hundreds of times by her followers. On Instagram, her last post was from July 17.
"I curled my hair and wore something nice after a month of mostly jammies," she captioned the photo of herself. "If that's not reason enough for a selfie, I'm not sure what is."
People in the comment section began to debate her accusations against Hardwick, with a majority of people siding with the AMC host and thanking the network for bringing him back.
Dykstra, 29, wrote an essay for Medium on June 14 where she accused a man of sexual and emotional abuse. She did not name Hardwick, though most alleged she was writing about the AMC host. They dated for three years before breaking up in July 2014.
"I was terrified to piss him off—so I did what he said," she wrote, "including let him sexually assault me. Regularly. I was expected to be ready for him when he came home from work."
Hardwick said he was heartbroken by Dykstra's essay and denied the allegations. "I'm devastated to read that she is now accusing me of conduct that did not occur," Hardwick, 46, told People at the time. "I was blindsided by her post and always wanted the best for her. As a husband, a son, and future father, I do not condone any kind of mistreatment of women."
Hardwick is slated to return to Talking Dead when it comes back August 12, The Hollywood Reporter wrote Wednesday. Yvette Nicole Brown is still on board to lead the August 5 Walking Dead Season 9 preview. She stepped in for Hardwick during panels at Comic-Con.
"Following a comprehensive assessment by AMC, working with Ivy Kagan Bierman of the firm Loeb & Loeb, who has considerable experience in this area, Chris Hardwick will return to AMC as the host of Talking Dead and Talking With Chris Hardwick," AMC said in their official statement. "We take these matters very seriously and given the information available to us after a very careful review, including interviews with numerous individuals, we believe returning Chris to work is the appropriate step."