Chloe Kim Says She 'Never Goes Anywhere' Alone Amid Anti-Asian Attacks
Olympic gold medalist and first-generation Korean American Chloe Kim said she fears for her safety following recent attacks on Asian Americans.
"I never go anywhere by myself unless it's for a quick appointment or I know the place is crowded," Kim said in an interview Thursday with ESPN. "I have Tasers, pepper spray, a knife. If I go outside to walk my dog or go to the grocery store, my fanny pack has all three of those in it and my hand never leaves my side."
The 20-year-old snowboarder holds the top Olympic prize for the halfpipe and recently opened up about her personal experiences of anti-Asian racism.
On Wednesday night, Kim posted an Instagram story with a screenshot of a direct message she had just received, in which the sender called Kim "You dumb Asian b----" and wrote "Kiss my ass."
Kim told ESPN: "Just because I am a professional athlete or won the Olympics doesn't exempt me from racism," adding that she gets up to 30 messages a day like the one she featured in her Instagram story. "I feel really helpless and afraid at times...I'm really struggling."
Violence against Asian Americans has been rising in the U.S. According to Stop AAPI Hate, there were 3,795 reported hate incidents against Asian Americans from March 19, 2020, to Feb. 28, 2021. Last month, six Asian women were among eight killed in an Atlanta-area mass shooting, and legislators and activists have called to "Stop Asian Hate."
Kim said she hasn't talked about about her personal experiences of anti-Asian racism, not because she didn't care, but because she was afraid to speak up.
"I was getting messages from people telling me I'm part of the problem because I was being silent," Kim told ESPN. "I was like, 'Do you realize I'm also Asian American and this affects me?' It was a lot of white people telling me they were upset at my silence."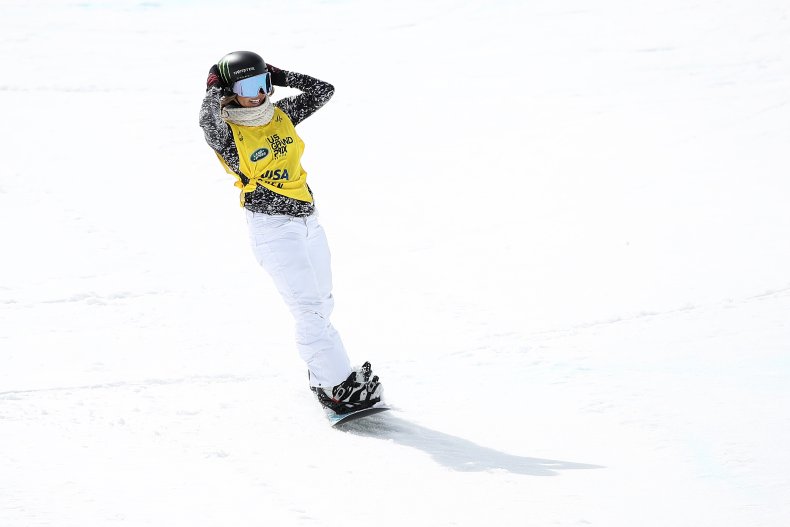 Kim said she started receiving hateful messages after she won her first medal at the 2014 X Games in Aspen, Colorado, at age 13. She added that she posted a picture of her silver medal on Instagram and received a slew of "belittling" reactions via social media.
"There were messages in my DMs telling me to go back to China and to stop taking medals away from the white American girls on the team," Kim said. "I was so proud of my accomplishment, but instead I was sobbing in bed next to my mom, asking her, 'Why are people being so mean because I'm Asian?'"
Kim said she stopped speaking Korean publicly with her parents after that. She went on to compete at the 2018 Winter Olympics in PyeongChang, South Korea, where she became the youngest woman to win an Olympic snowboarding gold medal at just 17.
And as her profile as a top female athlete grew, Kim said she received even more hateful messages and was even spat on.
"I used to love responding to my fans, but I don't look at my messages much anymore," she said. "Even if you get thousands of supportive messages, the hateful one will hit you the most."
Andrew Gauthier, a spokesperson for U.S. Ski & Snowboard, told Newsweek about the Diversity, Equity and Inclusion (DEI) initiative to answer what the team is doing to combat racism at competitions or within its own ranks. The initiative, started in 2017, is working on an "assessment" of the team's DEI, increasing education and working "increase participation among underrepresented populations."
The Olympic community at large has also responded to rising counts of violence against Asian Americans.
"Our hearts and our support go out to our Asian American and Pacific Islander Team USA athletes, coaches and colleagues - and with the greater AAPI community - facing senseless hate and unconscionable acts of violence, and real concern for the safety of family and friends," said U.S. Olympic & Paralympic Committee (USOPC) Chief Executive Officer Sarah Hirshland in a tweet on March 18.
In addition to approving specific "racial and social" demonstrations at the Olympic trials, a spokesperson for the USOPC confirmed in an email to Newsweek the Committee "will continue identifying ways in which the voices of athletes can be amplified via the various platforms in the national and international Olympic and Paralympic movements."
The spokesperson also referenced USOPC convening a Team USA Council on Racial and Social Justice, an athlete-led coalition to "address the rules and systems in the U.S. Olympic and Paralympic movements that create barriers to progress."
Gauthier confirmed the protection Kim has during team events. He said there is a "strict credential system" at its competitions to ensure the safety of athletes, and the team has strengthened these measures during the COVID-19 pandemic to include no spectators and no media.
The team also monitors its own social media pages, and any post that is "false, misleading, slanderous, defamatory, obscene, abusive, hateful, explicit, or degrades" others on the basis of race, among a number of other factors, is removed and the user may be blocked.
But for Kim, the hate can still invade her social media profiles or come to her front door. She told ESPN that she fears for her safety when she's not in the competitive world, and the onset of the COVID-19 pandemic has further incited hateful messages to the point she has deleted Instagram and turned off her notifications for most of the past year. She shared an instance in which a woman yelled, "You can't get in here," in the elevator to Kim's own apartment.
Kim said she fears for the lives of her parents, too, because recent attacks have specifically targeted older Asian Americans and women.
"Every time my parents step out the door, I think maybe I won't see them again or maybe I will get a call from the hospital that they were attacked," Kim said. "I'm scared all the time."
Despite her fears, Kim is still active on social media, regularly engaging with her community of fans. She recently posted that she has overcome the negativity of "haters" and responded to the ongoing racist messages by calling her 6.8 thousand followers to take action.
"These messages don't affect me anymore," Kim said in an Instagram story Friday. "I've decided to post every single [hateful message] I see, and I ask of you all to report their accounts so they get taken down immediately, and I encourage you to do the same."
She added: "Share your stories and your experiences."
Newsweek reached out to Stop AAPI Hate for response to Kim's comments but did not receive a reply by publication time.
Updated 4/3/21,11:05 AM ET, to include comment from Kim, USOPC and U.S. Ski & Snowboard.