TikTok Influencer Chloe Morello On How She Started Viral Beauty Trend
Cake face. We've all been there, whether it's during the winter when your face just will not hydrate despite all your efforts, or when those last-minute plans catch you off guard and you've got 15 minutes to get out the door.
Skincare mogul, Chloe Morello, has been influencing us since 2012, and her new makeup technique, which has taken the internet by storm, is the latest makeup hack to speed up your routine and improve the look of your makeup.
Her dot-based technique has proved popular with followers and celebrities alike, with the likes of Jessica Alba toting technique.
Newsweek spoke to the make-up mogul to get the inside scoop on the trending technique.

The woman behind the make-up
Chloe started sharing her love of make-up online in 2008, but didn't start taking it seriously until 2011. She said: "That's when I finally hit 20,000 subscribers on my YouTube channel and began to earn an income from it. Within two years, I was able to leave my full-time job at a crematorium, (yes I know) to pursue social media content creation and move to the Australian Big Smoke, Sydney."
But Chloe had always dreamt of living overseas, adding: "In 2019, with the support of my husband, I moved to LA – where my husband and business have continued to grow and expand in ways I'd never thought possible!"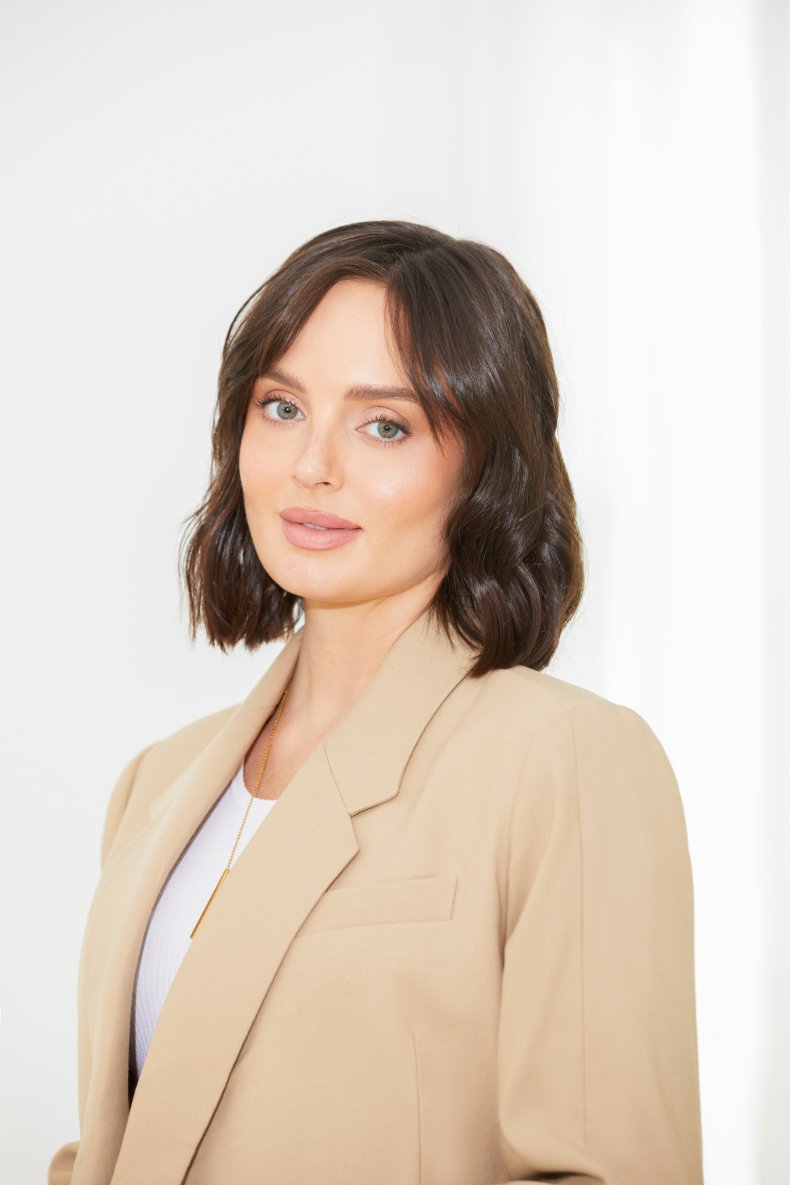 What is the dotting technique?
The technique involves dotting all your face products, concealer, foundation, bronzer, highlighter, and blush, in the appropriate places on the face.
She told Newsweek: "The idea of having multiple layers of product on my skin isn't ideal for me. I love a natural look!
"The Single Layer Makeup Technique came about when I finally was able to create my dream product: Overnight Overhaul by Sireni, a nighttime sleeping mask. When I started using it, I woke up in the morning needing to wear less makeup so I realized that I don't want to put foundation on my entire face when I have to put so many other elements (blush, highlighter, bronzer, etc.) on top afterward."
Chloe explains that the technique uses less product and therefore takes less time, and saves money, adding:"Mapping out each product in a single layer on the face gives me a better visual preview of how everything will blend; this allows me to plan my makeup look all in one step!"
How do we do it?
The key to this trick is maximizing use of your setting spray. "When you spritz the skin prior to blending, it helps 'wet' the makeup so it blends more easily," explains Chloe, "While also infusing products with the setting powers of the mist. The result is the ultimate, extra-long wear finish: less product and stronger hold!"
"When applying the makeup products to your face, leave the foundation last, as it should only be placed in the bare areas not covered by blush, bronzer, highlighter, etc. Otherwise, start with any of the other products in 'dots.' I like to place blush on the higher points of my cheeks for a lifted look, and bronzer over the perimeter of the face."
The concealer goes on next. In a video, she says: "A tone or two lighter than my foundation, over my dark eye circles (I am perpetually tired these days!), and around my nose, mouth and chin, where I have some redness and discoloration.
"Foundation then goes everywhere else, I usually end up with a few dots on my jaw area and forehead only.
"Afterwards, you mist your face to re-dampen the dots, as products can sometimes begin to set before you get a chance to blend. Then, go in with a mid-sized make up brush (I like blush brushes for this purpose, they're soft and fluffy and work quickly), blending all the products from light to dark; concealer first, bronzer last.
"Once everything is blended and looking gorgeous, mist your entire face with setting spray one final time to finish. Lightly powder your face to remove excess shine if needed."
What beauty products should you use?
"For this technique, one major thing to remember is to stick to cream and liquid products," explains Chloe, "In the original TikTok and my YouTube video with step-by-step breakdown, I used the following makeup products on the skin:
When blending the products, start with the lightest product and work toward the darkest—so you don't muddle the concealer with bronzer etc. That means: start with concealer, then blend that into your highlight (if you use any; sometimes I don't), then blush, then bronzer. You can leave the look dewy as is, or powder very lightly over it, to remove some of the shine.
How did Jessica Alba help Chloe Morello go Viral?
The video has amassed nearly two million views on TikTok with celebrities like Jessica Alba filming themselves trying the technique. Speaking to Newsweek, Jessica told us: "Chloe created this next-level makeup hack...it's actually easy - you just have to trust the process!"
"I was absolutely stunned!," explains Chloe at the celebrity attention, "I couldn't understand where all the new followers and interactions were coming from! I originally uploaded the content in February this year; the video reached 1 million views quite quickly, then cooled off.
"When Jessica recently (June) reposted the technique using my audio, it went absolutely crazy on both Instagram and TikTok! It's additionally exciting because I love Jessica's brand The Honest Company, and use their products for both myself and my baby—so seeing her show millions of people how to use The Honest Company products with the technique was super cool!"
Chloe has also recently launched her own skincare brand Sireni, alongside co-creator Ashley Villa, with their flagship product Overnight Overhaul which harnesses the power of bakuchiol, a retinol alternative known for its anti-ageing properties and ability to clear hyperpigmentation and sooth and brighten the skin.
Chloe Morello's top 5 make-up tips:
Less is more
Good skincare is the best base for any makeup look
Always start with a little and build up coverage as needed instead of applying a lot right off the bat
You don't need to use many products or complex techniques to achieve a beautiful, professional result
Practice makes perfect!
What is the one product Chloe Morello would not want to live without?
"Probably SPF."
What does Chloe Morello love so much about make up and skincare?
"It's the little moments in the day that I spend on just treating myself and my skin."
Who is the one celebrity Chloe Morello thinks always gets it right in front of the camera?
"My favorite celebrity is Shakira. She's been known for doing her own makeup, even for live performances and music videos. The fact that she's a DIY girl like so many of us, despite being one of the biggest stars in the world, has always appealed to me so much. She is in her 40's now and looks just as beautiful as she did when she released Laundry Service, which was the first time I learned of her. Also, she has the coolest style and doesn't just follow the trends! Shakira does what she wants and always looks naturally beautiful and powerful."