Chloé Zhao and Frances McDormand won big at Oscars 2021 with Zhao making history as she became the first woman of color and only the second woman ever to win an Academy Award for Best Director for Nomadland.
McDormand took home the Oscar for Best Actress for her role in the film which also won Best Picture.
However, viewers have noticed a somewhat awkward moment between the two women during their Best Picture acceptance.
As Zhao ended her speech, she welcomed McDormand to come and deliver her own speech.
"And now I give you, Fern," she said gesturing to McDormand who then sharply corrected the director, saying: "No I'm not. I'm Fran."
Fern is the name of McDormand's character in Nomadland so it is unclear if Zhao intended to introduce her as her character or if it was a slip of the tongue due to the similarity of the two names.
Either way, McDormand did not appear pleased, resulting in a rather tense few seconds.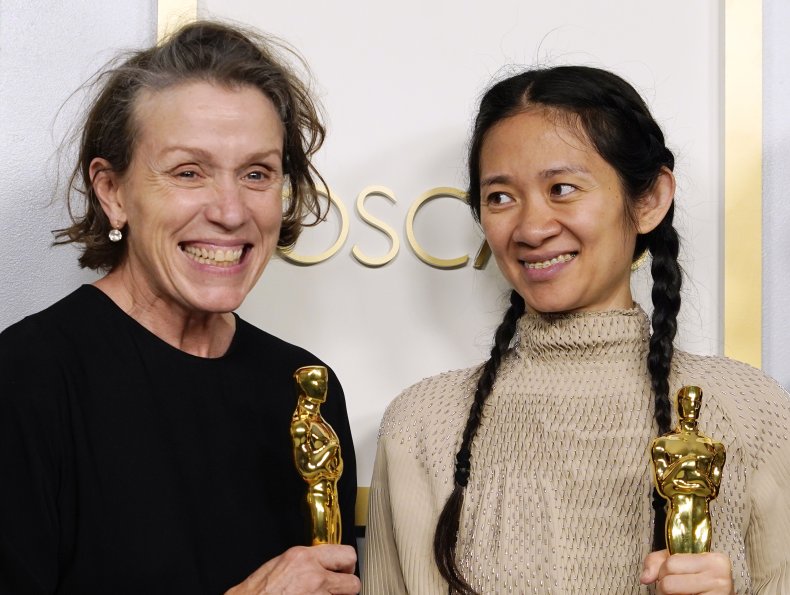 And the moment has not gone unnoticed on Twitter, where one fan tweeted: "#Oscars Fern/Fran?? Not sure what happened here but LOL."
While another added: "I just tuned in. Was the Fern-Fran encounter supposed to be awkward?"
KCRW's Kajon Cermak tweeted: "Frances McDormand -so insulting to Chloe Zhao, correcting her 4using character name Fern-as if Chloe doesn't know her real name is Fran. Boo Fran. I like Fern better."
Another person agreed, tweeting: "I've been wondering the same thing. What the hell was that? If it wasn't planned, then it was disrespectful."
However, others feel McDormand was justified in correcting Zhao, with one person writing: "McDormand is an all-time great actress, who was receiving the award for producing in that moment, which had nothing to do with her portrayal of Fern. A professional actor is a complex, talented individual, and reducing her to a character is an injustice."
Also in her Best Picture acceptance speech, McDormand howled on stage as a tribute to the movie's sound mixer Michael Wolf Snyder who died in March.
"We give this film to our Wolf," she said.
"Please watch our movie on the largest screen possible and one day soon take everyone you know into a theater—shoulder to shoulder into that dark space and watch every film that's represented here tonight," she said before howling to the moon.
Backstage, director Zhao elaborated on the bizarre but touching moment.
"So that howling to the moon is for Wolf," she said.