Chloé Zhao's Oscar 'Politically Correct,' Movie May Not Interest China Audiences: State Media
The Chinese government isn't celebrating Chloé Zhao's victorious night at the Oscars and while her success may inspire people in China, a film critic said moviegoers may not relate to her film Nomadland.
Zhao, a Beijing-born filmmaker, became the first woman of color and first Chinese woman to win the Academy Award for best director on Sunday night. China didn't broadcast the awards and Weibo, a popular social media app in China, appeared to be deleting posts championing the win for Zhao, who made controversial comments about China in 2013.
Shi Wenxue, a Beijing-based film critic, told the Global Times, a state-run media outlet, Zhao's best director win highlighted the Oscars' "political correctness." Since the film speaks to social issues in the United States, Shi said it may "fail to capture the interest of Chinese moviegoers."
Nomadland stars Frances McDormand, who plays Fern, a woman in her 60s who loses everything in 2011. Living in a van as a modern-day nomad, she travels through the American West, taking on different jobs as she meets other nomads.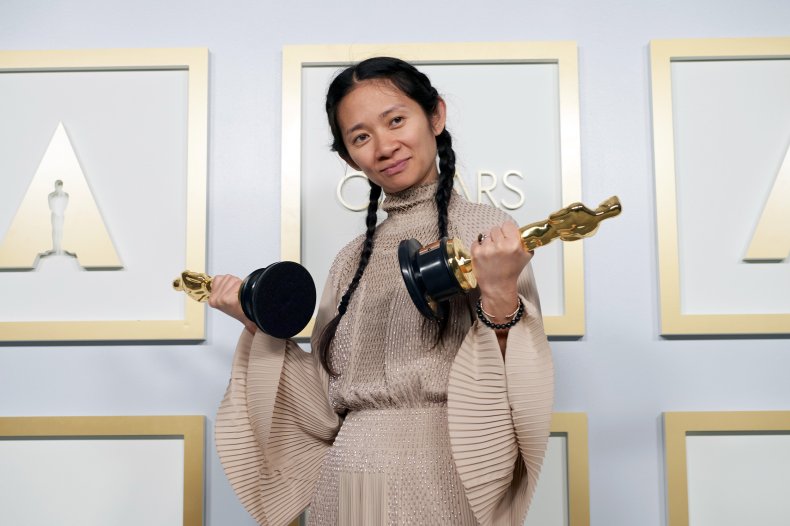 Along with Zhao's best director win, the film took home the award for best picture and McDormand won best actress.
China's response to Zhao's Oscars win was a markedly different reaction to her February win at the Golden Globes. Her victory earned her praise from state media headlines as the "pride of China," but the mood shifted after comments she made in 2013 resurfaced.
"It goes back to when I was a teenager in China, being in a place where there are lies everywhere," she reportedly told Filmmaker magazine when asked why she was making the film Lee. "You felt like you were never going to be able to get out. A lot of info I received when I was younger was not true, and I became very rebellious toward my family and my background."
Having attended high school in the United Kingdom and college in the United States, Zhao said she "relearned my history." She credited Mount Holyoke College's lessons on political science for helping her figure out "what is real."
Nomadland references began disappearing from Weibo and showtimes for the once-championed release of her film in China, which was set for the end of April, were removed from websites.
"To keep China open means to be able to accommodate some conflicts and inconsistencies," Hu Xijin, the editor of the Global Times, wrote on Weibo, according to The Guardian. "In 2013, Zhao Ting said something that could be regarded as humiliating to China, but she is not the kind of extremist who turn such values into political positions and highlights them overseas."
In accepting her award on Sunday, Zhao acknowledged her Chinese roots and said when she was a child she and her father would memorize classic Chinese poems and texts. When things get difficult in life, she said she remembers the phrase, "people at birth are inherently good," from The Three Character Classic.
To circumvent Weibo's censorship of her win, users expressed themselves with emojis and symbols to disguise their writing of "Wuyizhidi," the name for Nomadland in mainland China.
"It's hard to imagine that in this moment, when all Asians should be proud, one has to type 'wu1zhidi' in order to congratulate director Chloé Zhao. The irony," one user wrote.
Xiao Fuqiu, a Shanghai-based film critic, told the Global Times Zhao's nominations and awards demonstrate her "great" talent and she "should be praised" regardless of "how much controversy" she previously caused.