What is the Chocolate Challenge? Blackface Contest Launched by 'Unaware' White YouTube Blogger Sparks Outrage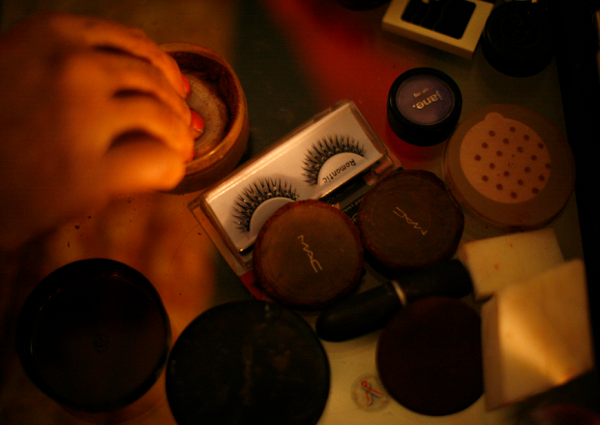 Ask just about anyone in the African-American community about blackface and they'll most likely tell you that the crude and outlandish makeup is synonymous with racial segregation and was used as a tool to portray, stereotype and humiliate black people. Ask YouTube beauty blogger Vika Shapel, a white woman, what blackface is and she'll tell you she's unaware.
That's probably why she thought it would be a good idea to launch a contest on YouTube called the chocolate challenge, in which she encouraged beauty lovers to reach their chocolate-skin goals by dousing themselves in brown-toned makeup.
In a recent Instagram post promoting the challenge, Shapel encourages her followers to watch her transform her "pasty pale" complexion into "deep chocolate skin tones," while she and a friend appear with half of their faces covered in brown makeup reminiscent of blackface. The duo also Photoshopped their eyes from blue to brown on the brown-painted side of their face.
The photo, released earlier in the week, sparked immediate outrage on social media after many people were offended by the blogger's apparent attempt to imitate a person of color.
After receiving a flood of criticism, Shapel removed the photo and deactivated her social media accounts as well as her YouTube channel. However, the controversial photo was later reposted by fellow YouTuber Arnell Armon, who also blasted Shapel for trying to mask blackface as a fun challenge.
While speaking with Yahoo Beauty on Monday, Shapel said she wasn't aware of the historically oppressive makeup trend before she decided to launch the challenge.
"I simply wanted to see how I looked in a deeper skin tone," she said. "I wasn't aware of the whole blackface concept before people began commenting it on the photo. I would like to apologize to people that were hurt or offended by my post, and it won't happen again."
Despite her apology, many people on social media have continued to share their disappointment over Shapel's apparent inability to realize how culturally insensitive and discriminatory such a challenge would have been perceived by audiences.
Just in June, Kim Kardashian, who is considered one of the most famous celebrities on the planet, was called out for wearing blackface after she appeared incredibly darker than usual in an ad for her Kim Kardashian West beauty line.
During Halloween festivities last year, white partygoers in several U.S. cities made national headlines when they arrived at costume parties wearing blackface, including a University of Oregon professor, who was suspended from her job. At the University of Central Arkansas, the entire Sigma Tau Gamma fraternity was suspended in October and one member was expelled after he wore blackface to a Halloween party.
Blackface history extends back to the 1830s after a white actor named Thomas Rice performed a popular African-American song-and-dance routine based on mythical trickster and escaped slave, Jim Crow. For the act, first performed in New York City, Rice blackened his face with burned cork, mimicking the black people in front of white-filled audience members. The act received rave reviews, thus establishing the tradition of the blackface minstrel act.
Check out a few reactions to Shapel's chocolate challenge below: