Choke Holds Are Still Permitted at Two South Florida Police Departments Among Largest In Southeast U.S.
As protesters call for U.S. police reform and a ban on choke holds, two of the largest police departments in the southeastern U.S. have no policy concerning the usage of the controversial restraint tactic.
Police departments in Hialeah and Miami-Dade County in South Florida still allow the use of the applied carotid triangle restraint, a form of choke hold which restricts the flow of blood through the carotid arteries to the brain. In some cases, the practice renders the subject unconscious.
In a statement released Monday, the Miami-Dade Police Department said its officers are trained how to use the applied carotid triangle restraint, which it classifies as a "non-lethal application." However, officers in the department are not taught strangle holds or choke holds, nor are they expected to utilize them.
"The MDPD sets the standards for many departments around the world," read a Monday statement from the Miami-Dade Police Department. "Our policies and training have been incredibly successful, and it is displayed by the very low percentage of instances that an officer has to use force to resolve a situation."
Newsweek reached out to the office of Hialeah Mayor Carlos Hernandez for further comment. This story will be updated with any response.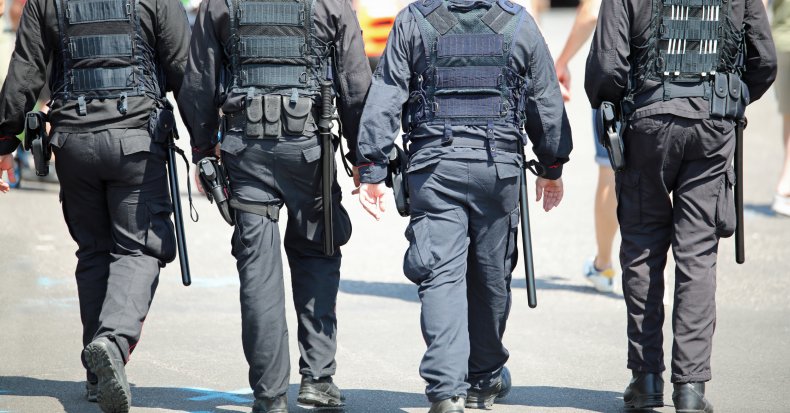 The use of neck restraint tactics by police nationwide came under scrutiny following the death of George Floyd, who died in the custody of Minneapolis police. Former officer Derek Chauvin was captured—on video taken by a bystander—kneeling on Floyd's neck as officers attempted to arrest him. Floyd could be heard to say, "I can't breathe." All four officers involved in the incident were fired and charged in connection with Floyd's death.
Before Floyd's death, which sparked waves of protests across the U.S., a choke hold used by a New York police officer was found to have led to the death of Eric Garner in 2014.
Police attempted to arrest Garner for selling untaxed cigarettes in Staten Island. During their arrest attempt, officer Daniel Pantaleo placed Garner in a choke hold. According to the doctor who performed Garner's autopsy, the choke hold was "a significant initial factor" in Garner's death. The hold triggered a massive asthma attack that killed Garner.
Pantaleo was not dismissed from the New York Police Department until 2019.
Florida Democratic Representative Val Demings called for a complete ban on the use of chokeholds by police officers during an interview with MSNBC in June. Demings is the former police chief in Orlando, Florida.
"We know that many police departments have banned them, but let's totally ban neck restraints," said Demings. "We can do that today. If officers decide they don't want to follow the policies or the rules, then fire them."
Getting rid of the neck restraints has become an important factor in many ideas for police reform. House Democrats introduced the Justice in Policing Act of 2020 on Monday. Included within the proposed legislation is a ban on choke holds, carotid holds and warrants that allow police to enter a residence without announcing themselves.
House Judiciary Committee Chair Jerrold Nadler said in a Monday statement, "We have heard the terrifying words 'I can't breathe' from George Floyd, Eric Garner, and the millions of Americans in the streets calling out for change. This is a systemic problem that requires a comprehensive solution."