Choked-Up Kinzinger Says During Jan. 6 Hearing, 'Stop the Outrage and the Conspiracies'
Representative Adam Kinzinger of Illinois fought back tears at times while speaking to the House Select Committee investigating the January 6 riots at the U.S. Capitol on Tuesday.
"It's time to stop the outrage and the conspiracies that fuel the violence and division in this country, and most importantly, we need to reject those that promote it," he said.
Kinzinger who has been criticized by fellow members of the GOP for his role at the hearing, said he accepted House Speaker Nancy Pelosi's appointment to the committee "not in spite of my membership in the Republican Party, but because of it."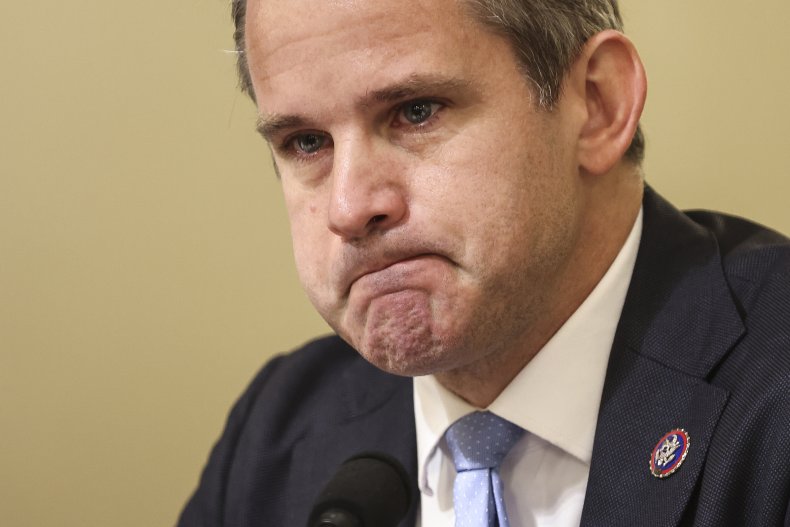 Kinzinger joined fellow House Representative Liz Cheney of Wyoming as the only two Republicans on the committee. He made it clear that the hearing about the events of the insurrection was not about politics.
"This cannot continue to be a partisan fight. I'm a Republican. I'm a conservative. But in order to heal from the damage caused that day, we need to call out the facts," Kinzinger said.
Addressing the four police officers who gave testimony, Kinzinger also said, "You guys won, you guys held."
During his comments, Kinzinger also touched on other members of his party comparing the social justice protests of last summer with the Capitol riots. He said, "I condemn those riots [of last summer] and the destruction of property that resulted. But not once did I ever feel that the future of self-governance was threatened like I did on January 6."
"There is a difference between breaking the law and rejecting the rule of law. Between a crime— even grave crimes—and a coup," he added.
In an opinion piece published in The New York Times on Tuesday, Kinzinger also defended serving on the committee, as well as described what he hoped would be accomplished by the hearing.
He wrote being on the committee was a duty he took on when, as becoming a member of Congress, he "swore an oath to uphold and defend the Constitution."
He also emphasized the importance of a full investigation into the events of that day and what led up to the insurrection.
"We need the facts—and we need to lay them out for the country to see for themselves and face them head-on," Kinzinger wrote. "In order to heal from the damage caused that day, we must acknowledge and understand what happened, hold the responsible people accountable, learn from our past mistakes and move on—stronger and secured in knowing that we as a nation will never let this happen again."