Choomba, One of the Worlds' Oldest Gorillas, Dies in Atlanta Zoo Aged 59
One of the oldest gorillas in the world, Choomba, has passed away at 59-years-old, at Zoo Atlanta.
The zoo said it was "deeply saddened" to announce the passing of the female western lowland gorilla last week.
The second-oldest gorilla at Zoo Atlanta, Choomba was also the fourth-oldest gorilla in the world.
In a statement, the zoo said that animal care and veterinary teams had been monitoring Choomba closely following a decline in her physical condition—Choomba suffered with advanced arthritis and other age-related complications.
Because of concern for her comfort and quality of life, the zoo said it made the "extremely difficult" decision to euthanize her
Jennifer Mickelberg, Vice President of Collections and Conservation at the zoo, said in a statement: "This is an extremely difficult day for Zoo Atlanta and most particularly for Choomba's care team, who knew her intimately and saw and cared for her daily with the greatest dedication. We commend the truly valiant efforts of our Gorilla and Veterinary Teams to help Choomba, from supportive care and laser therapy for her arthritis, to forward-thinking updates to the spaces used by our geriatric gorillas.
"Choomba leaves a tremendous legacy at Zoo Atlanta, in the zoological gorilla population in North America, and in the hearts of those who knew her best."
Choomba came to the zoo in the 1980s, and was one of its first ever gorillas. The zoo said she was probably one of the best remembered by the people of Atlanta.
The gorilla was the matriarch of four generations of gorillas, and was the mother of other resident gorillas, Machi, Kudzoo, and Sukari.
Her descendants include grandchildren, great-grandchildren, and a great-great grandchild living at other zoos around the U.S.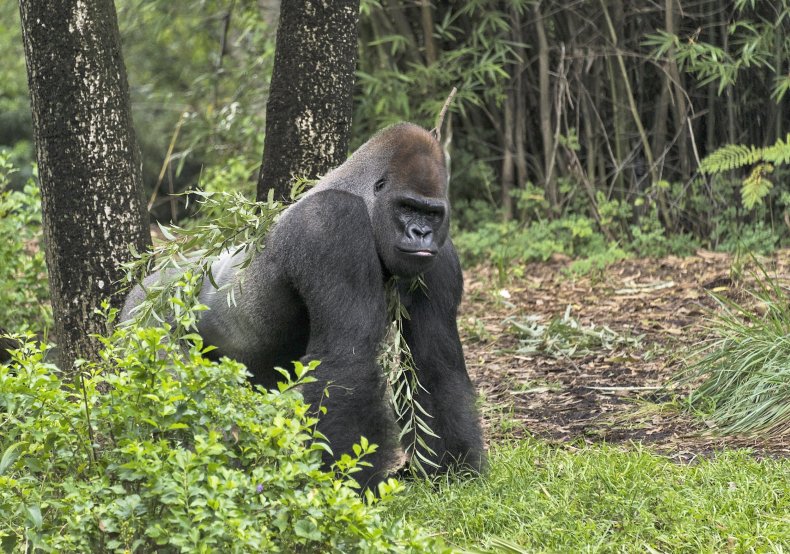 Zoo Atlanta said that gorillas are considered geriatric after the age of 40.
In recent years, Choomba had been living with other older gorillas, including 61-year-old Ozzie, who is the world's oldest living male gorilla.
In its statement, the zoo said that Choomba was an "invaluable" ambassador for her species, as over the course of her lifetime it became critically endangered.
According to the International Union for the Conservation of Nature, over a 25-year period, the combined threats of poaching, illegal hunting for the bushmeat trade, habitat loss and emerging diseases have reduced western lowland gorilla population by 60 percent.
There are also declines of as much as 90 percent in some parts of western Africa.
According to the World Wildlife Fund, the total population of lowland gorillas around the world is thought to be around 100,000.