CHOP Shooting Leaves One Dead in Second Fatal Attack at Seattle Protest Zone
One person was killed and another was wounded in an early Monday morning shooting at Seattle's Capitol Hill Occupied Protest, known as CHOP, the latest of multiple shootings in the area.
The Seattle Police Department posted on Twitter that they were investigating a shooting near 12th Avenue and Pike Street, a block from the abandoned East Precinct. Both victims were brought to the Harborview Medical Center around 3:15 a.m. local time, one by ambulance and one by private vehicle.
One of the victims died at the hospital and the other is in critical condition, hospital spokesperson Susan Gregg told KOMO News.
The area has had three shootings and on June 20, Lorenzo Anderson, 19, was killed and another person was wounded. The next day, a 17-year-old boy was shot in the arm and another shooting occurred on June 23, leaving one person injured.
Newsweek reached out to the Harborview Medical Center and the Seattle Police Department for comment but did not receive a response in time for publication.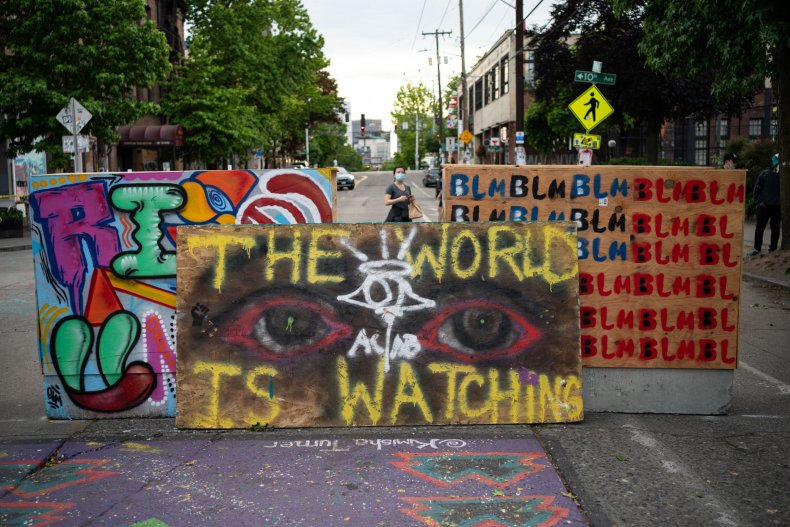 Protesters set up the occupied area on June 8 after the police department vacated the East Precinct. Police Chief Carmen Best said in a message to officers that leaving the building wasn't her decision and blamed the city for relenting to public pressure. Having asked officers to protect the precinct, she said the decision to leave "seems like an insult to you and our community."
It's unclear who made the final call to have officers vacate the premise but Mayor Jenny Durkan said the decision was made "in concert with command staff and others on the ground."
Best said leaving the precinct increased police response times for crimes in progress to over 15 minutes, about three times longer than the average time it takes to respond to a call. She also said during a briefing that officers were unable to reach Anderson and a 33-year-old man who was shot.
Stacy, who identified herself as Anderson's godmother to KCPQ, said she wants protesters held accountable for Anderson's death.
"You just messed up your whole movement because you should've sat up here and been protecting him," Stacy told KCPQ. "You guys let a black life go in your so-called Black Lives Matter protest on the street. Come on now."
Durkan announced on June 22 that CHOP would be disbanded and the goal was for people to leave voluntarily. She said the violence was distracting from the change protesters sought and said the impact to businesses, residents and the community are "now too much."
Officials didn't share a time line for when the disbandment would occur but on Friday, crews arrived with heavy equipment to take down barriers. However, cleanup was halted after demonstrators resisted by lying on top of some of the barricades, the Associated Press reported.
Protester Steve Hickey told Newsweek on June 23 that many demonstrators aren't planning on leaving and he didn't see a "peaceful end to the standoff." Hickey added that the people who are willing to fight to show how significant the movement is to them feel as if they didn't "go this far just to walk away."
If protesters aren't willing to leave on their own accord, a Seattle police officer told Newsweek that officers' only option could be to use force.
"We're no longer allowed to use things like tear gas and pepper spray. The only thing that we can use is our sidearms or our batons," the officer said. "And we lose if we use force, it's gonna look ugly."