Chris Brown Arrested in Paris: Full Timeline of Singer's Legal Trouble Following Rape Accusations
Chris Brown is facing legal trouble, yet again, after being accused of raping a woman in Paris. French authorities detained the R&B singer on possible charges of aggravated rape and drug infractions, the Associated Press reported on Tuesday.
Brown's bodyguard and one of the singer's friends were also arrested in conjunction with the complaint, French newspaper Le Parisien reported.
According to the complaint, the woman met Brown and company at a Paris nightclub and went to the Mandarin Oriental Hotel with them on January 15. She alleged Brown forced himself on her and claimed his friend and bodyguard abused her after she was allegedly raped.
Authorities arrived at the hotel on Monday and arrested Brown, who shared videos of himself in Paris for Fashion Week a day after the alleged rape took place. Brown, 29, is still being detained in Paris.
Brown's arrest comes one month after the singer was hit with criminal charges for owning a capuchin monkey without the proper permit in Los Angeles. For a full rundown on Brown's legal history, read below.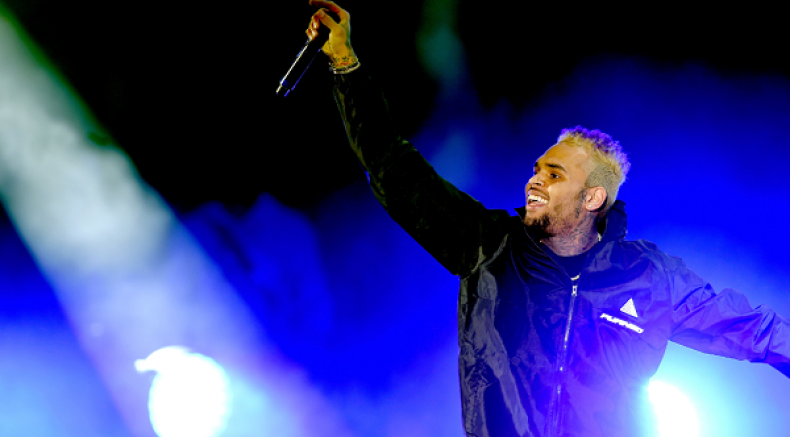 February 2009
Brown's most infamous arrest came after he abused his then-girlfriend, singer Rihanna, following a pre–Grammy Awards party. Rihanna was taken to the hospital after Brown punched, choked and bit her inside of a vehicle. He turned himself in to police and eventually pleaded guilty to one count of assault with the intent of doing bodily injury. He ended up serving five years of probation and 180 days of court-ordered community service, as well as one year of domestic violence counseling.
June 2012
Brown was involved in a fight with rapper Drake at a New York City nightclub. New York Police investigated the incident. Brown was injured in the brawl, along with four others.
January 2013
Brown and singer Frank Ocean get in a fight, reportedly over a parking space. Brown was accused of pushing and punching Ocean, according to a police report. Ocean declined to press charges.
July 2013
Brown was allegedly involved in a hit-and-run in Los Angeles, although charges were dropped after Brown and his accuser reached a "civil compromise," according to Billboard.
October 2013
After punching a man outside of a W Hotel in Washington, D.C., Brown was arrested on a felony assault charge. Brown was accused of breaking the man's nose after he tried to take a picture with him. Brown voluntarily decided to seek treatment at a rehabilitation facility, resulting in his charge being reduced to a misdemeanor.
November 2013
Brown was ordered to spend 90 days at an anger management facility after he was kicked out of the initial rehabilitation center for disorderly conduct. He was also required to submit to drug testing and take prescriptions under the facility's guidance.
March 2014
Brown was ordered to leave a treatment facility in Malibu, California, and was arrested for failing to take the court-ordered drug test. He was also accused of touching a woman who was also receiving treatment at the facility. Brown was sentenced to a year in jail but was released early in June 2014.
September 2015
Brown was accused of throwing a woman off his tour bus, resulting in her filing third-degree assault charges against him.
June 2016
Brown was sued by his former manager Mike G, who accused the singer of assaulting him in May 2016. Marion "Suge" Knight also sued Brown for failing to provide proper security at a party Brown hosted in 2014, during which someone opened fire and shot Knight seven times.
August 2016
Brown was arrested following a daylong standoff with California police. Authorities arrived at Brown's residence after a woman claimed he pointed a gun at her earlier that day. He was arrested on charges of suspicion of assault with a deadly weapon.
May 2018
Brown is named in a sexual assault lawsuit filed by an unidentified woman. Rapper Young Lo, birth name Lowell Grissom Jr., was also cited in the lawsuit, in which the woman claims he allegedly raped her several times and forced her to engage in sexual acts at a reported sex party held at Brown's home in Los Angeles in 2016.