Chris Brown's New Pet: Monkey Spotted With Daughter Royalty Is Singer's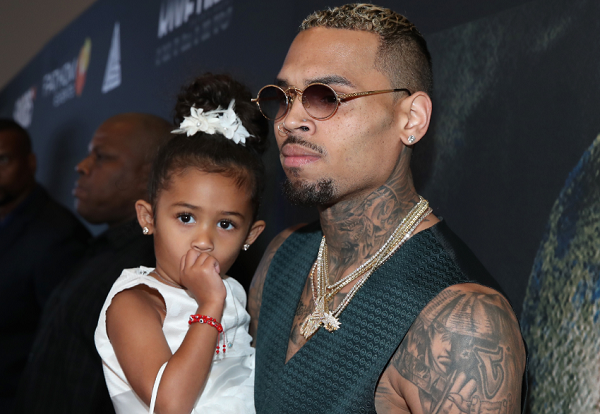 Chris Brown had fans in an uproar on Wednesday after he posted a video of his daughter Royalty cradling a baby monkey.
In the video shared on Brown's Instagram account, the singer asked his daughter if the tiny capuchin monkey belonged to her. "Ro Ro this your baby?" the singer asked, chuckling at three-year-old Royalty Brown as she snuggled with the animal.
The video went viral shortly after, with a number of Brown's fans blasting the 28-year-old for endangering his daughter by purchasing her a wild monkey. However, the monkey, named Fiji, actually belongs to the "Loyal" crooner—not his daughter.
Brown bought the baby capuchin two months ago and the animal lives with him in his California compound, TMZ reported on Tuesday. Although Royalty will have access to the exotic pet at her dad's home, she won't be allowed to take the monkey to her mother Nia Guzman's house.
Brown was inspired to buy the monkey by his idol, Michael Jackson, who famously owned a chimpanzee named Bubbles.
Clarifying that Fiji belongs to Brown and not his toddler may not make a difference to animal rights activist, though. While some naysayers said the animal should be returned to the wild, some suggested reporting Brown to the California Department of Fish and Wildlife (CDFW).
It is illegal to own a number of exotic animals in California, including primates. However, the department may make exceptions for young primates that have yet to reach sexual maturity—which doesn't occur until the animal is about 5 years old. In those cases, animal owners are required to have a permit to legally own and care for exotic animals.
Initially, Guzman was vying for full custody of Royalty, requesting Brown pay up to $16,000 a month in child support. After a lengthy battle in court, Brown was awarded joint custody of his daughter in May 2016. He was ordered to pay Guzman $2,500 per month. Royalty was given Brown's last name, which was a contention of the custody agreement. She must spend a minimum of 12 days a month with her father. Their visits are unsupervised.