Eli Manning's Former Teammate Says 'There's No Question in My Mind That Eli Is a Hall of Famer'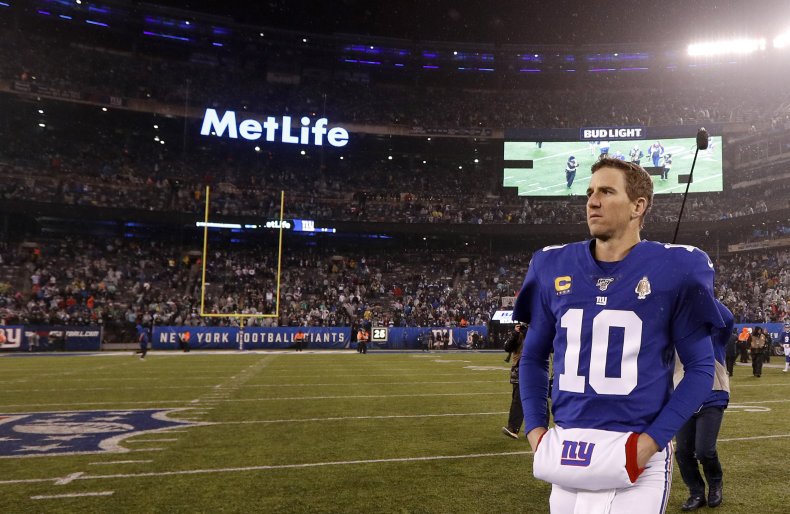 A former NFL defensive end and teammate of New York Giants star Eli Manning said the Super Bowl-winning quarterback is destined for the Pro Football Hall of Fame.
"There's no question in my mind that he's [Manning] a Hall of Famer," Chris Canty said during his appearance on Fox Sports First Things First Thursday. "Eli Manning has always been able to deliver especially when the lights are the brightest and the pressure is the greatest."
Canty's comments about Manning came a day after the quarterback announced his upcoming retirement. The New York Giants said that Manning will hold a press conference on Friday.
Canty played with Manning during the 2011 season, during which the Giants went on to win Super Bowl XLVI.
The Giants under Manning had previously won Super Bowl XLII in 2008, and Canty felt that those wins make a major case for Manning's Hall of Fame ballot.
"Competitive greatness has to account for something. You look at those two Super Bowl runs, I mean those were awesome runs," Canty said. "He [Manning] was on the road for all the games during the Super Bowl 42 (XLII) run, on the road for 3 of the 4 games during Super Bowl 46 (XLVI), everybody looks at those big moments in the Super Bowl."
Manning's stats and accolades over the course of his 16 seasons include two Super Bowl MVP awards and four Pro Bowl selections alongside his top 10 ranking in NFL history for both career passing yards (57,023) and career touchdown passes (366).
Canty was not the only former NFL player to think of Manning as a Hall of Famer. According to NFL.com, a number of ex-players as well as football writers were asked if they believe that Manning belongs in the Pro Football Hall of Fame.
"I have no doubt that Eli Manning will be in the Hall of Fame one day," said Michael Irvin, former Dallas Cowboys wide receiver and a Hall of Famer. "He made a huge play in two separate Super Bowl games, and both plays ultimately led to Giants victories."
"When you look at the totality of what Eli has done, I believe he's a Hall of Famer," said former cornerback DeAngelo Hall.
In a similar piece published by NJ.com prior to the 2018 Super Bowl, a number of Hall of Fame members were asked a similar about the chances that Manning joins them. Out of the 13 members that were asked, 11 of them said yes.
"Yeah. He's won two Super Bowls and he's a good quarterback. I definitely think he should be there," said former New York Jets star Curtis Martin, who was inducted into the Pro Football Hall of Fame in 2012.
"Yeah. Two Super Bowls in the Big Apple is pretty good. He's a great player. They don't like him up there, but I do," said four-time Super Bowl-winning quarterback Terry Bradshaw.
Despite the views of former players and current Hall of Fame members, Manning will have to wait five years from his retirement to become eligible to be inducted.
Eli Manning's Former Teammate Says 'There's No Question in My Mind That Eli Is a Hall of Famer' | Sports