Chris Chan Arrested for Incest in Virginia
Internet personality Chris Chan has been arrested on a charge of incest. The 39-year-old artist, blogger and YouTube star, whose official name is Christine Weston Chandler, is being held at Henrico County Regional Jail West in Virginia.
In a statement issued to Newsweek, Henrico County Sheriff Alisa Gregory said: "Christine Weston Chandler is currently being held in our Jail West facility on one count of incest and awaiting arraignment in Greene County, Virginia."
Sheriff Gregory was unable to provide any further information relating to the arrest other than to say "the criminal charges are not for Henrico County, but Greene County." Gregory said, "We are just housing until transport can be arranged."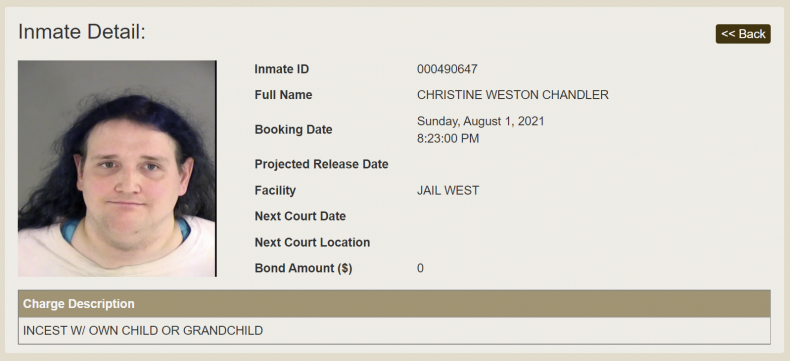 Chan is best known for the Sonic the Hedgehog and Pokemon comic cross-over character Sonichu, which has been the subject of numerous artworks since 2004. She also created the character of Rosechu, Sonichu's love interest in the series.
The 39-year-old has nearly 60,000 followers on Twitter, posting under the handle @CPU_CWCSonichu.
"I am Mrs. Christine W. Chandler Sonichu, Goddess of the Nations of Cwcville, Comma, and the Commodore Consoles, and the Creator of Sonichu and Rosechu. She/Her," the account's bio states.
According to her Patreon account she is "also known as Christian, Christopher, Chris Chan and so forth" among her fans.
Chan's Facebook profile states that she attended Manchester High School before going on to study computer-aided drafting and design at Piedmont Virginia Community College.
Though the profile says she is married, the social media star has never made any mention of a wedded partner in her postings.
Chan's last post on Facebook came on July 11, when she shared a picture of her mother, Barbara, who she lives with, after she gave her a haircut.
"Barbie Chan got a styling haircut. I did that; first time cutting anyone's hair," the caption reads. "It looks really good."
Barbara, who is sometimes referred to as Barb or Barbie for short, has featured in several of Chan's videos and social media posts over the years.
Chan's last tweet, posted on July 30, featured an image from Collective, a community-created card game.
"Hey, Y'all. Today's Collective Card, appropriately, is Turning In," she wrote.
"There is drama in the air today. Each and every one of you all are encouraged to withdraw from any and all dramas, gossip, rumors, and whatever else will, and already has, approached your way today."
Chan's most recent YouTube post, titled "Direct Message to Hasbro: MLPG5 Is Cancelled" was posted to the video streaming platform on July 27.
The clip has been viewed more than 66,000 times over the past five days.