Chris Christie: Not Running for President as a 'Surrogate for Being Prom King'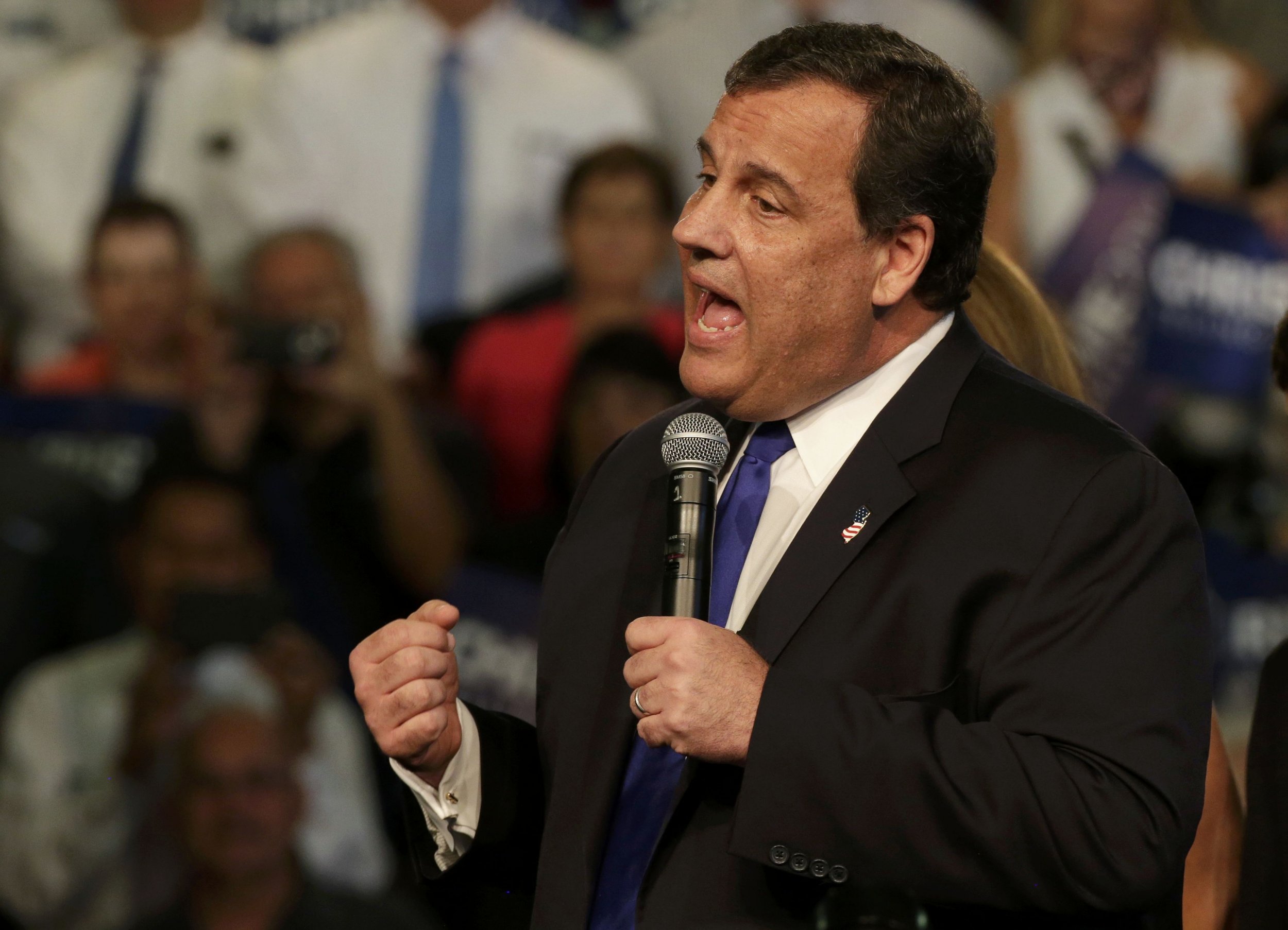 Updated | New Jersey Governor Chris Christie promised the country he would wake up each day with a strong heart, sharp mind, open ears and open arms if Americans elect him as the next president of the United States.
Speaking from his high school alma mater, the 52-year-old Republican on Tuesday morning said he doesn't seek the presidency for any other reason than that he is ready to work with citizens to restore the country "to its rightful place in the world."
"I am proud to announce my candidacy for the Republican nomination for the United States of America," he said from the gymnasium at the Livingston High School. "I mean what I say and I say what I mean, and that's what America needs right now."
Christie promised a campaign without focus-tested answers and responses crafted by his staff. "You're going to get what I think, whether you like it or not, or whether it makes you cringe," he added.
Christie, who has been governor of the Garden State for six years, began his speech thanking the Livingston community, where he said his confidence, education and personal relationships began. He thanked his father for attending, and his wife, who stood alongside him and their four children on stage. He spoke about his childhood living in Livingston, and the struggles his parents overcame when both lost their fathers at a young age.
Christie criticized President Barack Obama, who he said "lives in his own world, not our world." He also took a jab at the front-runner in the Democratic race: "We better not turn it over to his second mate, Hillary Clinton."
"This weakness and indecisiveness in the Oval Office has sent a wave of anxiety through our country. But I'm here to tell you today that anxiety can be swept away," he said. "Both parties have failed our country."
Christie said he has fought for New Jersey residents for the past 13 years in his role as an attorney and governor. "I am now ready to fight for the people of the United States of America," he said. He also said he isn't running for president "as a surrogate for being prom king."
The governor reportedly told his most loyal supporters on Tuesday that he would officially be running for the presidency before he publicly made the announcement in Livingston.
After his 40-minute speech, Christie left for the first-in-the-nation primary state of New Hampshire, where he is to hold a town hall meeting, according to The Asbury Park Press.
He has hosted almost a dozen town halls in New Hampshire. His first trip to the Granite State this year was in February. The event on Tuesday will make his first town hall as an official candidate. He also has made recent stops in Washington, D.C., and Utah.
Christie was once regarded as a serious contender in the presidential race. His popularity arguably started to dwindle in the wake of the September 2013 scandal known as "Bridgegate," when his deputy chief of staff, campaign adviser and allies at the Port Authority for New York and New Jersey orchestrated a four-day traffic jam on the George Washington Bridge.
The scandal gave way to a federal investigation and one from the legislature. A special committee later found no evidence tying Christie to the incident.
Christie ended his speech by telling Americans: "I love each and every one of you."
He joins an expanding field of at least 12 other Republicans who officially have entered the race so far, including Senators Ted Cruz of Texas, Marco Rubio of Florida and Rand Paul of Kentucky, former Florida Governor Jeb Bush and real estate mogul Donald Trump.