Chris Christie: 'I Am Not a Full-Time Surrogate for Donald Trump'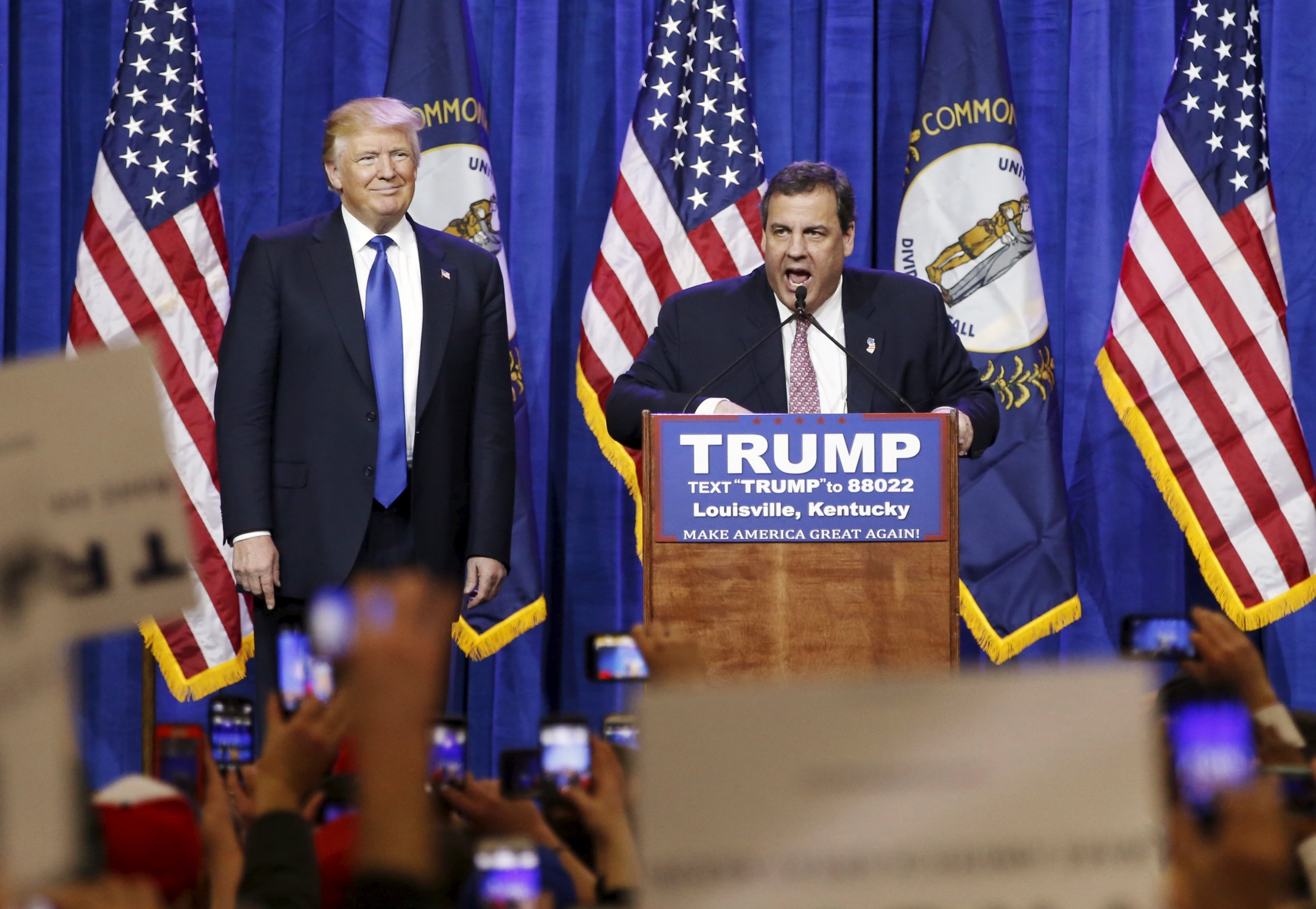 In response to criticism for appearing publicly out of state with Donald Trump in recent days, New Jersey Governor Chris Christie said at a Thursday press conference that he does not have a formal position in the Republican front-runner's campaign.
"I am not a full-time surrogate for Donald Trump. I don't have a title or position in the Trump campaign," Christie said Thursday afternoon. "I have no current plans to go back on the road with him again, but I will at some point do so."
Christie, who once was considered a star in the Republican Party, suspended his own presidential campaign after a poor showing in the New Hampshire primary on February 9. Last week he surprised Americans when he endorsed Trump for the Republican nomination. Senators Ted Cruz of Texas and Marco Rubio of Florida are currently Trump's closest challengers.
So far this week, six New Jersey newspapers and the company NJ Advance Media have called on Christie to resign in the wake of his failed campaign and his declared support for Trump. In response, Christie said he intends to remain governor until his term ends in January 2018.
Responding on Thursday to accusations that he isn't fulfilling his duties as governor of the Garden State, Christie said he has been working in New Jersey for 19 of the past 22 days since he dropped out of the presidential race. During those days, he said, he has been working on presenting a budget on education priorities and pushing for charter schools in the state's cities.
During the final weeks leading up to the New Hampshire primary, Christie first said he wouldn't leave the Granite State to return home amid reports of an impending weekend snowstorm. Facing accusations from his constituents, he ultimately changed his mind and went home to manage the state's storm response.
He reiterated to the press his belief that Trump is the best person to defeat Democratic front-runner Hillary Clinton in a hypothetical matchup in the November general election.
"I obviously thought I was better, the voters disagreed, and so I've made a choice," he said about his decision to endorse Trump. "Some people agree with that choice, some people disagree with that choice. That's what political choices are all about."
Less than two hours before Christie held his press conference, Mitt Romney, the Republicans' failed presidential nominee in 2012, publicly spoke out against Trump. He vowed to join other Republicans in rejecting the real estate tycoon. Christie said he didn't listen to Romney's remarks but added that the two are friends.
"We have a political disagreement. He has every right to express his opinion," he said. "It will not change the extraordinary respect that I have for Governor Romney."
Christie was mocked heavily for his facial expressions while he stood behind Trump during the candidate's Super Tuesday speech in Palm Beach, Florida, this week.
"I don't know what I was supposed to be doing. I was standing there listening to him. All these armchair psychiatrists should give it a break," Christie said.
He added, "I wasn't being held hostage. I wasn't upset. I wasn't angry. I wasn't despondent. I wasn't anything other than happy that we did as well as we did that night."
Christie began his press conference by touting his state's economic recovery, which now has an unemployment rate of 4.8 percent, down 5 points from when he first took office, in 2010.