Chris Christie Gets 64% Unfavorable Rating in New Jersey as He Mulls 2nd Presidential Run
Former New Jersey Governor Chris Christie received a 64 percent unfavorable rating in his home state as he eyes a 2024 presidential bid, according to a new poll.
The survey, which was released by Monmouth University on Tuesday, found that 70 percent of New Jersey respondents believe the former governor would not make a good president if he decides to run for office. In total, nearly 60 percent of people said they would not like to see Christie run for president, while only 10 percent said they would.
Despite maintaining a low approval rating, the former governor has gained slightly more popularity since leaving office three years ago. In April 2018, Christie had a 71 percent unfavorable rating—seven points worse than where he stands now—according to the poll.
Nonetheless, according to the survey results, Christie remains the most unpopular living governor in New Jersey by far.
"Christie left a lasting impression on the state. Nearly every New Jerseyan still has an opinion of him. The problem is those opinions tend to be fairly negative," Patrick Murray, director of the independent Monmouth University Polling Institute, said in a statement.
"Christie's former constituents do not offer a ringing endorsement of his presidential aspirations, but he probably doesn't care since New Jersey is rarely pivotal in the nomination process. But these numbers also mean the state is likely to remain solidly blue in the general election even if the ex-governor is on the ballot," Murray added.
The poll was conducted between April 29 and May 4, using responses from 706 New Jersey adults. The margin of error is plus or minus 3.7 percentage points.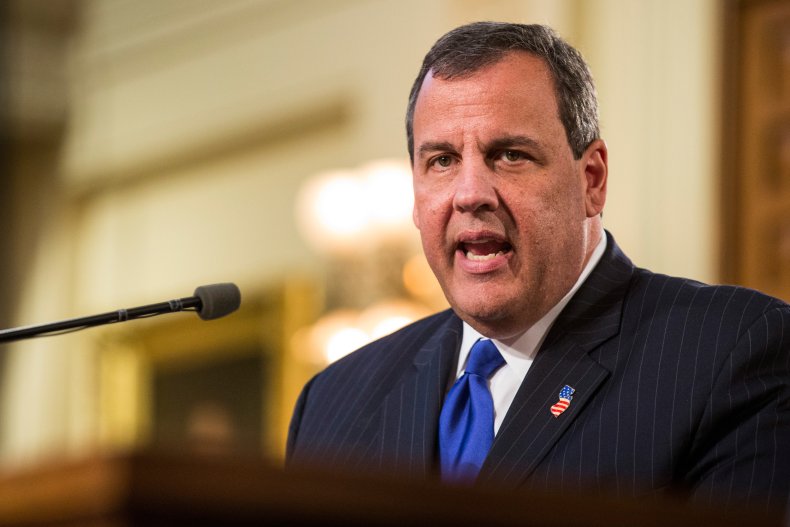 Though Christie has yet to make an official 2024 announcement, the former New Jersey governor has been a rumored candidate for months. In a Ruthless podcast interview released Tuesday, Christie said he "certainly wouldn't preclude" the option of running in 2024.
Christie previously ran as a Republican candidate in 2016 but failed to gain popular support, and instead dropped out of the race to endorse Donald Trump.
More recently, Christie has strongly criticized Trump over his baseless claims that the 2020 election was subject to mass voter fraud. The former governor has also scrutinized Trump's handling of the coronavirus pandemic.
In the Tuesday interview, Christie said he wants to try to lead the Republican Party in a "productive and smart way" and said he would not let a possible Trump candidacy deter him from running again.
"I'm also not going to be one of these people who's going to say, 'Well, I'll wait to see what President Trump's going to do.' You know, I'm not going to defer to anyone if I decide that it's what I want to do and that I think I'm the best option for the party and for the country," Christie said.
Christie added that if he does decide to run, the announcement will come after 2022, according to The Hill.
"What I want to do is to try to lead the party in a productive and smart way for us to continue to argue for populist-type policies, but not to be reckless, not to be reckless with our policies, not to be reckless with our language, to be smart about it," he said.
Newsweek contacted Christie for additional comment, but did not hear back in time for publication.