Chris Christie Jabs Jared Kushner for 'Typical Salad' Lunch in New Book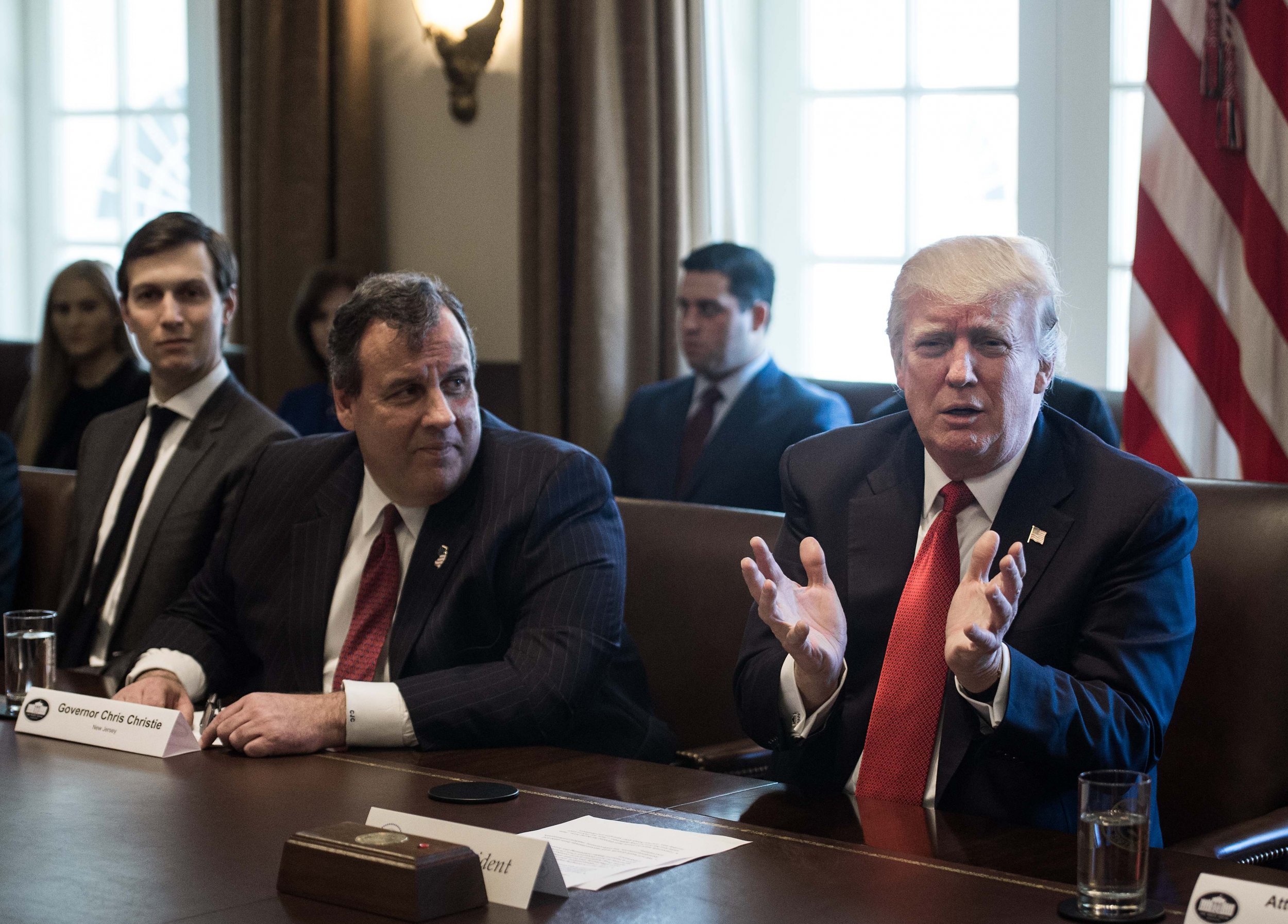 Donald Trump's ousted White House transition team chairman Chris Christie targeted Jared Kushner with apparent derision in his new book, claiming the president's son-in-law falsely believed the Russia investigation would end following the firing of Michael Flynn, had a hand in Christie's own firing and ate a "typical salad" during a lunch meeting.
In his book Let Me Finish: Trump, the Kushners, Bannon, New Jersey, and the Power of In-Your-Face Politics, Christie wrote that he and his wife, Mary Pat, had a lunch planned with Trump in February 2017, coincidentally a day after national security adviser Michael Flynn was fired ostensibly for lying to Vice President Mike Pence about his talks with a Russian ambassador during the presidential transition.
Kushner decided to join and was eating his "typical salad," when Trump said, "This Russia thing is all over now, because I fired Flynn," Christie wrote.
Christie said he began laughing, prompting Trump to ask why.
"'Sir,' I said, 'this Russia thing is far from over,'" Christie wrote.
Trump replied, "What do you mean? Flynn met with the Russians. That was the problem. I fired Flynn. It's over."
Kushner then said, "That's right, firing Flynn ends the whole Russia thing."
Christie described the exchange as "naïve" and said Kushner called him "crazy" when he opined that the probe into Russian interference and possible collusion with the Trump campaign in the 2016 election would continue to be a matter of discussion a year later.
According to Christie, Kushner believed that dismissing Flynn would halt talks around ties between the Trump campaign and Russia, and that Kushner judged wrong.
"Again, the president was ill served by poor advice," Christie wrote.
Special counsel Robert Mueller's Russian investigation has been underway for more than two years and led to indictments or guilty pleas from a handful of former Trump campaign officials besides Flynn.
Christie, a former New Jersey governor, also alleges that Kushner was the main reason that Steve Bannon, then the White House chief strategist, executed Christie's firing shortly after Trump emerged victorious in the election.
"Steve Bannon…made clear to me that one person and one person only was responsible for the faceless execution that Steve was now attempting to carry out. Jared Kushner, still apparently seething over events that had occurred a decade ago," Christie wrote.
Christie was U.S. attorney in New Jersey in the early 2000s and prosecuted Kushner's father, billionaire real estate developer Charles Kushner, on 18 counts of tax evasion, illegal campaign donations and witness tampering. Christie pegs Kushner's alleged acts against him to that history.
In another section of his book, Christie claims that Trump at a dinner in 2005 told him to lose weight by saying, "You gotta look better to be able to win." Christie, who tried to be Trump's vice presidential running mate, wrote that Trump again commented on his weight during the campaign and requested that he wear a longer tie to look skinnier.