Chris Christie, Key Player in Donald Trump's Debate Prep, Hospitalized With COVID-19
Former New Jersey Governor Chris Christie has checked himself into the hospital on Saturday after testing positive for COVID-19. Christie was a member of President Donald Trump's debate preparation team.
Approximately six hours after announcing that he had tested positive for the coronavirus, Christie tweeted that he was checking himself into Morristown Medical Center in New Jersey.
"In consultation with my doctors, I checked myself into Morristown Medical Center this afternoon. While I am feeling good and only have mild symptoms, due to my history of asthma we decided this is an important precautionary measure," Christie wrote. "I am thankful for our hardworking medical professionals and look forward to coming home soon."
Prior to Tuesday's first presidential debate, Christie had been helping Trump prepare. On Friday morning, he told Good Morning America that a group of "five or six people" including Christie were on the debate prep team.
"No one was wearing a mask in the room when we were prepping the president during that period of time," Christie said.
In addition to Christie, the debate prep team also included Trump's personal attorney Rudy Giuliani and former White House adviser Kellyanne Conway, according to NBC News. Others reported to be there included White House aide Hope Hicks; White House Chief of Staff Mark Meadows; White House Press Secretary Kayleigh McEnany; Senior Campaign Adviser Jason Miller; Senior Adviser and Trump's son-in-law Jared Kushner; and White House Director of Strategic Communications Alyssa Farah, according to the Associated Press.
Of those on the debate team, Christie, Hicks, Conway and Trump have all tested positive for the coronavirus. Giuliani, Kushner and Meadows have all tested negative. Miller, McEnany and Farah have not yet confirmed they have tested negative.
Newsweek reached out to the Trump campaign to confirm.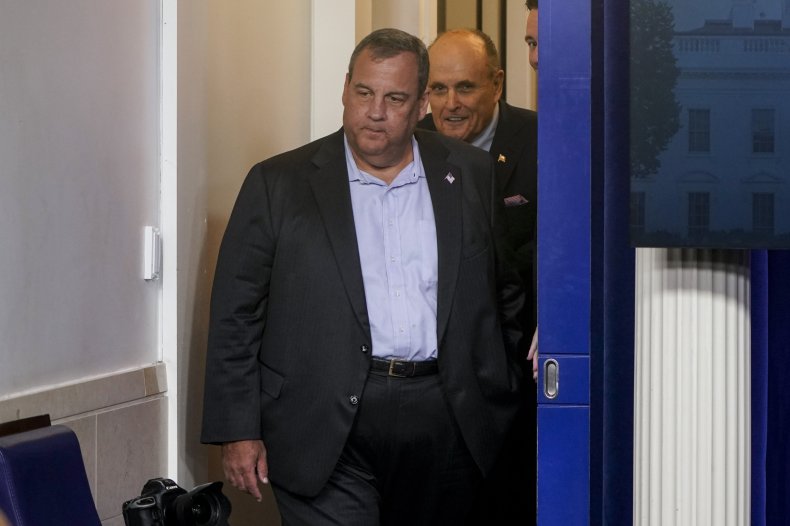 Christie announced his diagnosis earlier Saturday on Twitter.
"I just received word that I am positive for COVID-19. I want to thank all of my friends and colleagues who have reached out to ask how I was feeling in the last day or two," Christie said.
He also said during his Good Morning America appearance that he was last tested on Tuesday before the debate, and again on Friday after Trump announced he had tested positive. Christie also said that during the debate prep he didn't notice anyone with coronavirus symptoms, and that both Trump and Hicks "seemed completely fine."
Outside of the debate prep team, others in Trump's circle tested have positive, including Senators Ron Johnson, Mike Lee and Thom Tillis, and campaign manager Bill Stepien.
Trump was hospitalized on Friday evening at the Walter Reed National Military Medical Center "out of an abundance of caution," according to the White House.