Chris Christie Doesn't Rule Out Another Presidential Run, Is Delighted About Possible Howard Schultz 2020 Bid
Chris Christie is leaving the door open for a presidential run in 2024 but says he will not primary President Donald Trump in 2020.
The former New Jersey governor and close friend of Trump told Newsweek that a big reason why he wrote his new book, Let Me Finish, is because he's not done with public service yet.
"I'm 56 years old—I'm not going to rule anything out. I still have a lot of life to live and a lot to contribute," said Christie, who is currently working in the private sector. "I don't know how that will manifest itself, whether it's an appointed position or an elected position, but I'm not done yet."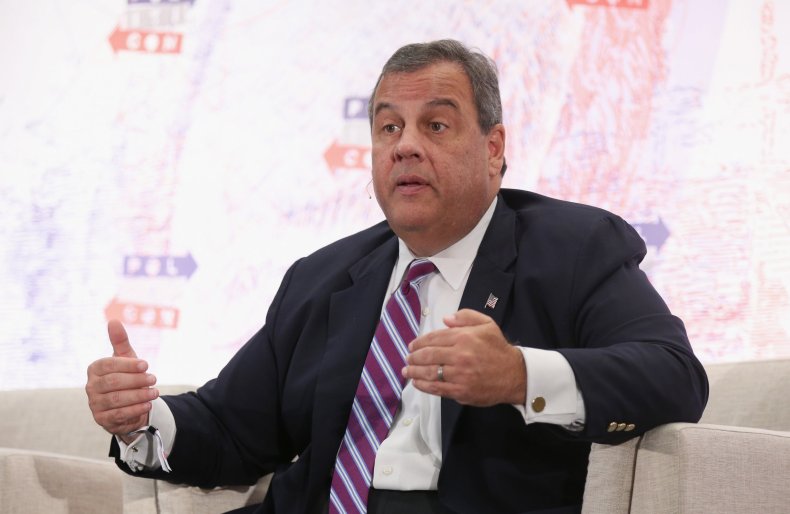 Christie, however, insisted that he would not take a job in the Trump administration unless it was the role of vice president or attorney general.
"I'm not interested in anything else, and I think I've been pretty true to that: I've been offered three Cabinet positions, a White House staff job... We talked about chief of staff five weeks ago," he said. "Four or five years from now, things might be different, but right now my priorities are clear."
In his book, Christie describes being fired from Trump's transition team and blames the president's senior adviser and son-in-law, Jared Kushner, for pushing him out.
Years earlier, as U.S. attorney for New Jersey, Christie charged Kushner's father, Charles, on tax evasion and witness tampering. Christie said Kushner held a grudge against him throughout the campaign and transition because of the prosecution of his father. After Christie's departure, he told Newsweek that he has continued to advise the president regularly by phone and maintains a close relationship with the commander in chief.
Looking ahead to 2020, Christie was thrilled by the prospect of former Starbucks CEO Howard Schultz running for president as an independent. Schultz could have the potential to take votes away from Democratic contenders and tip the election in favor of the Republicans.
"Run, Howard, run," Christie enthused. Twice.
He sees the possibility of Schultz's influence on the election as a piece of karmic justice. "Republicans got this done to us by Ross Perot in 1992, and it's time to have the Democrats have it happen to them," he said. "If 28 years later, it turns out Howard Schultz is the new Ross Perot, then I'm all for it. Let's go."
In terms of Democrats who have their eyes on the Oval Office, Christie said former Vice President Joe Biden presented the largest challenge to Trump. "He's one of the people who could challenge the president in those white working-class areas in Ohio or Michigan or Pennsylvania or Wisconsin, places the president needs to win," he said.