Chris Christie Says GOP Needs to Cast Off QAnoners, White Supremacists and Conspiracies
Former New Jersey Governor Chris Christie has said that the Republican Party needs to "discredit the extremists in our midsts," including QAnon believers, white supremacists and conspiracy theorists.
Among the conspiracy theorists, Christie included those who believe that widespread voter fraud "stole" the 2020 election from Republican former President Donald Trump, who lost the election by more than 7 million popular votes. Trump's attorney general and head of election security both said there was no evidence of widespread fraud.
"Listen, as Republicans, we need to free ourselves from the quicksand of endless grievances," Christie said. "We need to discredit the extremists in our midsts."
He made his comments during his Thursday evening speech to the Reagan Foundation, which is dedicated to pursuing the conservative ideals of former Republican President Ronald Reagan.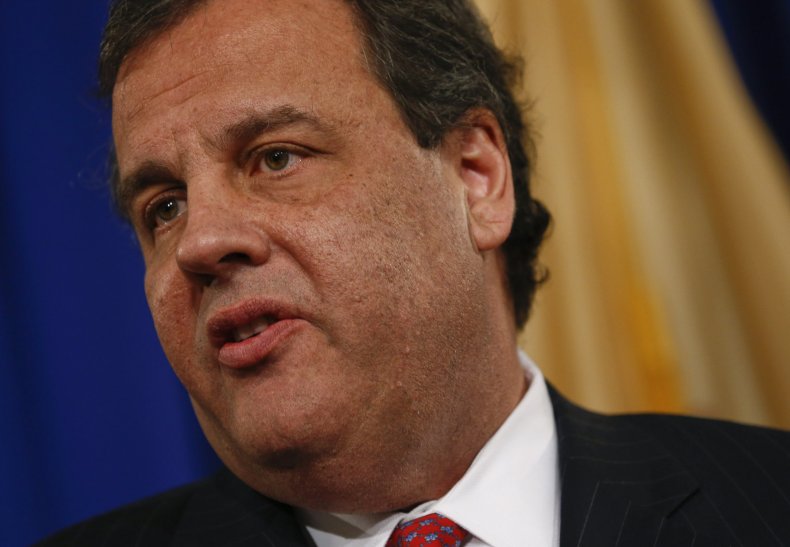 Christie said that professional political operatives in the GOP have told conservative politicians to "pander to the lies and the liars."
"They say, 'The lies are crazy, but just nod and pretend to agree. Say as little as you can and get away and duck when the reporters come to follow up. And whatever you, don't upset the truth deniers or the conspiracy propagandists, the QAnoners, the white supremacists, the wild extremists who're making so much noise these days," Christie said. "Bow quietly to the haters on Twitter and Facebook. If not, they could easily come for you next.'"
Christie said that Republicans should take a lesson from Reagan's response to The John Birch Society (JBS). During the 1960s, the JBS claimed that most of the federal government and all of the civil rights movement were populated by anti-American communists. The JBS also baselessly promoted the chemical laetrile as a cure for cancer even though it's ineffective against the disease.
In 1964, Christie said, Republican presidential nominee Barry Goldwater feared opposing the JBS, worried that it would alienate his voter base. In 1965, however, Reagan, then a candidate for California's governorship, partnered with conservative writer William F. Buckley Jr. to publicly oppose the JBS as an extremist fringe inside the GOP, despite the group's growing influence nationwide.
"Real leaders don't follow polls. [Reagan] changed them," Christie said. "Reagan's rejection of extremism was a sterling example of that idea, because in his election for [California] governor, he attracted people who didn't usually vote Republican."
"He understood that telling the truth, standing up to lies and pitching a big tent was a winning formula," Christie continued. "I believe that is the advice he would give us today."
Christie then said that gaining political support shouldn't require someone to repeat falsehoods or give blind faith or obedience to any person, especially someone who is "trying to acquire or hold onto power ... who is demanding that we tie our future to a pile of lies."
"That's not who I am. And that's not who we are as Republicans," Christie said. "We're better than that."
"We need to be the party that embraces the truth, even when it's painful," he continued. "Unacceptable grievances and conspiracy theories always die hard, but they can only live in the darkness. Their days are numbered once the light of truth shines down on them."
"Today more than ever, we need to fight left-wing government expansionist extremism," Christie added, "but we cannot do it by quietly capitulating to untrue extremism of our own."
It is unclear whether Christie intends of running as a Republican candidate for president in 2024.