Chris Christie Says Nobody Wore Masks in Debate Prep Room With Trump
Following President Donald Trump's positive coronavirus test announcement early Friday morning, former New Jersey Governor Chris Christie said that nobody wore a mask in the prep room for Tuesday night's debate.
Christie joined ABC's Good Morning America on Friday morning to discuss Trump's interactions before his diagnosis and what precautions the Trump administration took to prevent the spread of the virus before the debate. He said that, although he was at the White House from Saturday until Tuesday afternoon, his last coronavirus test result—taken Tuesday morning—was negative.
"No one was wearing a mask in the room when we were prepping the president during that period of time," Christie told GMA. "The group was about five or six people in total."
Along with Christie, the president's debate prep team included former New York City mayor and Trump's personal lawyer Rudy Giuliani.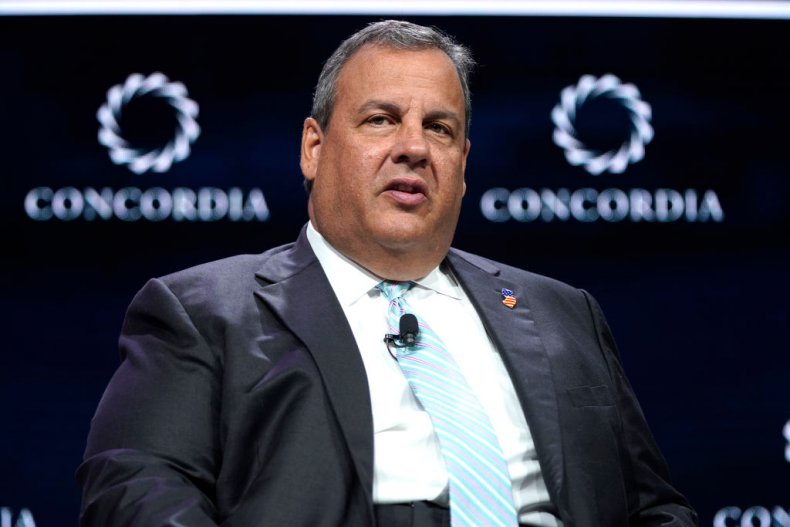 He mentioned that the Trumps and Hope Hicks—a top advisor and trusted aide to the president who earlier tested positive on Thursday—"seemed completely fine" and that he did not notice any symptomatic people during the debate prep.
Hicks traveled with the Trumps on board Air Force One while heading to Tuesday's debate in Cleveland, and then again the next night to a campaign rally in Minnesota. Other campaign aides as well as several Minnesota congressmen were also aboard the aircraft.
As he's awaiting his test results from Friday morning, Christie said he isn't currently experiencing any symptoms.
"I feel fine," he said. "I don't feel any symptoms at this time. Obviously, I hope it remains that way."
Trump, who is 74, tweeted early Friday morning that he and first lady Melania Trump have tested positive for the coronavirus. Vice President Mike Pence and second lady Karen Pence have reportedly tested negative for the virus. Democratic presidential nominee Joe Biden—who was across the stage from Trump during Tuesday's debate—also tested negative for the coronavirus this morning.
"Tonight, @FLOTUS and I tested positive for COVID-19," Trump earlier wrote. "We will begin our quarantine and recovery process immediately. We will get through this TOGETHER!"
The president has been regularly criticized for downplaying the severity and risk of the virus, and even mocked Biden's mask-wearing habit during Tuesday's debate.
White House Physician Dr. Sean Conley sent a letter, obtained by NBC News, to White House Press Secretary Kayleigh McEnany on Thursday night regarding Trump's diagnosis.
"The President and First Lady are both well at this time, and they plan to remain at home within the White House during their convalescence," Conley wrote.
He added: "Rest assured I expect the President to continue carrying out his duties without disruption while recovering, and I will keep you updated on any future developments."
Updated 12:36 PM ET with the announcement that Biden tested negative for COVID-19.