New York Rep. Chris Collins Resigns: Everything We Know About Insider Trading Scandal and What Happens Next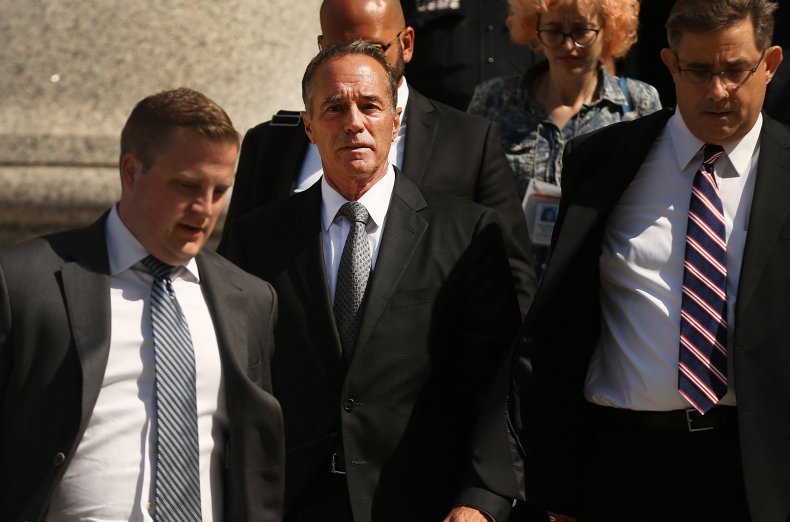 U.S. Representative Chris Collins, a fourth-term Republican from Western New York, resigned on Monday prior to an expected guilty plea in an insider trading case.
Collins sent a letter of resignation Monday to Speaker Nancy Pelosi's office, according to her spokesman, who said Collins's resignation will be effective tomorrow after it's filed in the House's pro forma session.
New York prosecutors have accused Collins of passing along sensitive information to family members while he sat on the board of Australian-based Innate Immunotherapeutics and owned about 17 percent of the company's stock.
In the indictment unsealed on August 8, 2018, prosecutors said Collins tipped off his son about a failed drug trial prior to that information becoming public. After learning about the trial through an email from Chief Executive Officer Simon Wilkinson, the congressman seemed to panic.
"Wow," Mr. Collins wrote back to Wilkinson. "Makes no sense. How are these results even possible???"
He proceeded to call his son about a half dozen times before finally telling him the news, hoping he "would use it to trade and tip others," the document said.
By selling Innate stock before it plummeted off news of the failed test, Cameron Collins and his fiancé's father -- both co-defendants in the case -- collectively avoided losses of about $714,000, according to court filings. The government said Rep. Collins did not make any trades off the knowledge.
A new court filing in the case lists a scheduled hearing for Collins to change his plea, supposedly from innocent to guilty, on Tuesday, while his co-defendants are scheduled to change theirs on Thursday. In the past year, Collins and his co-defendants pleaded not guilty on two occasions: once last summer and once again earlier this month, according to reporting by CNN.
It's not yet clear if Collins and company will confess to all the charges originally laid out in the indictment last summer -- which included securities and wire fraud, conspiracy and lying to the FBI -- or whether some have been revised or dropped. Details of pending plea deals are not yet available.
Collins, 69, was the first sitting member of Congress to endorse President Donald Trump in 2016. Last week, he took to Twitter to bash Democrats for ongoing impeachment investigations against the president.
"Channeling the great Ronald Reagan," Collins said in a statement on Twitter, "There they go again. Democrats just can't help themselves in their quest to impeach President Trump or anyone else."
While Cuomo could choose to leave Collins' seat vacant for the remainder of his term, the governor is expected to call a special election for the congressional spot. Some experts have noted a special election held the same day as the Democratic presidential primary could draw more Democrats than normal to the polls, according to The Buffalo News.
Prior to the resignation from Collins, contenders in both parties meant to challenge the congressman, including Nate McMurray (D) of Grand Island, as well as state senators Chris Jacobs (R) and Robert Ortt (R). McMurray, Jacobs and Ortt may be likely candidates for the special election, should Cuomo choose to hold one.