Chris Coons Says Democrats' Israel Position Is Not Framed by 'Far Left' Quotes From Ilhan Omar, Rashida Tlaib, AOC
Democratic Delaware Senator Chris Coons said on Tuesday that Democrats' position on Israel is not framed by "far left quotes" from Reps. Rashida Tlaib, Ilhan Omar and Alexandria Ocasio-Cortez.
During an interview with Fox News, host Dana Perino played several clips of Tlaib, Omar and Ocasio-Cortez expressing criticism of Israel's attacks against Palestinians. In one clip, Omar can be heard saying, "Many members of Congress have instead fallen back on a blanketed statement defending Israel's air strikes against [Palestinian] civilians under the guise of self-defense."
Shortly after the clips were played, Perino asked Coons how he feels about the "Democratic position being framed more by what the far left is saying rather than somebody like you, who might have a more moderate voice?"
In response, Coons said, "Well, the Democrat position is only framed by those few far left quotes here on Fox."
"In the Senate, in my home state of Delaware, throughout the country, President Biden, and I would say the leadership here in the Senate of the Democratic Caucus, frame our message on critical issues domestically and internationally," Coons said. "And I think President Biden has been constructive, measured and appropriate in his response to the ongoing violence in Israel and making it clear that he supports Israel's right to defend itself from attacks by terrorist group Hamas while still saying he supports a cease-fire and regrets the loss of life as this conflict goes into its second week."
The comments by Coons come amid escalated violence between Israel and the Palestinian militant group Hamas. As shown in the clips during the interview, several members of the "Squad," such as Ocasio-Cortez, Tlaib, Omar and Rep. Ayanna Pressley, have criticized Israel and their attacks against Palestinians.
Both Pressley and Tlaib recently suggested that the ongoing violent situation in Israel was due to an "apartheid" funded by the U.S. government.
In addition to the comments shown during Coons' interview with Fox News, Ocasio-Cortez recently criticized New York City mayoral candidate Andrew Yang for expressing support for Israel amid the ongoing violence. In a tweet, Ocasio-Cortez called Yang's support for Israel "utterly shameful."
Despite the criticism against Israel from many progressive Democrats, as Coons noted in his interview, President Joe Biden has expressed support for Israel's "right to defend itself against rocket attacks from Hamas and other terrorist groups in Gaza," while also calling for a cease-fire between Israel and Hamas.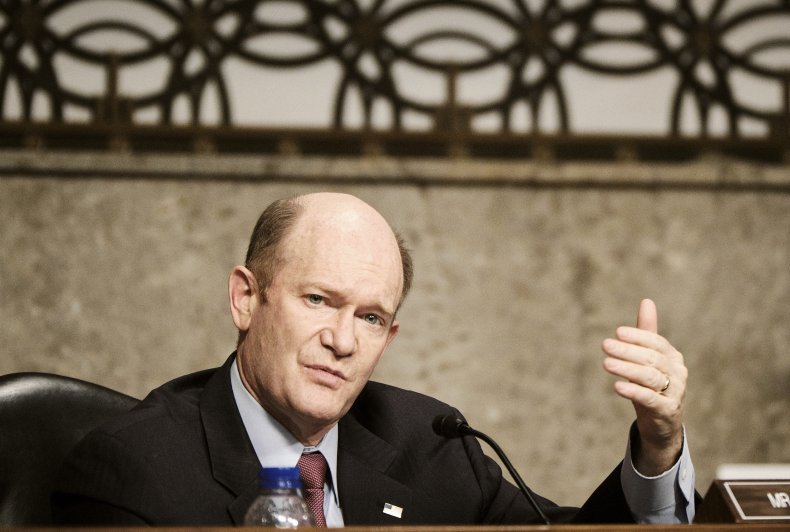 According to a readout of Biden's call with Palestinian Authority President Mahmoud Abbas, "Biden updated President Abbas on U.S. diplomatic engagement on the ongoing conflict and stressed the need for Hamas to cease firing rockets into Israel."
"The President also underscored his strong commitment to a negotiated two-state solution as the best path to reach a just and lasting resolution of the Israeli-Palestinian conflict," the White House said in a readout of Biden's call with Abbas.
Newsweek reached out to Coons for further comment but did not receive a response in time for publication.