Chris Cornell Grave Site: Fans Asked to Stop Filming at Soundgarden Singer's Burial Plot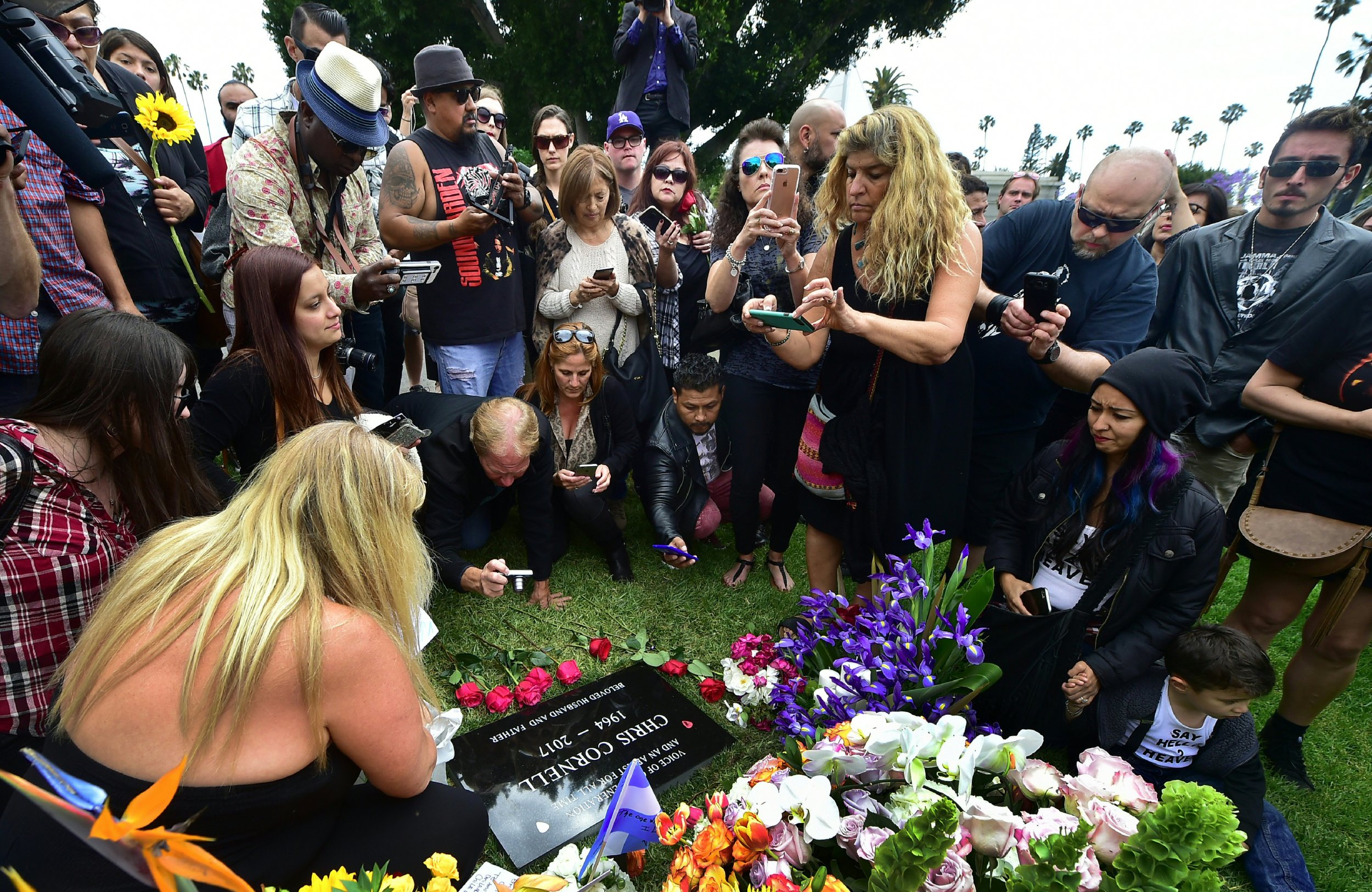 The cemetery where Chris Cornell—the late singer of Soundgarden—is buried has asked fans to stop filming the site. The Los Angeles cemetery, Hollywood Forever, has a "strict filming policy," according to a photo of a letter to Cornell's wife, Vicky Karayiannis, posted on the late singer's account by his management.
"We understand that some of Chris's fans wish to video their visits at Hollywood Forever, but we've had confirmation that it's against their policy," the tweet read. "We'd like to thank everyone for their understanding."
Noting that the filming policy was in place out of respect to the privacy of families, the letter to Karayiannis, from the director of private estates at Hollywood Forever, noted that Cornell's fans are always respectful of the plot and "leave sweet gifts and notes....We love that so many fans visit and spend the day here. Every time I pass his area there is someone visiting Chris. It is beautiful to see and reminds me how special and adored your husband is."
Cornell died by suicide last May; he was 52 years old. Fronted by Cornell, Soundgarden—along with Seattle contemporaries Nirvana and Pearl Jam—defined the grunge period that was a major part of rock music during the late '80s through the mid '90s. Newsweek's Zach Schonfeld has argued that Soundgarden's album Superunknown—which featured the classic radio hit "Black Hole Sun"—could be considered the best grunge album of all time. Through its "extraordinary sprawl and its heady, unflinching glimpse at depression and despair" the album might out-do classics like Nirvana's In Utero or Pearl Jam's Vs. because of "Cornell's bleak lyrical acuity and wailing vocal abilities."
Later in life, after Soundgarden broke up in 1997, Cornell would go on to front the band Audioslave. Soundgarden got back together to record in 2010.