Chris Cuomo Calls Alleged Harassment Incident With Ex-Boss at ABC 'Not Sexual in Nature'
A former ABC News producer wrote in The New York Times on Friday that CNN anchor Chris Cuomo touched her inappropriately in 2005 while they were both employees at ABC. Cuomo acknowledged an incident had occurred between them but said the "interaction was not sexual in nature."
Shelley Ross, who wrote the op-ed describing what she called an instance of sexual harassment, also noted in the article that she never thought Cuomo's "behavior was sexual in nature." However, she said, "[w]hether he understood it at the time or not, his form of sexual harassment was a hostile act meant to diminish and belittle his female former boss in front of the staff."
When contacted for comment, a CNN spokesperson referred Newsweek to Cuomo's statement in the Times. "As Shelley acknowledges, our interaction was not sexual in nature," Cuomo told the Times. "It happened 16 years ago in a public setting when she was a top executive at ABC. I apologized to her then, and I meant it."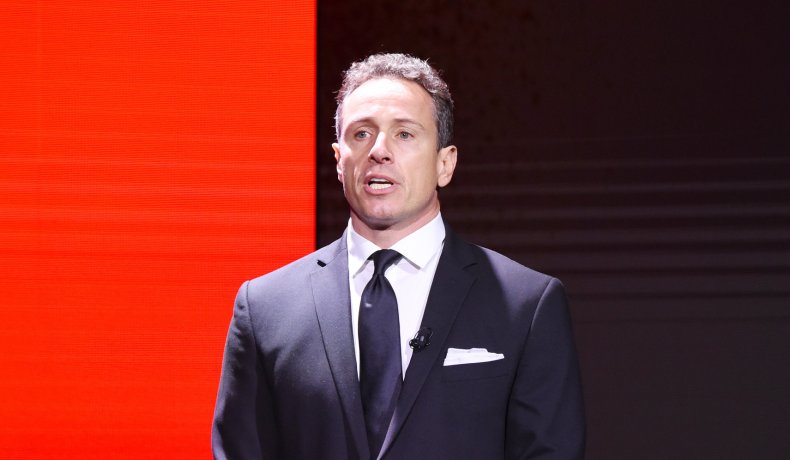 In the story, Ross wrote she came forward about the alleged incident now in light of sexual misconduct accusations against Cuomo's brother, former New York Governor Andrew Cuomo. On August 23, Andrew Cuomo resigned from office, saying the numerous allegations against him distracted from the business of the state.

Ross said she was attending a going-away party in 2005 for an ABC colleague at an Upper West Side bar when Chris Cuomo greeted her with a hug. She wrote the hug continued with him "lowering one hand to firmly grab and squeeze the cheek of my buttock."
"I can do this now that you're no longer my boss," Cuomo said, according to Ross, who had previously been his producer on ABC's Primetime Live before she moved to work on another show at the network.
Ross said she informed him he could do no such thing and pushed him away, while also emphasizing her husband was seated next to her. Not long afterward, she said Cuomo emailed an apology to her to say he felt "ashamed."
"Now, given Mr. Cuomo's role as a supporter of and counselor to his brother, I am left again wondering about his relationship with truth and accountability," Ross wrote in The New York Times. "Has this man always cared 'deeply' and 'profoundly' about sexual harassment issues? Does he believe enough in accountability to step up and take some meaningful actions?"
Ross also wrote that she bears "no grudge" against Cuomo and is not seeking to get him fired. Instead, she said this could be "an opportunity for him and his employer to show what accountability can look like in the #MeToo era."
She said she feels Cuomo enabled his brother in the alleged mistreatment and sexual harassment of women, noting the official report on the investigation into Governor Cuomo from New York Attorney General Letitia James named Chris as an adviser to his brother.
Ross said if Chris Cuomo and CNN "don't think he crossed a serious line, one that warrants consequences," in regard to his advising the former governor during the sexual harassment investigation, "I know he crossed a line with me."
"I'm not asking for Mr. Cuomo to become the next casualty in this continuing terrible story," Ross continued in the Times. "I would, however, like to see him journalistically repent: agree on air to study the impact of sexism, harassment and gender bias in the workplace, including his own, and then report on it."
Newsweek contacted ABC for comment but did not hear back in time for publication.