Chris Cuomo Opens Up on Fight With Coronavirus, Says Trump Will Never Escape Accountability For Handling Outbreak
CNN host Chris Cuomo has described in detail his personal battle with the coronavirus and how he took the advice of a medical expert not to be a passive patient.
Broadcasting from his house on Monday, the Cuomo Prime Time presenter said that the virulence of COVID-19 meant that the normal advice to recover from other illnesses, namely to stay in bed and let it take its course, does not apply.
Describing his battle with the illness as being akin to tackling a "beast", he said his experience of the illness since his diagnosis last Tuesday was that "it doesn't just pass, it progresses. It's weeks, not days. It's chronic and it is humbling."
Cuomo also criticized President Donald Trump, comparing one soundbite in which he said that testing would be available to everyone, with another clip in which he said testing for the disease should be a state response and not a federal one.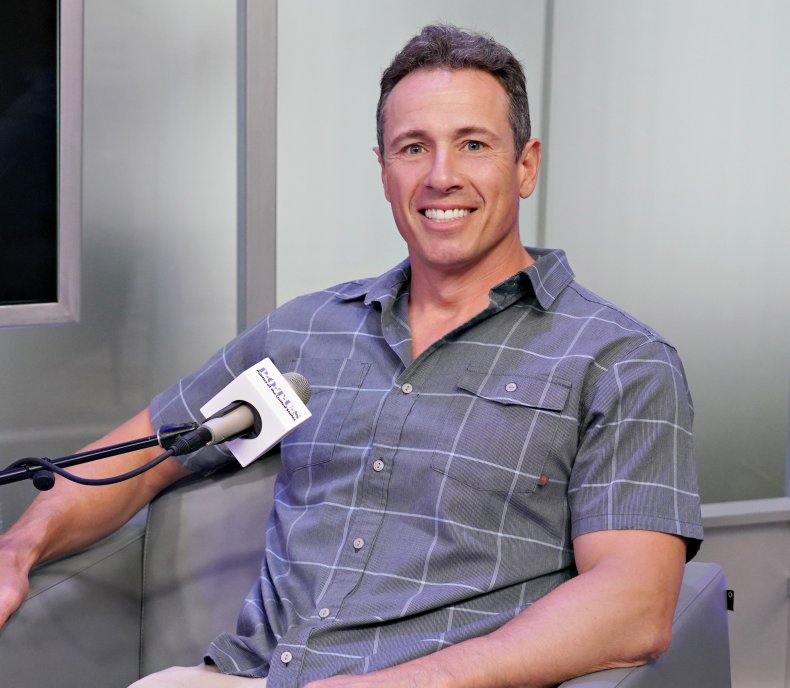 "The president of the United States will never be able to escape accountability and responsibility for what happens. He is our leader....kicking it to the states after he told you that anyone could get one— we know what this is about now. And you have to see it for what it is," Cuomo said. Newsweek has contacted the White House for comment.
Cuomo described his battle with the disease. "Now I am wise to the beast and its ways. It changes, the fever is just softening us up. It's making your body hurt so you don't move your body because what it wants to do is get into your lungs."
He described how he had a low level of Immunoglobulin M (IgM) which is the primary immune response antibody, making him susceptible to conditions like bronchitis.
"There I was...I was in a pool of sweat, 12 hours later, I was in the same damn place. I hadn't slept a minute, I was just soaked and scared, honest to God."
He said that he received a phone call from a pulmonary expert who told him he had "the right fear and the wrong approach," and was advised to take more active measures like getting up, stretching his torso and holding his breath.
Cuomo said: "You have got to do the things to beat the virus, you have got to breathe deep when it hurts and it hurts.
He said that when there is a fever spike, you cannot expect it to go down because the fever spikes may last for at least 10 days.
"You have got to make that fever go down any way you can. The chest gets you, it makes you small, it really what defines this COVID. The COVID is banking on you doing nothing, your indolence...it wants us passive, on our backs, it wants us to do nothing."
"The answer has to be to 'do everything'. I lie on my side, I lie on my stomach, I'm up, I'm doing my breathing, I know I have got that stuff in my lungs, I'm not going to lose to this thing that way. No way," he said.
In a YouTube video, British doctor Sarfaraz Munshi outlined the importance for coronavirus patients to adopt deep breathing techniques so as to get oxygen deep into the lungs which can help them avoid deterioration.
In the video widely shared on Twitter—including by Harry Potter author JK Rowling, who said she used the technique to get through her own bout of the disease—the doctor from Queen's Hospital in Romford, east of London, also warned patients against staying on their backs all the time, because it lessens lung capacity and closes airways.
His advice is for people to take five deep breaths and hold the breath for five seconds and on the sixth breath, the patient does a big cough. His advice is to do the breathing technique twice and then lying flat on the stomach and breathing deeply for 10 minutes. Newsweek has contacted Munshi for comment.
Cuomo has riveted viewers for days with his broadcasts in isolation from his house, and said that he wants to keep working because "it's a way for me to help."
As of Tuesday morning, there were more than 368,000 confirmed cases of COVID-19, with nearly 11,000 deaths and just under 20,000 recoveries, according to Johns Hopkins University data.
Centers for Disease Control and Prevention Advice on Using Face Coverings to Slow Spread of COVID-19
CDC recommends wearing a cloth face covering in public where social distancing measures are difficult to maintain.
A simple cloth face covering can help slow the spread of the virus by those infected and by those who do not exhibit symptoms.
Cloth face coverings can be fashioned from household items. Guides are offered by the CDC. (https://www.cdc.gov/coronavirus/2019-ncov/prevent-getting-sick/diy-cloth-face-coverings.html)
Cloth face coverings should be washed regularly. A washing machine will suffice.
Practice safe removal of face coverings by not touching eyes, nose, and mouth, and wash hands immediately after removing the covering.
World Health Organization advice for avoiding spread of coronavirus disease (COVID-19)
Hygiene advice
Clean hands frequently with soap and water, or alcohol-based hand rub.
Wash hands after coughing or sneezing; when caring for the sick; before, during and after food preparation; before eating; after using the toilet; when hands are visibly dirty; and after handling animals or waste.
Maintain at least 1 meter (3 feet) distance from anyone who is coughing or sneezing.
Avoid touching your hands, nose and mouth. Do not spit in public.
Cover your mouth and nose with a tissue or bent elbow when coughing or sneezing. Discard the tissue immediately and clean your hands.
Medical advice
Avoid close contact with others if you have any symptoms.
Stay at home if you feel unwell, even with mild symptoms such as headache and runny nose, to avoid potential spread of the disease to medical facilities and other people.
If you develop serious symptoms (fever, cough, difficulty breathing) seek medical care early and contact local health authorities in advance.
Note any recent contact with others and travel details to provide to authorities who can trace and prevent spread of the disease.
Stay up to date on COVID-19 developments issued by health authorities and follow their guidance.
Mask and glove usage
Healthy individuals only need to wear a mask if taking care of a sick person.
Wear a mask if you are coughing or sneezing.
Masks are effective when used in combination with frequent hand cleaning.
Do not touch the mask while wearing it. Clean hands if you touch the mask.
Learn how to properly put on, remove and dispose of masks. Clean hands after disposing of the mask.
Do not reuse single-use masks.
Regularly washing bare hands is more effective against catching COVID-19 than wearing rubber gloves.
The COVID-19 virus can still be picked up on rubber gloves and transmitted by touching your face.