Chris Cuomo Emerges from His Basement to Greet His Family Amid Coronavirus Recovery
CNN anchor Chris Cuomo on Monday aired a clip showing his emergence from the basement where he was quarantined for more than two weeks after being cleared by the CDC for coronavirus.
"This is what I've been dreaming of literally for weeks," Cuomo said as he walked up the stairs from his basement into the living room of his house. He walked towards his wife Cristina Cuomo, who tested positive for COVID-19 earlier this month, and announced that she had also been "cleared by the CDC." The family's union, captured by Cuomo's daughter Bella Cuomo, aired on Monday's Cuomo Prime Time.
"This is the dream. Just to be back up here doing normal things," the host said.
Since announcing his COVID-19 diagnosis late last month, Cuomo has continued to anchor his weeknightly show from the basement of his home. He has also been updating the public about his battle with the novel virus. Last week, Cuomo revealed that his wife had also tested positive for the coronavirus.
"It really rocked us when Cristina got a case, albeit much more mild than mine," Cuomo told CNN chief medical correspondent Dr. Sanjay Gupta on Monday. "The misses going down took a toll on us. It spooked the kids. There's a little bit of a trauma and recovery process that we will have to go through."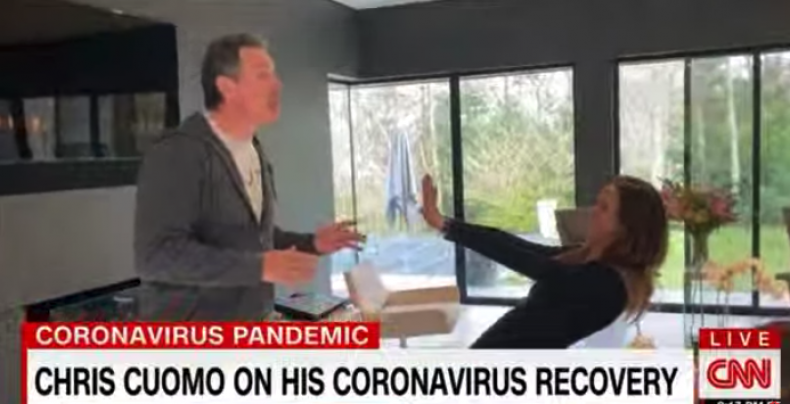 Cuomo detailed the initial stages of his recovery process, which includes a roughly 20-minute walk and other physical exercises. "I was exhausted," he said. "I felt pain, I felt strain."
Throughout his nearly-month-long battle with COVID-19, Cuomo has warned that the disease causes emotional and psychological illness, as well as physical. "It is causing people depression," he said earlier this month. "And it's creating brain fog. It's creating edginess in people. I'm experiencing that. It messes with your head, this virus. I don't know where it leaves you afterwards."
In the early stages of his infection, Cuomo said his fever was so bad that he hallucinated seeing his deceased father, former New York Governor Mario Cuomo. "I was up all night, I'm telling you, I was hallucinating," he said. "My dad was talking to me." On his physical symptoms, Cuomo said "my chest is tight, my breath is short, it hurts in the mornings. It feels like I'm going to bring up a lot more than I do."
Newsweek reached out to CNN for comment.
On April 20, more than 792,700 individuals had tested positive for the coronavirus in the U.S., with over 42,500 deaths and 72,300 recoveries.