Chris Cuomo did not mention an allegation that he sexually harassed a former ABC News producer he had worked under during Friday night's episode of Cuomo Prime Time.
The CNN personality hosted his show as usual but did not address the allegation, instead discussing a selection of the day's other news stories. In an opinion article published by The New York Times earlier in the day, Shelley Ross accused Cuomo of groping her rear end during a 2005 party, which she said "was a hostile act meant to diminish and belittle his female former boss in front of the staff."
Although Cuomo did not address the allegation during his CNN show, he did respond in a statement to the Times before his show aired, while taking care to note that Ross had indicated in her article that she "never thought that Mr. Cuomo's behavior was sexual in nature."
"As Shelley acknowledges, our interaction was not sexual in nature," Cuomo said in his response to the Times, to which Newsweek was referred following a request for comment. "It happened 16 years ago in a public setting when she was a top executive at ABC. I apologized to her then, and I meant it."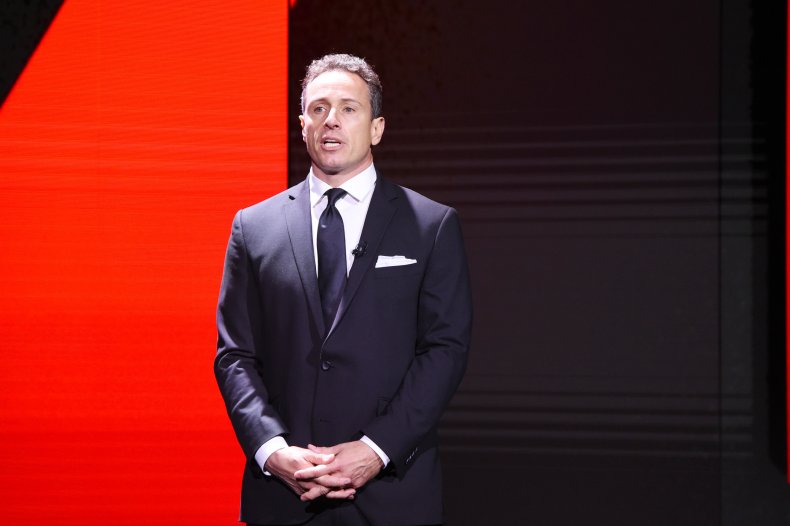 Cuomo's brother, former New York Governor Andrew Cuomo, resigned from office in August following multiple allegations of sexual harassment. The former governor has maintained his innocence despite resigning. Chris Cuomo avoided the subject on his CNN show, citing network policy forbidding him from discussing the topic due to his conflict of interest.
It is not clear if CNN policy would prevent Cuomo making on-air comments about allegations against himself. The network intervened when it emerged that he had been advising his brother on how to respond to the allegations in May, releasing a statement saying that Chris Cuomo would "not participate in such conversations going forward."
After a brief hiatus from CNN in early August, Cuomo did address his brother's resignation on air about one week after it was announced, admitting that he "can't be objective" on the subject while revealing that he had advised the former governor to "own" his actions and resign.
"My advice to my brother was simple and consistent: own what you did, tell people what you will do to be better, be contrite," said Cuomo. "And finally, accept that it doesn't matter what you intended. What matters is how your actions and words were perceived."
"And, yes, while it was something I never imagined ever having to do, I did urge my brother to resign when the time came," he added.
Newsweek reached out to CNN for comment.