Chris Cuomo Reminds Ted Cruz That Donald Trump 'Said Your Wife Was Ugly' and 'Called You A Liar'
CNN host Chris Cuomo reminded Senator Ted Cruz of Texas on Wednesday night that President Donald Trump once called him a liar and said his wife was ugly in a heated segment.
A one-on-one interview with Cruz on Cuomo Prime Time devolved into a shouting match earlier tonight over the Republican's support of Trump and Cuomo's support of his brother, New York Governor Andrew Cuomo.
"It all troubles me Ted, to watch guys like you stand by and stroke your beard like a wise man, instead of telling the president to get on it when you have power," Cuomo said with a raised voice as Cruz attempted to interrupt.
"How about tell your brother to get on it," the Republican shot back.
"My brother will stand for his own record. Why don't you talk to the president like you talk to my brother?" Cuomo responded. "You afraid of him? You think he'll smack you down at home?"
"My brother's not the president. I'm talking about the president," the host said. "The one who called you a liar, the one who said your wife was ugly! That guy. The one you won't say anything about."
Cruz then quickly shifted the conversation to criticize Cuomo's interviewing tactic.
"You actually wonder why you don't have a lot of Republicans that want to come on your show. You scream at me and yell at me and insult me," the Senator said.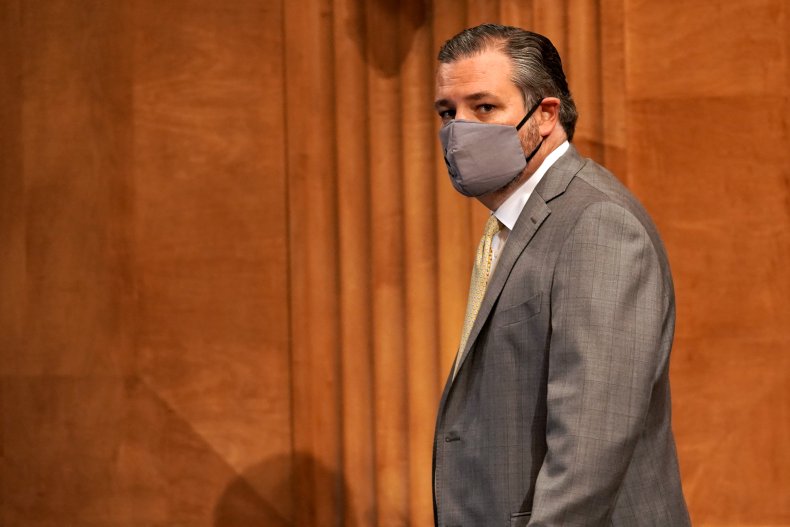 Newsweek reached out to Ted Cruz representatives for comment.
The two Republicans, who ran against each other in the contentious 2016 GOP primary, have a history of trading barbs. Not only has Trump called Cruz a liar and his wife ugly, the president also once linked his father to the assassination of John F. Kennedy.
As opponents in the race, Trump frequently used the nickname "Lyin' Ted," and Cruz retaliated to the barrage of attacks by calling Trump a "sniveling coward" and "a small and petty man who is intimidated by strong women." At one point, Republican senator even suggested that his former political opponent had connections to the mafia.
Cruz refused to endorse Trump, the Republican presidential nominee, at the 2016 Republican National Convention, insisting that he didn't want to support people "who attack my life and attack my father."
But he backtracked two months later and endorsed Trump's candidacy.
"After many months of careful consideration, of prayer and searching my own conscience, I have decided that on Election Day, I will vote for the Republican nominee, Donald Trump," Cruz wrote on Facebook.
The two former rivals have since mended their relationship.
In 2017, Cruz took his children and wife to have dinner with the man who had called her ugly. "Our family had dinner [with] the President & First Lady, who were warm & gracious," he tweeted. "Catherine brought Joe—her kindergarten class stuffed giraffe!"
One year later, Trump campaigned for Cruz in Houston when he faced a surprise Senate challenge from Democratic candidate Beto O'Rourke.