Watch Chris D'Elia's Shocked Reaction to Finding Out Snapchats Can Be Saved
Footage of comedian Chris D'Elia's shocked reaction to finding out that Snapchat content can be saved has resurfaced amid multiple accusations of sexual misconduct and inappropriate conduct with underage girls.
Several women last week shared their experience with D'Elia as accusations of grooming and the solicitation of nude photos and meeting up for sex spread on Twitter.
Now a clip from comedy podcast The Fighter and The Kid has gone viral on Twitter for showing D'Elia's sudden realization that Snapchat content can indeed be saved.
The subject being discussed in the clip centers around a high school teacher sending nudes to a 15-year-old student on Snapchat and getting caught.
"But hold on a second," he interrupts. "How did it come out? Snapchat goes away right?"
When told that content can be saved, D'Elia is stunned into silence.
The irony of the footage has not been lost on Twitter, with hundreds of users commenting on the video, some even editing the Curb Your Enthusiasm theme-song over D'Elia's shocked expression.
One tweet, which has more than 20,000 likes pointed out: "you can literally see the second his life flashes before his eyes like 4 seconds in when she says it was on snapchat."
The Los Angeles Times reported Saturday that one of D'Elia's accusers was contacted by him on the social media platform before getting her number and sending her sexual texts.
In a statement released to TMZ, he said: "I know I have said and done things that might have offended people during my career, but I have never knowingly pursued any underage women at any point." D'Elia goes on to say, "All of my relationships have been both legal and consensual and I have never met or exchanged any inappropriate photos with the people who have tweeted about me."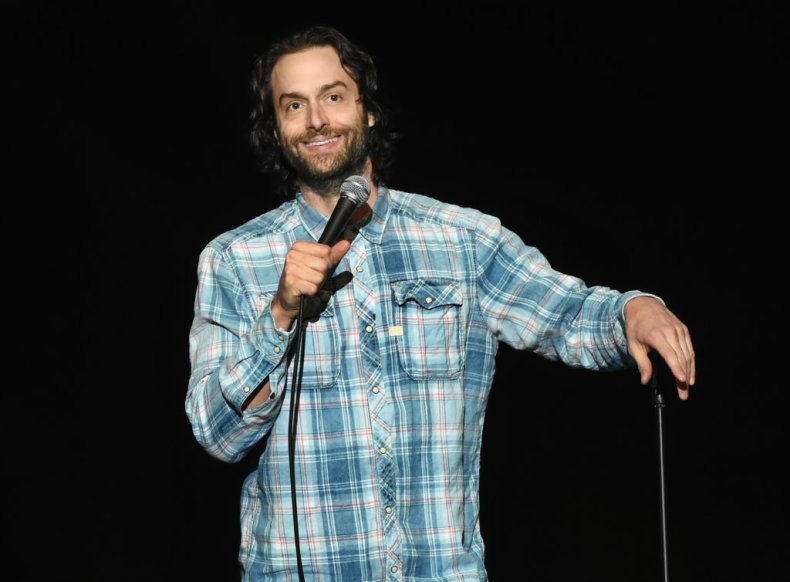 He added: "That being said, I really am truly sorry. I was a dumb guy who ABSOLUTELY let myself get caught up in my lifestyle. That's MY fault. I own it. I've been reflecting on this for some time now and I promise I will continue to do better."
Another clip of D'Elia making creepy comments began circulating last week from his podcast Congratulations with Chris D'Elia.
The segment features D'Elia ranting about what he thinks 14-year-old girls look like today.
"You ever see a f***ing 14-year-old? She looks 30," he says. "There's no such thing as a 14-year-old girl anymore. They go from like, six, to 25."
In 2009, he made suggestive comments about a then 17-year-old Miley Cyrus, tweeting: "I want to follow Miley Cyrus but I feel weird because she is underage. I'm 29. I can't follow a 16-year-old. Even on the internet."
An episode of the comedy series Workaholics in which Chris D'Elia plays a "cool pedophile" has also been removed from streaming services.
Newsweek has reached out to Chris D'Elia's representatives for comment.