Chris D'Elia Played a Pedophile in 'You,' and People Are Pointing it Out
Comedian Chris D'Elia is facing multiple accusations of sexual harassment today, as several women have been sharing their experiences with him, many of whom were underage when he solicited them for sex or asked them to meet up.
In what appears to be a #MeToo reckoning for the 40-year-old, many can't help but point out that he played a character who exhibited extremely similar behavior in Season 2 of Netflix show You.
D'Elia is yet to respond or comment on the claims and his representatives had not responded to Newsweek at the time of publishing.
The eerie coincidence has seen Twitter users and You fans point out the similarities between the accusations and stories about D'Elia and the fictional plotline surrounding his character Henderson.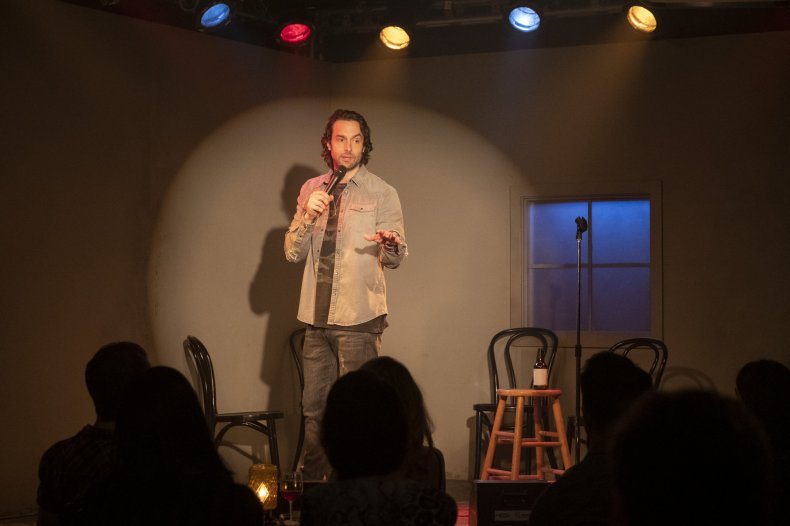 To recap: In the Penn Badgley-fronted stalker drama, Henderson is a stand-up comedian and all-round nice guy at first whose disturbing past of sexually abusing underage teenage girls is revealed.
A teen character in the season Ellie (played by Jenny Ortega) begins an internship for the comedian hoping to get a head start in the film industry and they form a friendship, despite her sister Delilah's (Carmela Zumbado) insistence that she stay away from him.
Joe (Badgley) discovers a hidden room in Henderson's basement which he had been using to assault women and take photos. Photos of Delilah are among the disturbing things he finds in the room, after he essentially groomed and raped her years previous.
Later in the season, Henderson invites the 15-year-old Ellie over to watch a movie under the pretense that other people will be there, where he laces her drink with a date rape drug. Joe manages to stop Henderson from harming Ellie, but ends up killing him in the process.
While these events are completely fictional, many can't help but point out the similarities between Henderson and D'Elia.
A Twitter user named Simoné, who uses the handle @girlpowertbh started a thread in which she shared screenshots of DM conversations alleging to be between herself and D'Elia when she was 16-years-old in 2014.
"i still can't believe netflix cast chris d'elia as the pedophile in season to of You like the literal IRONY," she tweeted.
She added: "imagine being 16 and being groomed by a stand up comedian twice ur age and the only reason you never met up and never got physically m*lested was because u had just gotten a boyfriend ur own age."
Another tweet from comedy writer Django Gold reads: "this Chris D'Elia s*** is wild, but I guess it's always the first person you suspect."
Journalist Anna Rose Iovine also pointed out: "SheRatesDogs is threading accusations against Chris D'elia, the comedian who played a sexual abuser/comedian character on You."
Some other notable reactions from Twitter users include:
Author of the You novels Caroline Kepnes posted a rather cryptic tweet about D'Elia's casting in 2019.
"Chris D'Elia will play Henderson In the Second Season Of You on Netflix and this is how I pictured him when I was writing Hidden Bodies," she tweeted.
Netflix had not responded to a request to comment at the time reporting.