Chris Evans Almost Spoils Captain America's Fate During 'Avengers: Endgame' Press Conference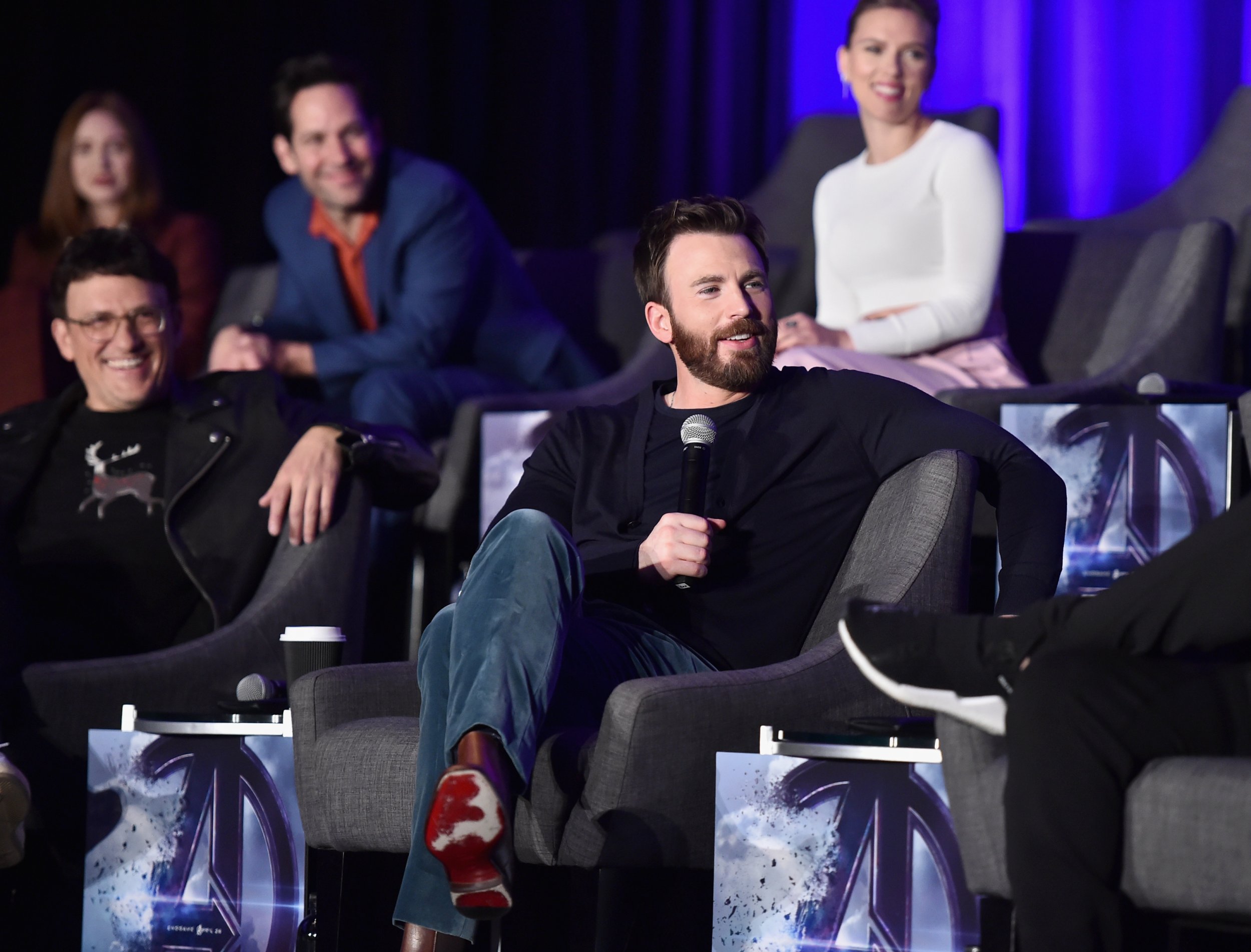 The cast of Avengers: Endgame sat among empty chairs, signifying the deceased members of the Marvel Cinematic Universe on Sunday during a press conference. While speaking about the highly-anticipated film, Chris Evans looked to have nearly revealed a major spoiler about the fate of his beloved character Captain America.
"The completion of the arc — that's safe to say, right? This movie provides an ending to a lot of –" Evans prefaced, before being interrupted by fellow castmates.
Evans continued to stutter while his co-star Robert Downey Jr. laughed and began to pace with his hands in his pockets.
"He's just been through so much," Evans said in an effort to get control of the room while also laughing to himself.
With the movie less than three weeks away from its premiere, the final movie in the Avengers storyline is building up plenty of hype amongst devoted fans. Marvel Studios recently revealed a major "spoiler" regarding the fate of a beloved Wakandian hero.
Last month, fans received a tough reminder of who perished in Avengers: Infinity War with the release of posters marking those who lived and died. They were shocked to find out that Black Panther's tech-savvy sister Shuri (played by Letitia Wright) was also amongst those whose demise was met at the hands of Thanos.
The movie didn't directly play out Shuri's death and even Angela Bassett, who played Shuri's mother, Ramonda, believed her and Wright's character survived Thanos' snap.
"No. Neither did my daughter. Shuri, she's a bright girl there in Wakanda," Bassett told Screen Rant after being asked if Ramonda met her demise during Infinity War.
Though it can't be confirmed how the Wakanda princess died, Shuri was later seen in the final battle in Wakanda trying to separate Vision from the Infinity Stone in his head. Eagle-eyed fans saw her picture alongside Scott Lang's on the Avengers computer as a part of the missing in the first Endgame trailer back in December 2018.
No matter the terms of her death, some Avengers fans weren't buying it and began to debate whether Shuri is simply missing and presumed dead.
"We just know she's missing and likely presumed dead. Remember, she is on the monitor next to one showing Scott Lang in first End Game [sic] trailer, but we know he turns up alive," one Twitter user noted. "Her last scene shows her taking Mind Stone data with her. Think she winds up being important."
Find out whether Shuri truly met her demise or if she will join forces with the surviving heroes when Avengers: Endgame premieres April 26.
Chris Evans Almost Spoils Captain America's Fate During 'Avengers: Endgame' Press Conference | Culture