Does Captain America Die in 'Avengers 4'? Chris Evans Says the Film Will Be Steve Rogers's Last
Warning: This post may contain potential spoilers for the untitled, fourth Avengers film.
Updated | Chris Evans officially has an end in sight in his Marvel career: In New York Times profile published Thursday, the actor revealed that the untitled Avengers 4 film, scheduled for 2019, will be his last appearance as Steve Rogers. Or at least, he has no plans "for now" to return to the franchise after that film.
"You want to get off the train before they push you off," he said.
Avengers: Infinity War, which is coming to theaters this April, marks Evans's sixth Marvel film—which technically is the number of films the 36-year-old actor initially signed on for. Last year, Evans agreed to extend that contract to include one more appearance in the fourth Avengers film.
"I had six films in my Marvel contract, so I could have said after the third Avengers I was done, but they wanted to make the third and fourth Avengers films as a two-parter," the star told Telegraph last June. "They said they had so many other characters to fit in–Guardians of the Galaxy, Black Panther, Captain Marvel, Doctor Strange, Ant-Man–and couldn't get them all into one movie."
Cap fans always suspected this day might come. Evans departure doesn't necessarily mean the death of Steve Rogers—except yeah, it probably does. The reason? He dies in the comics. Though 2016's Captain America: Civil War managed to sidestep Steve's tragically canon fate in the original Civil War storyline, the film still set up the potential for Winter Soldier Bucky Barnes (Sebastian Stan) to one day step behind the iconic stars-and-stripes shield. We're guessing Stan is looking at a similar promotion after Evans jumps ship.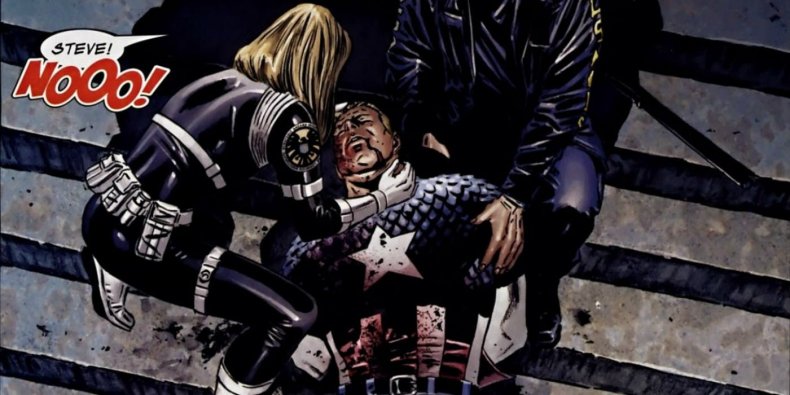 This isn't the only hint we've gotten that Cap's days are numbered. In an interview with Empire Magazine (as reported by Comic Book Movie), co-star Robert Downey Jr. said, "All I know is that there's something about being on camera with [Chris] Evans. I hate to say it, but I don't know what I'm gonna do when he's not Cap anymore."
Don't despair just yet. Maybe Cap just gets sent to a farm to live out his retirement on.
Correction: An earlier version of the headline for this story misspelled the name of Steve Rogers.