Chris Evans' Sweater From 'Knives Out': How to Copy the Look
Knives Out has found itself an unlikely star in Chris Evans' sweater.
The actor has received an extraordinary amount of attention for his character's white Aran sweater—it's become so popular that Lionsgate has even created a limited-edition sweater featuring a photo of Evans wearing this sweater that it will send to select journalists and fans.
Jamie Lee Curtis, who also stars in Knives Out, tweeted: "You know what they say... never work with children and animals. Well, I survived playing the mother of both Frodo Baggins and Harry Potter, and held my own with a Beverly Hills Chihuahua but now I am upstaged by a SWEATER!"
And it looks like everyone is getting in on Evans' sweater, even Baby Yoda.
What are Aran sweaters and where can you buy them?
According to Aran Sweater Market, Aran sweaters originated in a set of islands off the west coast of Ireland, where the inhabitants were fishermen and farmers. The sweaters were closely linked to family identity, as families' sweaters differed by the combinations of stitches, and the sweaters were passed down through the generations.
If you're wondering where you can get Evans' Knives Out sweater, there are many options available online. From traditional sweaters from Ireland to high-end sweaters from designer brands like Celine, everyone can pull off the look.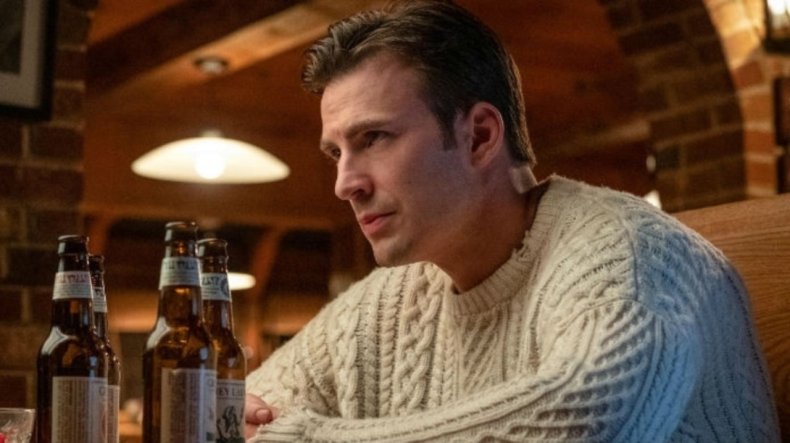 Celine
This turtleneck wool and cashmere sweater from Celine is a close match to Evans' sweater and costs $2,200.
Polo Ralph Lauren on Matches Fashion
This cable knit cotton sweater by Polo Ralph Lauren from Matches Fashion has been modeled on 9th-century Aran fisherman sweaters and costs $125.
Aran Sweater Market
This authentic Aran sweater was made in Ireland and looks quite similar to Evans' Knives Out sweater. Plus it is selling for $73.95 down from $92.95.
Blarney
Blarney's merino wool sweater features vertical Aran switches just like Evans' sweater. It was also knitted in Ireland. It costs $125.
Brooks Brothers
This Merino wool fisherman sweater from Brooks Brothers was made in Italy, and is on sale at $208.60, down from $298.
Polo Ralph Lauren at Mr Porter
Another sweater from Polo Ralph Lauren, this cable knit wool and cashmere-blend sweater honeycomb stitches on the sleeves and fisherman's cables on the front and sells for $260.
Newsweek has affiliate partnerships. If you make a purchase using our links, we may earn a share of the sale.