An arrest warrant for To Catch a Predator host Chris Hansen was lifted Friday morning after Hansen and his attorney cleared up what they called a misunderstanding. Hansen wrote on Instagram Friday the issue had been "resolved" and "Justice marches on!"
Clint Perryman, an attorney who represented Hansen in the matter, spoke with Newsweek about the matter, confirming the warrant had been lifted Friday morning. A communication issue was cited as the reason for the bench warrant being issued.
Hansen was subpoenaed to be in court Thursday in Shiawassee County, Mich., but failed to appear and return discovery materials related to a sex trafficking case. The defense counsel for accused predator Michael Lott had requested some footage and information in Hansen's possession, but Perryman explained that Hansen was in New York at the time.
Hansen had assisted local authorities on a sting operation that took place in October in Michigan, which resulted in three people getting arrested after showing up to a hotel to allegedly have sex with a minor between the ages of 13 and 15. The suspects had unknowingly been speaking with a law enforcement officer online.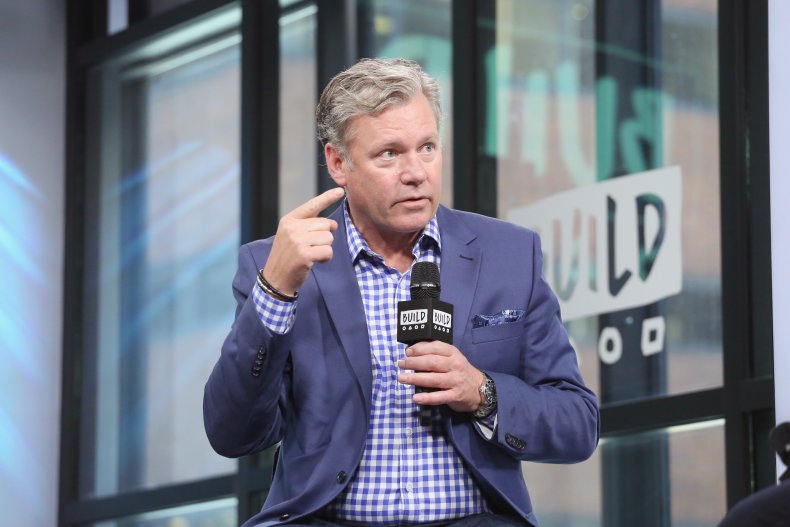 Soon after news broke that a warrant was issued for Hansen, he took to Instagram. He wrote the following on his personal account last night: "The court matter in Shiawassee Co, Mi today resulted from a predator investigation there. Defense lawyers for accused predator Michael Lott had requested video from the investigation. There was miscommunication about a hearing today on the issue. The matter is currently being resolved!"
Today, Hansen followed up with the message that all matters had been cleared up.
Hansen came back to Michigan and turned himself in to the court in Shiawassee County on Friday with Perryman. The attorney noted that once the court was informed of what had happened, the warrant was lifted and Hansen was given an additional 14 days to provide the requested materials.
Hansen currently hosts YouTube series entitled Have a Seat with Chris Hansen. A recent episode of the show covers the sting operation in Michigan involving the Genesee County Sheriff's Office and the Shiawassee County Sheriff's Office.
The episode can be seen below.
Hansen made headlines earlier this year when said he nearly targeted Jeffrey Epstein in a sting operation but was prevented from doing so due to the high security at the convicted pedophile's homes. Epstein died in prison in August 2019 after an apparent suicide as he awaited trial on new abuse allegations.
To Catch a Predator was an American reality television series by the television news magazine program Dateline NBC that featured hidden-camera investigations. It aired from 2004 until 2007.