'I'm Chris Hemsworth's Stunt Double—He's Like a Brother To Me'
In 2008, I was training for the British Stunt Register (BSR) when I got a phone call out of the blue. A young woman asked me to come into Pinewood Studios in London and audition to be Daniel Craig's stunt double in the James Bond movie, Quantum of Solace. My first reaction was, "who's this?" I thought it was a friend playing a prank on me.
I went in and it turned out that the movie needed a gymnast for a specific stunt where James Bond is fighting in an art gallery. I went in four or five times and it narrowed down to myself and one other person before I got the call saying I had the job.
I had started gymnastics when I was four years old and began competing for Great Britain when I was 17. But then I grew too tall. I was devastated because all I'd ever wanted was to go to the Olympics. I played soccer for a few years, started doing live acrobatic shows and then got into commercials and heard about the BSR. The irony of it is that most leading men are 6ft tall or more, so it's worked out perfectly.
But during Quantum of Solace, I was like a deer in the headlights. I had to learn as we went. Fortunately I was 23 by then, so I was ready to take that challenge on.
In movies a stunt sequence will often start out big and then get cut down. So I ended up rehearsing for other stunts, which Gary Powell, the stunt coordinator, saw. I ended up also doing a whole rooftop chase sequence and a big balcony jump in Panama. That happened at 2am, three storeys up with no wires.
Daniel was very dedicated to stunt rehearsals. He was with us every day for three or four hours, training and running through the fight sequences. To be able to pull off that type of fight style, Daniel had to put the work in and that's what he did.
He's not only a great actor, he's a phenomenal athlete. I learnt a lot from him and his work ethic and etiquette. He was very kind. I had always been a film buff, but he and I had a conversation one day, talking about movies. He asked if I had seen There Will Be Blood with Daniel Day Lewis yet. I hadn't seen it, so he gave me the DVD.
After that movie, I went back to my BSR training, when I got a call from Greg Powell, Gary's brother, asking me to come and double for Jake Gyllenhaal in Prince of Persia: The Sands of Time. I then worked with Greg on the last two Harry Potter movies.
The hours that go into preparation, rehearsals and shoot days are crazy and I have so many amazing memories and stories. A lot of those stories have been in the last 10 years, working as Chris Hemsworth's stunt double.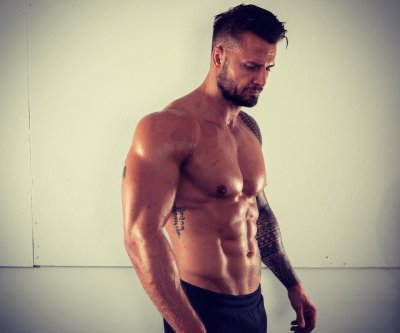 In 2011, I had just doubled for Christian Bale in The Dark Knight Rises. I came back to London in November that year and I got a call asking me to work on Snow White and The Huntsman. I met Chris briefly there, but six months later Thor: The Dark World was filming. I was originally supposed to be the stunt double for Loki, but I started training like a mad man and put on a lot of muscle mass, and when I turned up on set I asked if there was any chance I could be Thor's second stunt double.
It ended up happening, I met Chris properly and we started training together. He saw my skill set and we really clicked. Towards the end of the movie, Chris asked me what I was doing next and whether I wanted to join him on his next movie. Of course, I said yes. That was 13 movies ago. Growing with him and watching him grow into the megastar that he's become has been an amazing process.
Chris and I are the same age and we have the same sense of humor. Ricky Gervais is my comic hero, and Chris is also a huge fan of his. We have spent so much time together, because you're often on a movie set for 6, 7 or 8 months, that we've become like brothers.
Chris grew up as a normal kid in Australia with his brothers, Luke and Liam. I think we related, because I grew up as a normal kid in Portsmouth, England. My mom was a single mom and did everything she could to bring up my sister and I the best she could. Chris' mom and dad and Luke and Liam really are like a second family to me. Leonie, Chris' mom, jokingly calls me, "son number four."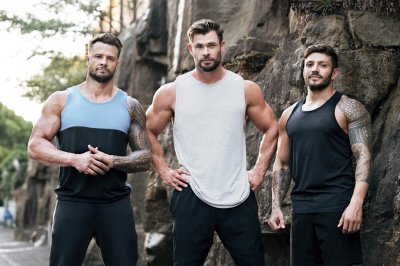 Our group, which includes Chris' trainer Luke Zocchi and Aaron Grist, are all the same age. Chris takes us around as a team with hair, make up and costume and has done for the best part of 10 years. We're very lucky, because we work with so many other departments and they all say to us, "Chris' team is the best!" I don't think it comes around often that you have a great group of people who are like one big family.
Chris is one of those people who is good at everything physical. It's ridiculous, he looks like he's been carved out of a piece of rock. But he eats a great diet, he kickboxes and surfs and is very physical. He's 6ft 3in and I'm 6ft 1in, so I have to train a lot to get anywhere near his build.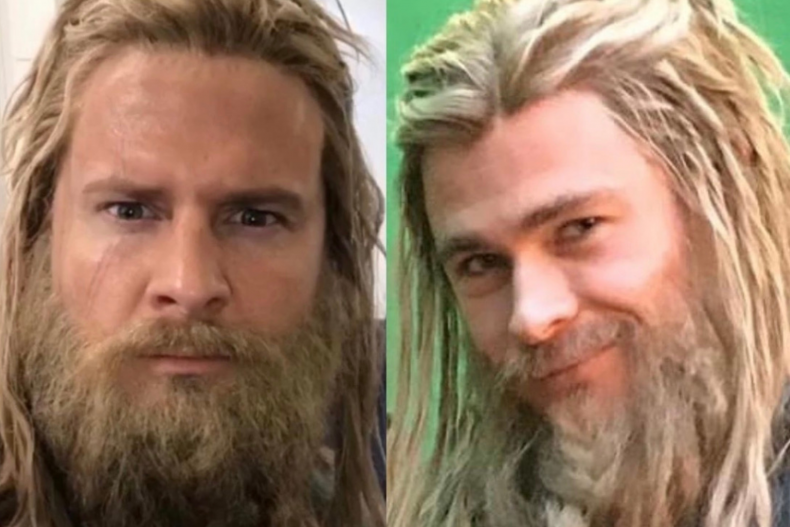 Thor: Love and Thunder was by far the hardest transformation that we've both gone through. During the pandemic, we spoke on the phone and Chris said we should take it to the next level and get into the best physical shape ever for this movie. I had to stop him and tell him that he's always in great shape! But he wanted to see what we could do to take it to a new level, so we did that.
We were training twice a day and eating 10 meals that added up to more 5,000 calories a day to put the size on. It was almost like a bodybuilding regime. If I'm honest, I don't want to have to go to that extreme again, it was tough!
But the Thor films are amazing to work on, and of my favorite films with Chris was definitely Thor: Ragnorok in 2016. We were filming in Australia with Taika Waititi, who is a very good friend of ours. I'm not sure if it was a prank Chris was playing on me, but I had finished rehearsal and was in my rehearsal gear as Chris was having last touch ups in hair and make up. I went over and started talking about the UFC because we're both huge fans, when I heard: "OK, guys, we're ready!" I turned around and there was a camera on a track for a 360 shot. It was just Chris and I in the shot, and I was not supposed to be there. Taika then called, "3..2..1...Action!"
Nearby was a big Asgardian table with a huge fruit bowl on, so I ran and dived over it to try and get out of the shot before the camera reached Chris. I made this crashing noise and landed just as they started the scene. After Taika called "cut", he walked around behind me and said: "Nice one, Bob, I saw the whole thing." Chris was laughing his head off.
Avengers: Infinity War and Avengers: Endgame were also great; being "fat Thor" was definitely an experience. When we found out in the script that Thor was going to put on weight, I said to Chris: "Dude, does that mean we can eat pizza and ice cream?" Chris said he wished we could, but we were shooting Infinity War and Endgame kind of back to back, so we had to stay in Thor's usual shape.
I would wear a much lighter fat suit for the stunts, but I would have to wear the fat suit, stunt pads, my harness, Thor's costume and cape and the wig and beard. I was really just getting thrown around like a ragdoll by Thanos. It was crazy but I won't forget it. Those two movies really propelled Chris even further into stardom and I think when people see Thor: Love and Thunder, they're going to go crazy.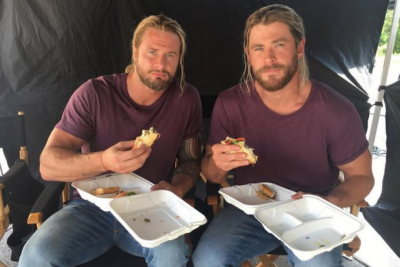 I've recently left Byron where I was staying with Chris. We shot Thor: Love and Thunder in Sydney, but I'm always in Byron Bay because I'm part of Chris' Centr fitness app and we shoot a lot of content at his place there.
In our downtime we love watching UFC. We do still have to train together, even during time off, but we watch movies and I always have a cheat day on Sunday, so if we're hanging out, we get ice cream and pizza together. I have run over lines a few times with him, but his memory is ridiculously good. And we don't do it much because he has his own process.
Chris is also one of the busiest people on the planet, and during his downtime he's a great husband and father. I hang out with his three kids a lot and they're the best. They're so cool, and so athletic! I taught Tristan, one of his twins, a backflip on the trampoline in Chris' back garden. Within two attempts, Tristan was doing backflips on the trampoline on his own. Sasha and India are also super talented, they're all great kids. They're just a great family and it's lovely to get that chance to hang out with them.
Because of COVID, I wasn't fortunate enough to come home and be with my family for Christmas 2020, so I went to stay with Chris and spent the holidays at his place. Christmas Eve we had a really nice dinner, which is a tradition that Elsa and her family have and then on Christmas Day we had another meal. Christmas with the Hemsworths was amazing but it was hard for me, missing my wife and family. Facetime is a Godsend, and I'll make up for it this year.
My wife Rachel and Elsa get on great. When the team came over for the Men In Black: International press tour in 2019, my wife and I and Chris and Elsa went out for dinner. Whenever we get the chance to hang out with partners, we all get along so well. We just try to have as much fun and as many great parties as we can! We all went to Mykonos with Chris' mom and dad, Leonie and Craig, in 2017, which is actually when I proposed to Rachel. It was amazing.
I'm so lucky to be part of Chris' team and get to have so many of these incredible experiences. It's so nice to have such an amazing group of people around. You really do forget sometimes how special it is. I feel very fortunate.
Bobby Holland Hanton is a stunt artist, actor, Centr trainer and Battle Cancer ambassador. You find out more about him at bobbyhollandhanton.com and follow him on Instagram @bobbydazzler84.
All views expressed in this article are the author's own.
As told to Jenny Haward.