Tensions Flare in Ferguson: Protesters Arrested, Journalists Threatened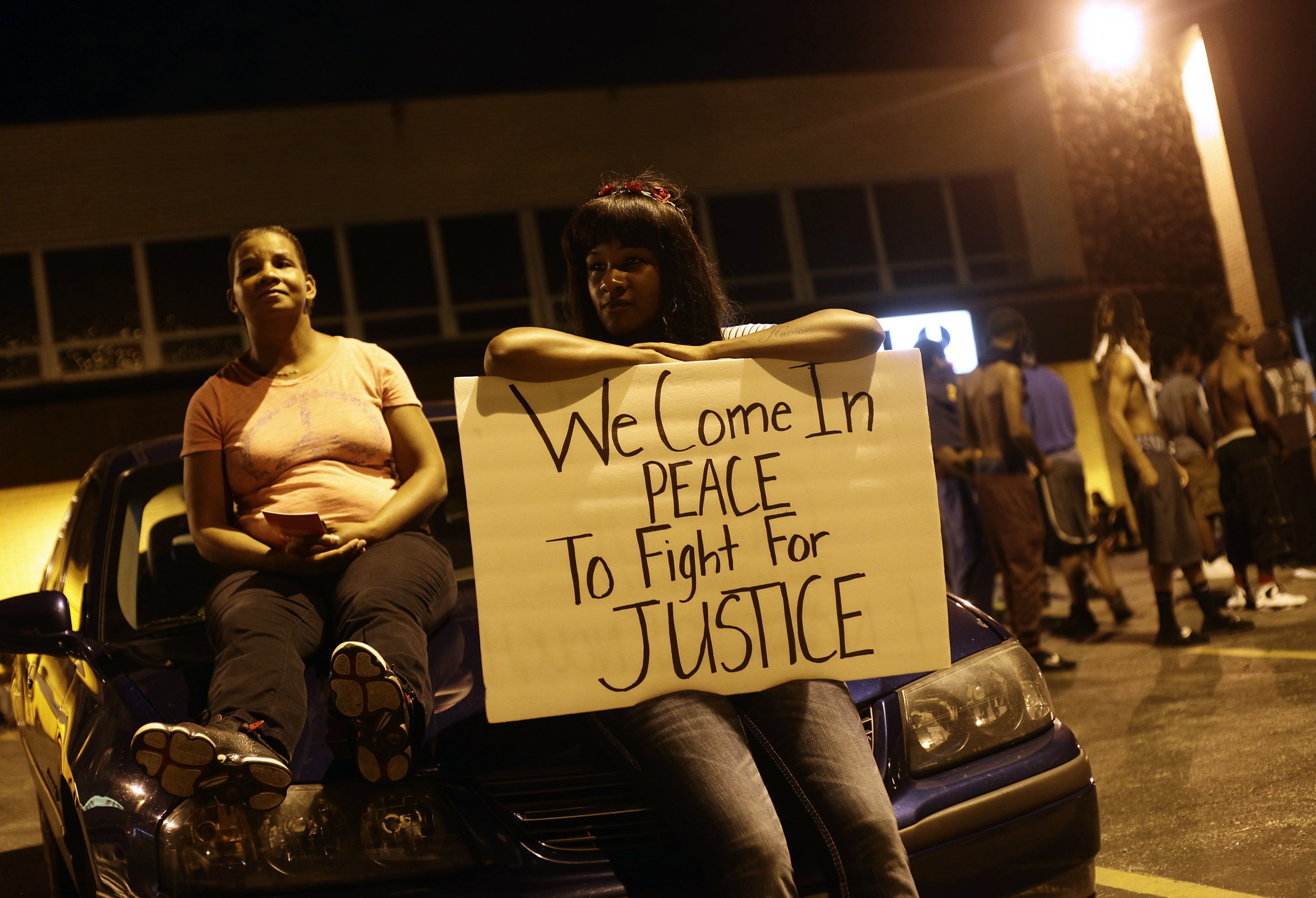 Tensions flared around midnight local time last night in Ferguson, Missouri, after a mostly peaceful evening of protests as at least one protester apparently threw water bottles at the police. Journalists on the ground described a scene of disarray as police moved in on protesters with dogs and heavy weaponry, made arrests, and corralled off media.
Willis Arnold, of St. Louis Public Radio, reported that at least two arrests were made.
Zachary Roth, of MSNBC, reported that he saw police put six men into the back of a police van. Police later announced that they had arrested 47 people.
Akilah Johnson, of the Boston Globe, took a video of one man being arrested with his hands up.
One man expressed frustration at being maced:
Members of the press were ordered to move back into the "designated media area." Officers then reportedly entered the media area with weapons drawn.
Ryan Reilly, of the Huffington Post, took a picture of what he described as a photographer being arrested.
Prior to the outburst of police activity, things seemed calm. Around midnight, a choo choo train, apparently borrowed from a local amusement park, glided through the crowd playing Marvin Gaye's hit "What's Going on?" Police asked the drivers of the train to remove it, Yamiche Alcindor of ABC News reports:
Earlier in the evening, Missouri Attorney General Chris Koster mingled in the crowd of protesters, announcing that the grand jury for the case investigating the death of Michael Brown will convene at 9 a.m. CDT on Wednesday.
Koster successfully opposed a motion on Monday filed by the American Civil Liberties Union that called for a temporary restraining order on certain police tactics. The ACLU opposed measures that require people to keep moving on sidewalks and in the streets unless they're standing in designated protest zones.
The ACLU suit said that the measure places "restrictions on the ability of the media to witness and report on unfolding events," and orders "people who are violating no law ... to refrain from gathering or standing for more than five seconds on public sidewalks," according to the St. Louis Post-Dispatch.
Koster, however, countered that the measure protected public safety, and applauded the decision by a U.S. district judge to allow "for law enforcement officers to continue their efforts to protect the people and property of Ferguson."
Koster, a former Republican state senator, famously switched to the Democratic party in 2007.