Cybersecurity Chief Trump Fired Calls President's Election 'Disinformation' a Domestic Threat
The top election security official fired by President Donald Trump after his agency concluded the election was the most secure in American history has accused his former boss of spreading "disinformation" about the vote which he believes is a form of domestic threat.
Christopher Krebs lost his job as director of the Cybersecurity and Infrastructure Security Agency (CISA) after he contradicted Trump's unsubstantiated claims which included that hacked computer systems switched votes to President-elect Joe Biden.
CISA said in a joint statement last month with other election security officials that there was "no evidence that any voting system deleted or lost votes, changed votes, or was in any way compromised."
In an interview with Axios on HBO on Monday, Krebs was asked how he dealt with Trump's claims before he lost his job.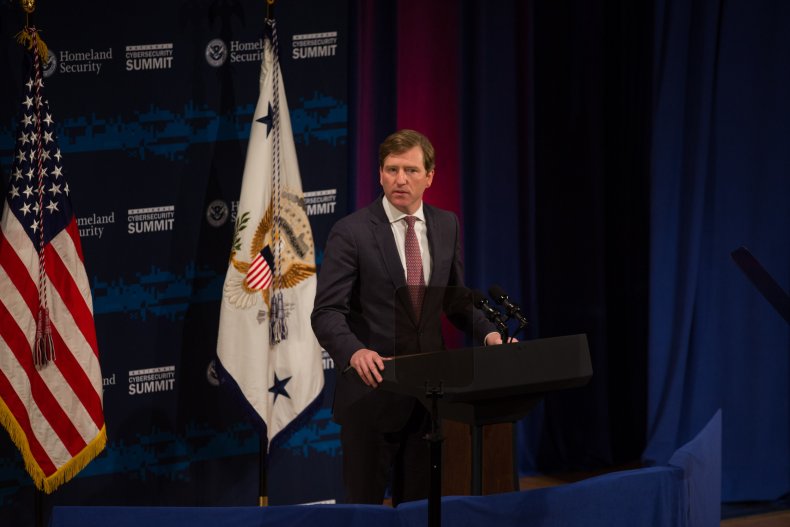 "One of the questions we asked: 'What would we do if the Russians were doing this?'" Krebs told Axios correspondent Jonathan Swan.
"The oath that we pledged coming into office as a federal official is that you uphold and defend the Constitution from threats foreign and domestic. We upheld our oath, carried it out.
"Certainly the president is a big part of the disinformation that's coming out there about the rigged election but there are absolutely others."
When asked whether he viewed Trump as a domestic threat? Krebs replied: "There is disinformation that he is spreading. I mean, disinformation is one type of threat."
As Trump and his allies continue to claim that the election was marred by fraud, Krebs reiterated his call for the GOP leadership and the three branches of government to "actively push back" against Trump's fraud claims and try to restore confidence in the election.
Analysis by The Washington Post last week found that only 27 of 249 Republicans currently serving in Congress have publicly backed Biden's victory.
Krebs said: "We all just for some reason think that democracy is resilient and can withstand this sort of attack, I actually think that democracy's quite fragile. When the institutions themselves are under attack from the inside, that's pretty close to an existential issue."
Since the election, Krebs has faced threats, with Trump campaign lawyer Joseph diGenova telling the conservative news outlet Newsmax that he should be "drawn and quartered" and "taken out at dawn and shot."
DiGenova later played down his comment as light-hearted, but Krebs has suggested he may take legal action. Last week, he told NBC's Today show that he had an "exceptional team of lawyers" adding that "I think they're probably going to be busy." Newsweek has contacted the Trump campaign for comment.
The graphic below by Statista shows the tightest presidential races since 1896. Joe Biden leads Donald Trump by 306 electoral votes to 232 as results are still certified in some states.