Video: Chris Matthews Joked About Giving Hillary Clinton a 'Bill Cosby Pill' Before Interviewing Her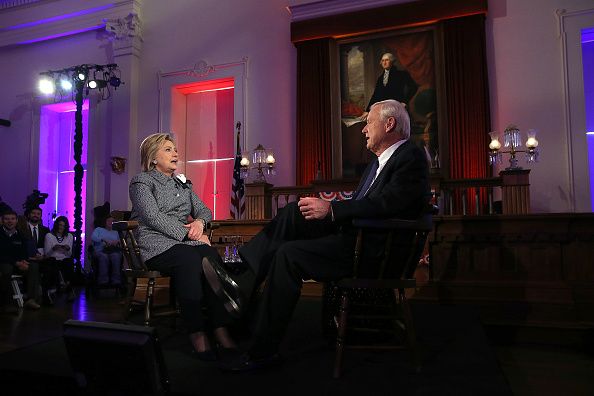 MSNBC host Chris Matthews joked about giving then-presidential candidate Hillary Clinton a "Bill Cosby pill" right before interviewing her, according to newly revealed network footage.
The footage, obtained by the Cut, shows behind-the-scenes preparations for the January 2016 interview.
Matthews asks, "Can I have some of the queen's waters? Precious waters?" And then, while waiting for the water, he adds, "Where's that Bill Cosby pill I brought with me?"
The Hardball host laughs, as some of the staffers setting up the interview around him gasp or laugh in disbelief at the joke. Cosby has been accused of sexual misconduct by dozens of women, including allegations that he drugged women to sexually assault them.
"This was a terrible comment I made in poor taste during the height of the Bill Cosby headlines," Matthews said to the Cut. "I realize that's no excuse. I deeply regret it and I'm sorry."
During the interview that followed, Matthews asked Clinton about her husband's infidelity and asked her whether it was "culturally" important for women to be allowed into military combat roles.
"I am a huge supporter of women being able to break whatever glass ceilings are holding them back," Clinton answered, before Matthews jumped in, adding: "If they can physically handle it."
Matthews has faced criticism for his treatment of Clinton before the 2016 presidential race. He pinched her cheek after an interview in 2008, and suggested that her political career had been advanced because her husband had "messed around." He once called Clinton "witchy," and has repeatedly questioned whether her gender could have a negative impact on her ability to make decisions.
Last month, Matthews, who has hosted his nightly talk show on MSNBC since 1997, was accused of sexually harassing a staffer at the news channel in 1999. MSNBC later confirmed the report from The Daily Caller that Mathews was formally reprimanded and that the employee had been paid compensation upon leaving her job.