Mass Shooting Survivor Chris Mintz Shares Account of Oregon Rampage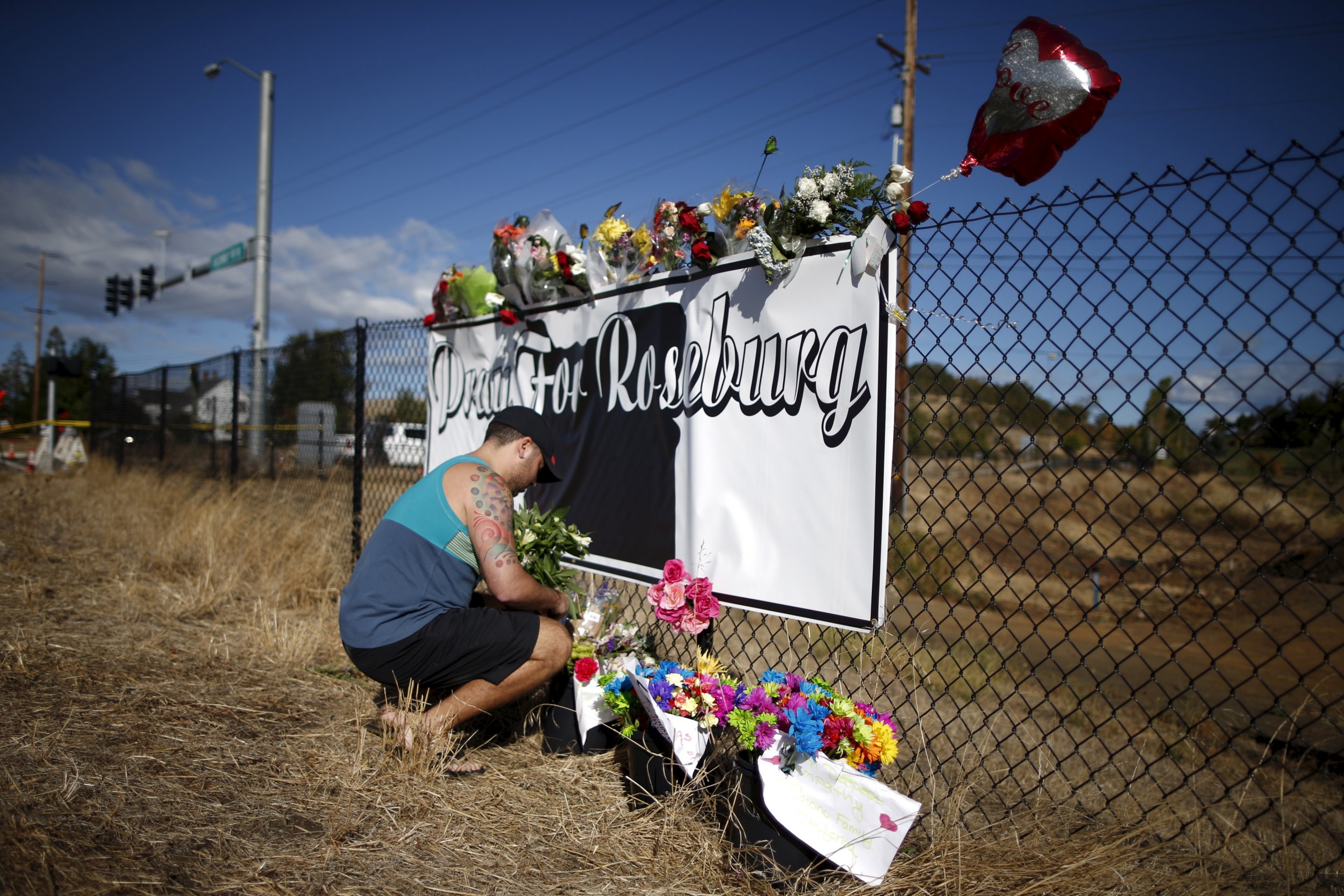 Chris Mintz, a shooting victim at Umpqua Community College who has been hailed as a hero for preventing additional deaths at the Roseburg, Oregon, school, has shared details about his experience publicly for the first time. In an October 16 post on his Facebook page, Mintz described how he told people to get to safety and gave details about his interaction with the gunman.
Mintz said he was in a writing class on October 1 when the incident began. "We were sitting in class and there was a bunch of yelling that started in the other room. My teacher walked up to the door that connected our classroom and asked if everyone was ok," he wrote. Then they heard gunshots.
We all got up and took off out of the classroom and I stopped and held the door open and waited [f]or everyone to leave safely. We all took off running down the breezeway toward the library, a boy and I collided while running because of the chaos and it knocked me to the ground. A counselor kept screaming that someone needed to tell the people in the library, and I told her id do it. I ran in and told everyone they needed to leave and go to the other side of the campus, I ran through the book isles while yelling...
As he ran back toward the classrooms where the shooting was taking place, he said, "people across campus were walking around like nothing was going on, so I continued yelling at them to get out of there, to leave."
Back near the classrooms, Mintz looked through a window in a classroom door: "There was so much blood and it was so dark," he wrote. "I could only see one of the students through the door. She was screaming and yelling and covered in blood. I motioned my finger over my mouth, communicating to be quiet, and motioned both my hands down for them to stay down."
Then the shooter emerged and fired at Mintz. "He was so nonchalant through it all, like he was playing a video game and showed no emotion," Mintz wrote. "The shots knocked me to the ground and felt like a truck hit me. He shot me again while I was on the ground and hit my finger and said, 'That's what you get for calling the cops.'"
The interaction continued:
I yelled "it's my kids birthday man" he pointed the gun right at my face and then he retreated back into the class. I'm still confused at why he didn't shoot me again. I tried to push myself back against the classroom door but I couldn't move at all. My legs felt like ice, like they didn't exist, until I tried to move. When I moved pain shot through me like a bomb going off. I couldn't move, his shots knocked me down onto my right hip, I tried to use my right hand to push myself. I started to lose track of time but it felt like I laid there for days.
Emergency responders eventually located Mintz and took him to the hospital. He said he was shot five times but is "recovering well."
Three weeks after the shooting, the communities around the Oregon college, including Roseburg, continue to recover. One shooting victim, Julie Woodworth, remained hospitalized last week. On October 13, the hospital said it had upgraded her to serious condition.
The final memorial for the nine people whom the gunman killed took place on October 17. Firefighters honored Treven Anspach, who had wanted to become a firefighter like his father. "They formed two lines to make a corridor through which Treven's ashes were carried," a local newspaper reported. "Members of a Pipes and Drums band made up of firefighters from around the state also played for Treven and for the 1,000 people who attended the memorial."