Trump Thought His 'Force of Personality' Could Get Kim Jong Un to Agree to Denuclearization, says U.S. Senator—'He Lost Badly'
The White House might see the failure of the Hanoi summit between President Donald Trump and North Korean leader Kim Jong Un as paving the way for lower-level talks that might yield results, it has been reported.
The Atlantic cited a classified briefing given by Trump's special representative to North Korea, Stephen Biegun, who hinted that the leaders' diplomats and technocrats could now step into the fray and make progress in getting Pyongyang to denuclearize.
Senator Chris Murphy, a Connecticut Democrat, who attended the Senate Foreign Relations Committee meeting, told the magazine that it was clear Kim had been "playing the waiting game for the one-on-one" with Trump and both were relying on their personal relationship to get things done.
Murphy pointed out that the U.S president's walking away only meant that serious negotiations further down the chain could now take place because Kim "realized he couldn't pull one over on Trump."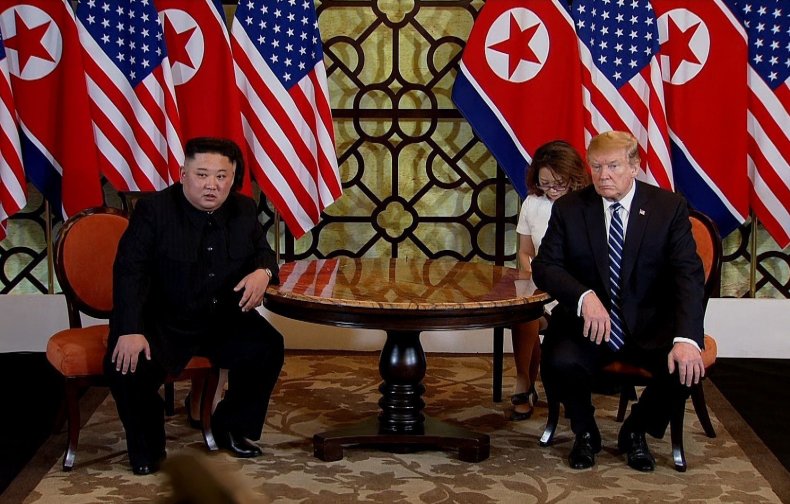 Murphy said that Trump believed "by sheer force of personality in Hanoi, he could get Kim to agree to a comprehensive deal, which was never going to be possible.
"So instead of immediately setting the table with some confidence-building measures, he went for the whole enchilada and lost badly.
"I think Kim walked in thinking that his love letters [to Trump] were going to get sanctions released for something much less than full denuclearization.
"Trump thought that these love letters meant he was going to get full denuclearization for sanctions relief. I think it was pretty clear pretty quickly that neither of those things was going to happen."
Until now, Trump has been brandishing his personal relationship with Kim as key to any successful negotiation, but critics fear that this method has undercut the role of his advisers. Kim is also said to be reluctant to give his subordinates room to negotiate.
Jeff Merkley, an Oregon Democrat, told The Atlantic that Biegun's briefing showed the White House could "keep pressing economic sanctions, we think it's having a toll on them, and they'll eventually come around."
In his first public comments since the summit, Biegun said on Monday that Kim had only offered to dismantle the Yongbyon facility in return for most of the sanctions against it being lifted.
This differed from Trump's counter offer to Kim, to commit to eliminating its entire weapons program.
"We are not going to do denuclearization incrementally. The foundation of U.S. policy is denuclearization," the envoy told the Carnegie Endowment for International Peace's nuclear conference.
But experts believe this all-or-nothing approach is doomed to fail. MIT nuclear expert Vipin Narang told Vox: "If we don't move off this position, we have nowhere to go.
"There's no zone of agreement if we insist on everything—I mean everything, complete surrender—up front."
Joshua Pollack, a North Korea expert at the Middlebury Institute of International Studies, told Vox: "It's a formula for continued deadlock."