Chris Noth and Beverly Johnson Article Detailing Assault Allegations Resurfaces
A newspaper clipping from the 90s has emerged following the sexual assault accusations against Chris Noth.
The article, which details accusations against the actor made by his ex Beverly Johnson, is being widely shared on social media, with Diet Prada, run by fashion industry professionals Tony Liu and Lindsey Schuyler, sharing it on Instagram to its 2.9 million followers.
The post has since gone viral, being liked over 60,000 times.
"Top Model Battered By Law & Order Star" reads The National Enquirer headline which is reportedly from 1995.
The model and actress dated the Sex and the City star for five years from 1990.
Newsweek has contacted representatives for both Noth and Johnson for comment.
The clipping has emerged as Noth has been accused by two women of sexual assault this week.
He has vehemently denied the allegations against him.
On Thursday, The Hollywood Reporter published a report that details two alleged incidents by the women who go by the pseudonyms, Lily and Zoe, who have separately accused Noth of sexual assault in the 2000s and 2010s.
The 67-year-old actor has just reprised his role as Mr. Big in HBO's Sex and the City reboot, And Just Like That...
The women do not know each other and reportedly approached the publication separately.
They said they came forward now due to Noth again featuring prominently in the media following the much-hyped release of the reboot.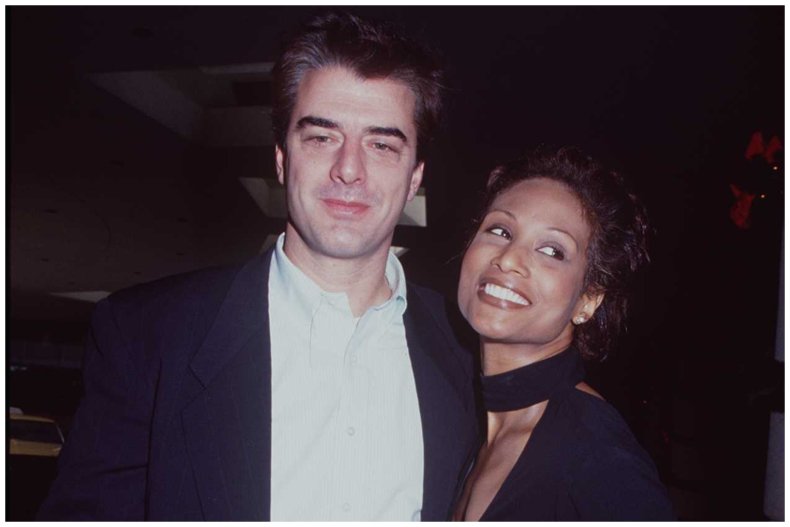 The woman who goes by Zoe said she was 22 and working in an entry-level job for a high-profile firm when Noth allegedly assaulted her in his apartment in Los Angeles in 2004.
While Lily claimed that was 25 and working as a waitress in the VIP section of a New York nightclub when she met Noth. She alleges that the actor assaulted her in his New York apartment in 2015.
Noth has released a statement denying the claims, labeling them "categorically false."
"The accusations against me made by individuals I met years, even decades, ago are categorically false," Noth said in a statement to THR per his representative.
He also questioned the timing of the allegations given he is currently starring in And Just Like That...
"These stories could've been from 30 years ago or 30 days ago—no always means no—that is a line I did not cross. The encounters were consensual. It's difficult not to question the timing of these stories coming out. I don't know for certain why they are surfacing now, but I do know this: I did not assault these women."
In the reboot, Noth's character dies after working out on a Peloton exercise bike.
The company subsequently released an advertisement featuring Noth which has now been scrubbed from its Instagram in light of the accusations against him.