Chris Noth Says He Hopes to Spend Christmas With Wife Amid Sexual Assault Claims
Chris Noth has expressed a "hope" to spend the Christmas holiday with his wife and children, following the multiple sexual assault allegations leveled at him.
Three women recently alleged in separate interviews with The Hollywood Reporter and The Daily Beast that the 67-year-old actor sexually assaulted them. Actress Zoe Lister-Jones also accused the star of "sexually inappropriate" behavior.
The screen star has vehemently denied the claims in a statement. In a video shared by the Daily Mail on Wednesday, Noth was seen briefly reiterating his stance while out and about in the Berkshires, Massachusetts.
When he was asked for further comment on the allegations, he responded: "You have my statement right? My statement is out, I rest by my statement, I'll now let the chips fall where they may. My statement is my statement, that's all I can give."
After the photographer suggested that the actor is "innocent until proven guilty," Noth said: "Well yeah, but you know that's the way it is."
He was then asked if he would be spending Christmas with his wife of nine years, Tara Wilson, and their two sons, to which he answered: "I hope so."
Photographs published by the Daily Mail earlier this week showed Noth's wife in Los Angeles.
Last week, The Hollywood Reporter published an interview with a woman who accused Noth of sexually assaulting her in 2004. Also speaking with the outlet, another woman alleged that he engaged in similar behavior toward her in 2015.
"The accusations against me made by individuals I met years, even decades, ago are categorically false," Noth said in response. "These stories could've been from 30 years ago or 30 days ago—no always means no—that is a line I did not cross.
"The encounters were consensual. It's difficult not to question the timing of these stories coming out. I don't know for certain why they are surfacing now, but I do know this: I did not assault these women."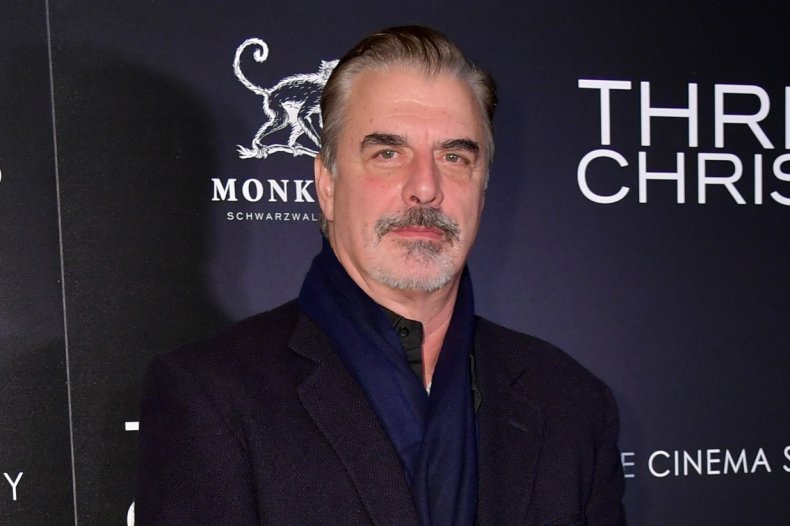 In an interview with The Daily Beast, which was published last Friday, another woman accused the actor of sexually assaulting her in 2010 when she was aged 18.
Responding to the article, a representative for Noth told People: "The story is a complete fabrication, and the alleged accounts detailed throughout read like a piece of bad fiction. As Chris stated yesterday, he has and would never cross that line."
Sarah Jessica Parker, Cynthia Nixon and Kristin Davis—who co-starred with Noth in Sex and the City and its new reboot And Just Like That...—this week released a joint statement saying that they were standing with the actor's accusers.
"We are deeply saddened to hear the allegations against Chris Noth," the actresses said in the statement, which was posted on their respective Instagram Stories. "We support the women who have come forward and shared their painful experiences. We know it must be a very difficult thing to do and we commend them for it."
In the aftermath of the allegations, Law & Order star Noth was recently fired from his role in The Equalizer, and dropped by his talent agency, A3 Artists Agency. It was also recently revealed that the $12 million sale of Noth's Ambhar tequila brand had been canceled.
Peloton also removed a tongue-in-cheek ad shot in reaction to his And Just Like That... character John James "Mr. Big" Preston dying after using one of the company's stationary bikes. Ryan Reynolds, who produced the clip, also removed it from his Instagram feed following the allegations.